This is Day Three of the Sacred Scared Project.  You can read more about it here.  And read Day One and Day Two.
*************************************
Friends, meet my friend Nate. Nate Pyle is a brilliant thinker, pastor, writer, husband and father who is learning to be courageously vulnerable. This guy's a Mankee if I ever met one.
And Nate is afraid that deep down, he really IS the loser the bullies said he was.
In middle school I was given the name of Pillsbury Doughboy. I hope it goes without saying, but this was not a name I chose for myself. It was a name chosen – the first week of seventh grade no less – for me by peers.
Pills. Doughboy. Pillsbury. Pick your iteration, this is what I was called for the rest of my middle school career. This name was a shame-filled, dark cloud that followed me around every day. I couldn't get away from the name. Nothing I did removed it. Ignoring it, rolling with it, laughing about it, fighting it – nothing mattered. Society had spoken, and this was who I was in their eyes. It is amazing how deep the name cut. For as much as I tried to brush it off, this name has become such a deep place of shame for me that, even to this day, I hate telling people about this nickname. Hate it.
Wrapped up in the "Dough Boy" is my gnawing fear of rejection. Deep down there is a voice dead set on convincing me that, once you get to know the real me, you will reject me. That I am not good enough for you. Not strong enough. Not smart enough. Not clever enough. Not good-looking enough.
Not enough.
So I lift weights so no one will confuse me with a soft, pillsbury pastry.
I ski steep mountains so no will see me as afraid.
I read thick theological books so no will see me as not smart.
I laugh so no one will see me cry.
But what I really want is to be accepted. Me. Complete with my failures, softness, mistakes, mess-ups, crap, and weaknesses.
All of it, accepted as enough.
*************************************
And this is my Jamie. Jamie Wright is a revolutionary writer, an anti-slavery activist and missionary, a mama, and a wife. She's a fierce and tender woman.
And in the midst of all of her accomplishments and wisdom and beauty –  Jamie's afraid she's just not enough.
I want to be enough.
Wow. Just tapping out those five little words makes my throat ache and my eyes burn with tears. I want to be enough. Thin enough. Pretty enough. Smart enough. Funny enough. Sexy enough. Good enough. Tough enough. Clever enough. Worthy enough. It is this deep ­seated desire to know that I'm enough which drives virtually all of my destructive behavior. When I was young, the need to be enough moved me to starve myself, drug myself, give myself away too freely. But even still, even today – grown and married and mothering ­I obsess over food and facial hair and these teeny tiny boobs, and I wonder if my husband really loves me, or if he every really has. Could I ever be enough for him? Could I ever be enough for anyone? I am convinced the answer is no, but I work pretty hard at pretending otherwise. "I'm confident, you guys! I'm cute! I am hilarious!" I shout, as I tap dance on the world's stage, "Look at me! Look how I twirl! Look how I make jokes! Look how thin I am! Do you see it? Do you see me?!" It's funny, isn't it? The proverbial "God shaped hole" in my heart is also shaped just like a little girl who's trying too hard. With her loose pigtails and dirty fingernails, and big eyes watching, waiting, longing for someone to say, "You, baby girl, you are enough." But for all my silly trying, do you know what I hear most often from the folks I'm putting on this stupid show for? "Oh, Jamie," they laugh, unknowing, "you are just too much."
*********************************
How are you feeling about all of this? Do you see how all of this beautiful and brutal coexists and swirls together to make such BRUTIFUL people??? It's not their accolades that make us love them, is it? It's their honesty and humanity and tenderness. We should all perform admirable acts. We should. GOOD ACTS are to be admired. But I think it's realer and truer and lasts longer if we LOVE PEOPLE instead of admiring people. Admiration fades when things get real but love just grows. 
We are all the same. We are all wild swirls of messy and beautiful and I love us. Just the way we are.
G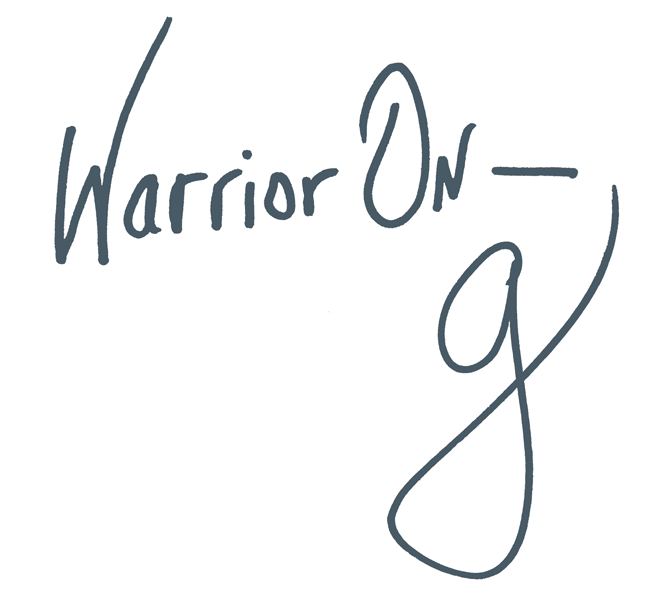 Author of the #1 New York Times Bestseller LOVE WARRIOR — ORDER HERE
Join the Momastery community on Facebook, Twitter, Instagram & Pinterest