This is how the Sacred Scared project was born:
I have a group of friends who are very, very precious to me. Many of you know them through their world changing work. (EVERY LAST ONE OF US DOES WORLD CHANGING WORK EVERYDAY. We simply cannot live in the world and not change it.)
I asked my friends to share their Sacred Scared here because I wanted to prove to you that folks who are showing up BIG TIME and doing REALLY hard things are just like us. Everybody is the same. No one has it all figured out and No one ever will. We just gotta show up for our dreams and each other before we're ready. We can be scared and still show up. We can be completely UNHEALED and still show up. We must just show up in all our beautiful, messy glory. Because all the good and all the beautiful in the world is created by people who show up before they're ready.
Read here for more information about the Sacred Scared project:
**NOTE** We hear a lot lately about the importantance of being vulnerable in front of others, but we haven't been taught how to respond to someone else's vulnerability, so I'll be offering suggestions about how to receive vulnerability during this series. Here's the first one: When someone lets you into her Sacred Scared – she is showing you her messy insides NOT because she wants you to fix it, but because she trusts you enough to let you know the real, true her.
Imagine that you have a new friend that you just love, and she's coming to your house, and you finally liberate yourself enough to skip the panic-clean before she arrives. You decide that you trust her enough to walk in and see your messy house and you just KNOW that she will GET IT. She will LOVE that you just Let It Be for her. But she walks in and instead of flopping down on the laundry covered couch, she starts cleaning up the mess. Your mess is making her too uncomfortable. She starts to FIX IT instead of appreciating your mess as a trust offering. How do you feel about that?
Let's not try to fix each other's Sacred Scared, if we can avoid it. The people in this series are letting you in to see their Real, Beautiful Mess. Let's not try to fix them, because they don't need to be fixed. Neither do you. Let's just try to find some comfort and love and maybe even Me Too in the offerings.
Love.
*************************************
Please meet my precious friend, Rachel. Rachel Held Evans is an international speaker and the brilliant best-selling author of three books. By every stretch of anyone's imagination- Rachel HAS ARRIVED . . .
And yet she is always afraid that she's not successful enough.
"I'm going to need a blue check mark," I told my husband Dan matter-of-factly at the dining room table the other day. "A blue check mark means I'm somebody on Twitter." What I didn't tell him was that I'd spent that last 45 minutes fuming over how another woman writer already had a blue check mark next to her name even though she had fewer followers than I did, revealing something of the gross injustice inherent to whatever system Twitter uses to separate the somebodies from the nobodies. I didn't tell him that the blue check mark was just the latest in a long series of trophies I've spent a lifetime grasping for—compulsively, obsessively, sometimes ruthlessly—and how I'm disappointed every. single. time. they don't bring the fulfillment I expect. I didn't have to tell him because he already knows. All my life, I've felt like these trophies hold the power to call an internal truce between my secret hope of being "discovered" an my persistent fear of being "found out." Getting an award means people still think I'm clever, valuable, smart, and worthwhile. Getting an award means they have no idea that beneath it all, I'm a complete and total fraud, making all this up as I go.  So I rack up those trophies and peer into them as though they are mirrors. But all I see in looking back at me is a grotesque reflection of my own stubborn fear.
*************************************
And here is my Sarah. Sarah Goodfellow left America to live in a very poor city in Peru to help women find the work and hope they deserve. She is a living example of service and beauty…
And yet Sarah is always afraid that she's not happy enough.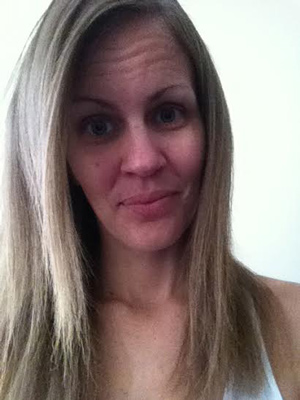 My biggest fear is that I will never be free from my depression. That I will spend the rest of my life surviving each day. Working to put one foot in front of the other. Too many days I'm sitting on the sidelines of my own life. The fact that it's a beautiful life that could be so full if I could only participate wrecks me. My kids are growing and becoming little people and I'm missing out on so much. And, if I'm truly honest, what really keeps me up at night is how this all will affect my kids. What scars will they carry with them for the rest of their lives because of my illness? How will they remember the days that I couldn't get out of bed? I fear that they will be bitter that they were stuck with me. I've done everything I can think of to get better. Healing prayer, medication, counseling, etc, and they haven't "worked."  I've begged God to heal me. Cried out in my darkest hours for relief. And I haven't been healed. So all I can do is hope and wait and keep fighting and have those I love hope for me when I can't. Sometimes the bravest thing you can do is not give up hope, even when your body and mind are screaming at you to do so. So, even in spite of my fear of never being healed and the hopelessness that sometimes envelopes me, I fight to be present. It may not look like much some days on the outside, but I know the fear that I am fighting to overcome. And I remind myself, that it is really my depression that should fear me because I'm not giving up.
*************************************
There you go. My hope for today is that these women's insistence that Fear is Nothing to be Ashamed Of will encourage you to Embrace Your Beautiful Messy Self today. Come back for more tomorrow.
Love, G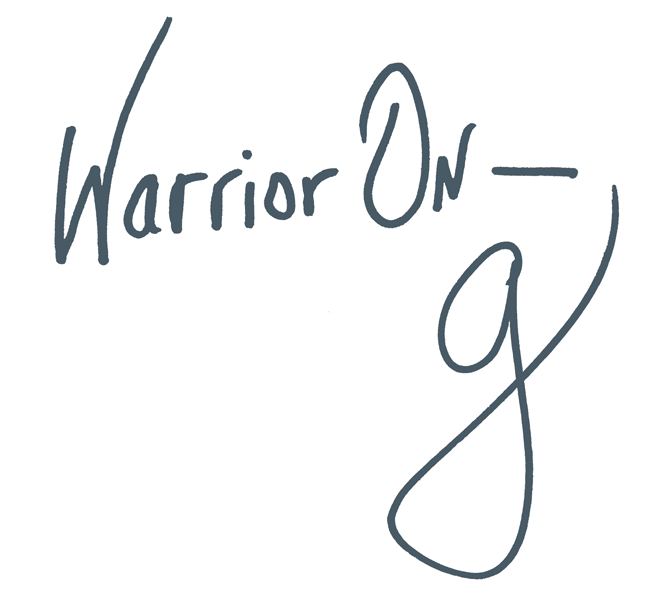 Author of the #1 New York Times Bestseller LOVE WARRIOR — ORDER HERE
Join the Momastery community on Facebook, Twitter, Instagram & Pinterest