"I've been absolutely terrified every second of my life- and I've never let it keep me from doing a single thing I wanted to do."  Georgia O'Keeffe
I started writing Momastery six years ago as a spiritual practice to help me:
Stay sober (sober = awake, grateful, present, brave, and kind).
Connect with other people without removing my pajamas.
Last year my family fell apart. It was awful. One night I was in the fetal position in bed hiding from everyone in the world and I decided to Google myself. This I officially Do Not Recommend.
Seek and Ye Shall Find. I found a bunch of mean stuff that made me cry. I called my Sister hysterical. I sobbed, "SISTER, they are calling me a mess and an addict and they are saying that Craig only married me because I was pregnant and they are talking about how my marriage is falling apart and I'm overly -dramatic and ridiculous and medicated."
And Sister was very quiet. And so obviously, I yelled "SISTER- WHY ARE YOU SO QUIET?" And she said, "Well, because…isn't all of that stuff true?"
And so I hung up on her because there is a time and a place for logic and truth and that was not the time.
But as I fell asleep that night, I thought about what she said. And it hit me. It was all true. It IS all true. And you know what else is true? Even though I'm messy – I'm still showing up. Even though I'm messy- I'm still doing the two things I was put down here to do: Follow My Dream and Serve Others.
And so my message to you is never: be better. I kind of wish we'd stop obsessing about improving ourselves all the time. I'm simply suggesting that maybe you can show up for life as you are. Maybe you don't need to wait till you have it "all together" to follow your dreams and serve other people. I'm worried that if you wait 'till you or your people are less messy to start showing up –  you'll never show up. Because life never, ever stops being messy. It's messy the whole way through. And so I think we gotta show up in the middle of the mess. We gotta raise our hands and say "HELLO, EVERYBODY! I'M GLENNON! IM A LITTLE CONFUSED AND TIRED AND IMPATIENT AND MY PEOPLE DRIVE ME INSANE AND I HAVE ALL THESE VARIOUS DISEASES AND MY FAMILY'S A LITTLE BANGED UP- BUT I'M PRETTY SURE THAT'S JUST LIFE – SO I'M HERE TO HELP ANYWAY."
Like that. And then maybe other messy folks will see us with our grubby little hands raised and think: "Huh. If she can show up like THAT…maybe I have permission to show up too. Just like THIS."
That's what I'm doing here. That's number three. So now my list is this:
Stay sober (sober = awake, grateful, present, brave, and kind).
Connect with people without removing my pajamas.
Offer messy folks permission to get started.
Listen. During the past two years, I've met a lot of people who ARE following their dreams and serving and a lot of people who are NOT – because they are waiting till things get better or different first.
Here is the thing that the two groups have in common:  NO ONE REALLY KNOWS WHAT SHE'S DOING. None of the people in either of the two groups. The people who are running the world and the people who are sitting life out are exactly the same. They are all messy, complicated, confused people who are unsure of what to do next. They all have messy relationships and insecurities and anger and blind spots. They are ALL AFRAID.
Here is the difference between the two groups: The Dream Followers and Servers believe that it's okay to be messy and complicated and afraid and show up anyway. The second group believes that folks who show up have to be fabulous and perfect. So they're waiting to get perfect. They are spending their lives IMPROVING instead of just showing up as they are. They are waiting till they're "ready." And the thing is that they will be waiting forever and ever, amen. Because all the good and all the beautiful in the world is created by people who show up before they're ready.
I am going to prove this to you. This week I have asked a few of my favorite Dream Followers and Servers to share with you their Sacred Scared. Our sacred scared is our deepest fear- the one we hide because we think that if anyone knew about it they wouldn't love us anymore. What we find when we share our sacred scared is that it's the very thing we should be sharing more. Because our sacred scared is the key that unlocks our humanity. When we share it, people love us more because we've given them permission to love themselves more. Sharing our sacred scared is like handing a world full of messy, waiting people an invitation to show up as they are.
We are all afraid. And that's okay. We can show up and take care of each other in the midst of all the fear. That's the good stuff. And you know what the anidote to fear is? It's NOT self improvement. It's love. When we love messy people well we start to love our messy selves more. And all that love makes us BRAVE. And eventually, Love beats fear. Love Wins.
Come back tomorrow. I have some very special, very ordinary, very messy, very beautiful people for you to meet.
Show up all Messy and Beautiful Today, Friends. You're invited.
G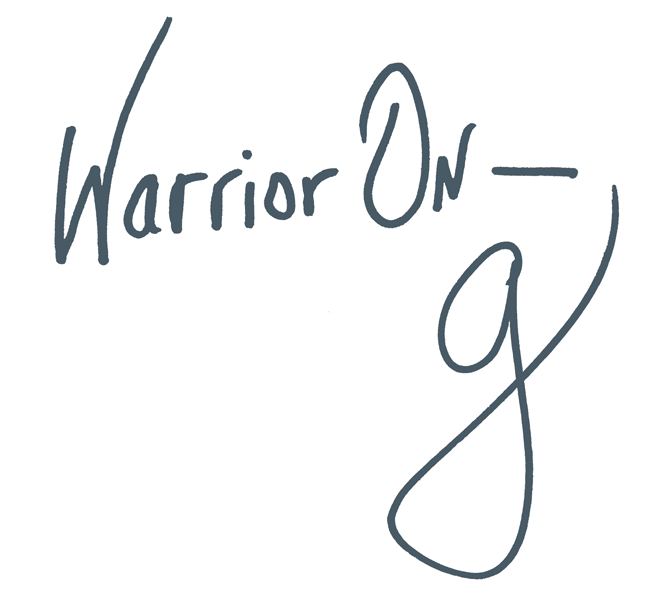 Author of the #1 New York Times Bestseller LOVE WARRIOR — ORDER HERE
Join Glennon on Facebook, Twitter, & Instagram