As you read this I'm on a plane with my little girl. We are FLYING THROUGH THE AIR (waaaa???) together, on our way to Richmond, Virginia to meet with a group of women about sisterhood and kindness and truth and courage for two days at WomanKind 2014. I was at WomanKind two years ago, sitting in the pew and listening to Krista Tippet speak. This year I'm the speaker. Life is wild.
After Womankind we'll drive to DC for a Monkee See – Monkee Do Board meeting and then on Sunday we'll speak at a brunch to raise funds for MS-MD, so that we can serve more families together.
It's Tish's birthday weekend, and this year her gift will be this trip. Her gift will be: LOOK sister- THIS is what it means to be a woman. Being a woman is about learning from and serving your sisters. That's what it means and don't ever forget it, honey, because sisterhood- in all its mighty forms- will likely be the strong and steady force that carries you through life. Happy Birthday. Welcome to the sisterhood. 
Sisterhood with other women is the FORCE. It is. It's what's held me up and together my entire life and I want the force to be STRONG with my little ones.
I think Tish might be well on her way to grasping the power of female solidarity + peaceful resistance. Last night she and Amma were wronged by Chase and in retaliation they holed up in their room together and made this sign and taped it to their door.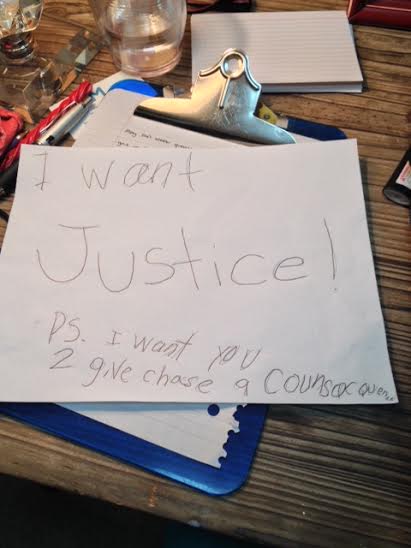 (I WANT JUSTICE! PS. I want you to give Chase consaquences.)
They yelled repetitively from behind the door: "WE WON'T COME OUT UNTIL WE GET JUSTICE!  WE WON'T COME OUT UNTIL WE GET JUSTICE!"
This strategy wasn't as effective as they'd hoped, of course, because nobody was all that eager for them to come out. But still- I'm proud of my little freedom fighters are championing women's rights- even when those women are just themselves. That's where we start, right? Then we expand forever.
In case you'd like some reading while I'm gone- check out this interview Angela and I did.  It's a deep, good  read – especially for those of us who struggle with food and body image. (Disclaimer: MAJOR, BIG profanity in the title of her blog- DO NOT CLICK link with kiddos around. Also if the F word makes you sad please don't click at all.)
If you're too tired to read – what with it being Friday and all – take a listen to this interview I did with the MAGNIFICENT Marianna Cacciatore from Bread for the People. I loved this woman and want to lock her up and make her tell me ALL THE THINGS SHE KNOWS. It's a lot of things.
And one more thing: My beautiful friend Tara is a midwife in Haiti and my personal hero. You have to follow her, you guys. What she and her family do to serve women and babies EVERY SINGLE DAY is breathtaking. And plus- she's just, she's just so wonderful. Real and funny and kind. She wrote an important post this week and I'd love for you to read it, along with everything else she's ever written in her life.
Okay- I am off to SISTER ON in every which way I know how.
G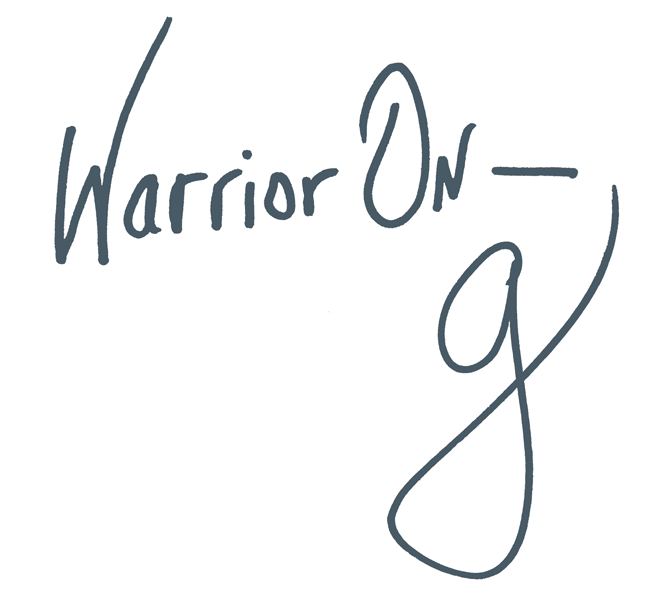 Author of the #1 New York Times Bestseller LOVE WARRIOR — ORDER HERE
Join the Momastery community on Facebook, Twitter, Instagram & Pinterest