"I think it pisses God off if you walk by the color purple in a field somewhere and don't notice it."
~ Alice Walker
When I woke up this morning there was an email in my inbox from our Liz. Liz runs Together Rising. She is the brains and the heart and the muscle behind everything we do. When we run out of money to help people, Liz she donates it herself. She works hours and  so that every penny we receive from your individual gifts goes straight to families in need. She took a pay cut from her actual job this year so that she'd have more time for Together Rising. Liz is tireless and brilliant and faithful and fierce and gentle. She is also going to kill me for telling you all of this, but I am having trouble caring about that because I really needed to explain your personal connection to what I am about to tell you.
Liz's cousin's name is Christina. Christina has two little ones. Christina loves them just like we love our babies. Just like that. Christina also has stage 4 mesothelioma and her doctors told her that there was no hope left. But when they told her that, Christina put her hand on her heart and noticed that it was still beating. Since Christina is brilliant just like her cousin, she knows that a beating heart is the very definition of "plenty of hope left." And so she warrior-ed on for herself and for her family and now she's in Boston having her cancer-filled lung removed. Today. On World Cancer Day.
Prayer is focused energy. Energy is love. And so if you believe in God, pray to God however it is that you pray. If you don't believe in God, please spend a moment focusing your energy–your love–on Christina and on every other warrior fighting cancer today. And then, please write Christina's name on your hand and post a picture here or on our Facebook page or on Twitter – somewhere –  so that Christina knows that her sisters are with her today. So Christina knows that she is not alone, not by a long shot. Let's hashtag it #WarriorChristina
Christina is her family's Whole World and she is one of our Warriors.  Let's show her that she is not fighting alone today; she is 129,844 strong today – she is OURS –  in love and faith and fight and sisterhood.
PLEASE- if you are a cancer warrior or love a cancer warrior – post a hand prayer or just leave his or her name here. I'll be focusing my love all day – and so will thousands of others.
Fight on. G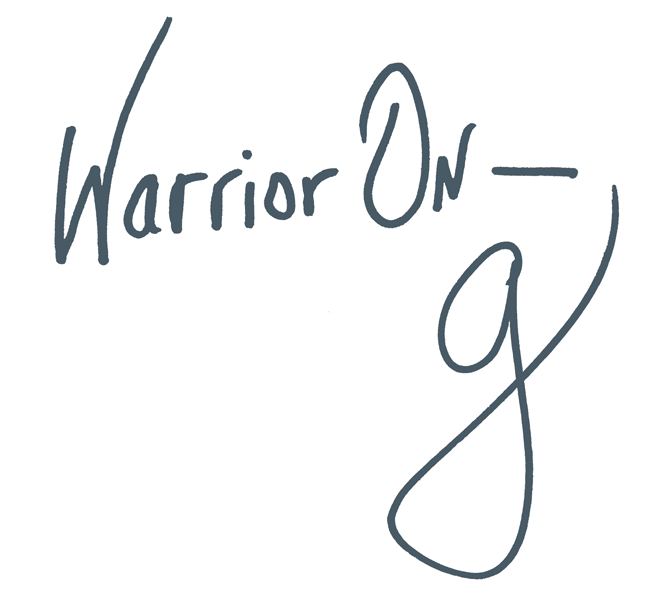 Author of the #1 New York Times Bestseller LOVE WARRIOR — ORDER HERE
Join the Momastery community on Facebook, Twitter, Instagram & Pinterest