I was raised by an "old school" football coach. Our family hero was Vince Lombardi, our family motto was "no guts, no glory," and our Friday nights were spent on the sidelines, cheering on my dad's team. Sundays were for church and reviewing game film. I knew how to call a play and a penalty when I was five. Most of my old boyfriends decided I was a keeper during football games – listening, slack-jawed, to me argue with the commentators and refs. I know football.  But I don't watch the NFL anymore, because I find it depressing. The behavior I see on the field now is light years from the way I was taught that football players behave. I guess I'm old school, like my dad.
My dad used to say- "If you make it to the end zone, Glennon – act like you've been there before." He meant: If you do your job successfully- shut the hell up about it, for God's sake. Help up the guy you beat, HAND the ball to the referee, and get to the sidelines. For the love of all that is holy, do not DANCE. Do not GET ON YOUR KNEES AND PRAY. There are folks out there saving lives, okay? You don't see heart surgeons doing dances after they complete a bypass surgery –because they know they're just doing their job.  Just do your job and get back to the sidelines to prepare to do your job again. Like every coach- when my dad talks football- he's really talking LIFE. For him humility is not just a football value – it's a family value of the highest order. I know he's proud of me, because he finds a million private ways to tell me. But when folks ask him if he's proud of my writing career he says one of two things: A: Hey, her mother and I are just grateful she's not in jail. or B: Of course I'm proud, just like every father whose kid shows up for work each day is proud. She's a writer- she writes.
In other words: She has a job. She does it. Big whoop. No need to dance about it.
In even better words: I'm proud of who she is, not what she does.
And so humility has become a family value for Craig and me, too. Sports boasting or life boasting or kid boasting of any sort is a cardinal offense. Hearing boasting actually PAINS me. And so we keep the NFL off. Because it's insane to try to make it something it's not anymore. It's different now, and I'm the same. So we're not a good match.
But last Sunday night, the kids were (pretending they were) cleaning their rooms while Craig and I flipped through the channels. We caught the last two minutes of the Seattle/49ers game, and then we saw Sherman's now infamous "rant." And I just sat there on the couch – wide eyed and stunned for a moment. Then I became disgusted. Then angry.  Then outraged, really. And  I looked at Craig and said, "My God. What A F****ing Punk."
I know. But that's what I said.
I went to bed really upset about that rant. Not mine, Sherman's. I took it personally. My inner commentary was this: This guy- all the guys like him- they're ruining the game I love. Just ruining it. This game that used to be the center of my family is now something I can't even have on in my HOME. What a punk.
And then the next morning I logged on to the web and saw the public shaming of Sherman. And I read a few articles about him and about our country's reactions to him. And I started to get a little uncomfortable with myself.
As you know, I've been working on "firing the judge in my head and hiring the witness." I've been trying to judge myself less harshly. And it turns out that when you start to judge yourself less harshly – you automatically start judging others less harshly. Because you can't fire the judge of you but keep employed the judge of others. You have to be a judge all the time or none of the time. That's where that "judge not lest ye be judged" comes in. It's all or nothing.
And so I tried to get myself out of the judge seat and into the witness seat with this whole NFL/ Sherman/ America situation. I took a step back and asked myself: What is happening here? What am I witnessing?
Here's what I witnessed, as objectively as I could:
A man had a public reaction that was leagues outside of my comfort zone. I reacted viscerally. I became appalled by what I labeled his anger and pride. More specifically, I became angry and prideful about his anger and pride. I judged him, categorized him, labeled him, dismissed him according to my values – and then pinned my despair about the whole world onto him.
So interesting. As a witness – I became less mad at him and less mad at me. I just became interested in both of our reactions.
And then I reread this beautiful article by Christena Cleveland.
And then I started becoming REALLLY interested in all of us.
I noticed a shift. My inner dialogue switched from "HE IS A PUNK AND I AM RIGHT" to, "why am reacting so strongly to this? Why did he react so strongly? What are we all so angry about?
It's really interesting, isn't it? To become the witness instead of the judge? To see yourself and the people with whom you disagree as characters in a drama- from whom you get to remove yourself, sit back and learn? To allow yourself permission to let go of labeling anyone good or bad and instead  gain perspective and gather empathy for all? To wonder about how different our definitions of "sportsmanship" "pride" and "humility" might actually be?  To consider that maybe Sherman grew up with a whole different understanding of" how you act" when you get to the sidelines than you did? To wonder if maybe your coaches (meaning your culture, your family, your friends, your neighborhood, your teammates) have a lot to do with what kind of player you become? To allow in the idea that maybe many of our ideas about right and wrong are cultural, subjective – really, really gray?
But I know – we do not want to talk about the possibility that right and wrong might be grey areas. We want to say: "WHAT ARE YOU SUGGESTING, GLENNON… that there is NO RIGHT OR WRONG????"
No, that's not what I'm saying. I'm just saying that for ME, the older I get –  the more I understand that it is RIGHT to stop making snap judgments about folks. To instead ask to borrow the glasses they see the world through and walk around wearing them for a while. I don't mean that there is no right or wrong in the world. I just wonder if maybe as far as I'M concerned –deciding whether Sherman is right or wrong is not my business. But maybe deciding whether my reaction to him and my thinking about him and my words about him are right or wrong IS my business.
I keep thinking about this: if my kids had been watching that "rant" with me- my knee jerk reaction would have been FEAR. FEAR that they would SEE that behavior and think it was RIGHT and that they would become just.like.him. And so I would have done everything I could have to distance US from HIM. I likely would have turned to my kids and said: "THAT IS NOT HOW WE ACT." THAT MAN IS WRONG." But the more I think about it- the more that scares me. Because I don't want my kids to judge their knee jerk reactions as TRUTH. I don't want my kids to categorize and dismiss people and think of folks as good or bad. I don't want my kids to think in terms of "us" and "them." I want them to be curious. I want them to wonder where folks are coming from. I want them to be wise enough to look deeper- beyond behaviors and cultural differences and sound bites to the places where we are all the same. I want them to be wise and gentle. And so now, THAT's why I'm glad my kids weren't in the room for Sherman's rant. Not just so they didn't see HIS behavior- but so they didn't see MY behavior.
I don't want to spend the rest of my life deciding who's right and wrong and who's a good guy and who's a bad guy. Because I think all of those decisions reveal more about my particular culture's values than any objective truth. And making all these decisions about folks makes me feel rigid and cranky and old and weary and afraid.  I think maybe this IS how people become old and cranky. They refuse to widen. Their categories for folks become more and more rigid until their comfort zone becomes so small that barely anybody's allowed in. I want to get wider as I get older. By the time I die I want to be so expansive that I could embrace the whole world. And I think that begins by admitting that I don't even KNOW what I don't know about other people, other races, other cultures, other professions. But I'm open to learning. That's all I'm saying.  I want to learn. I admit, I have a whole lot more to learn than I have to teach. And so what I want to do is quit writing people off – and start writing everybody IN.
 "Beyond our ideas of right-doing and wrong- doing, there is a field. I'll meet you there."  – Rumi
I'LL MEET YA AT THAT FIELD, SHERMAN!!! I'LL TRY TO GET MY DAD TO MEET US. You can call him Coach.
Love,
G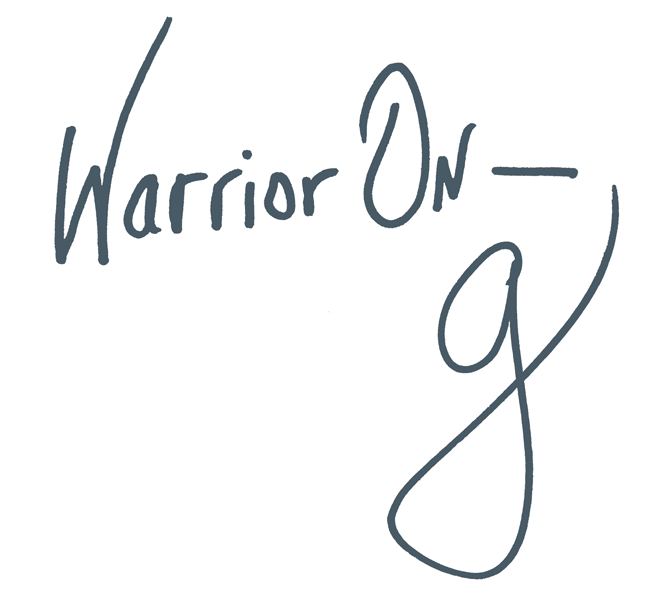 Author of the #1 New York Times Bestseller LOVE WARRIOR — ORDER HERE
Join the Momastery community on Facebook, Twitter, Instagram & Pinterest