Since I'm super sensitive and have a super sensitive Tish, folks are often surprised when they hear me say to her:
Be strong, Tish. Be strong. I say it a lot. Be strong, baby.
And I hear this sometimes, from wise, thoughtful parents:
Why do we have to tell our kids to be strong? Isn't it okay to be weak? I thought we were supposed to embrace sensitivity.
And I say:  hoooooold on a minute.
Strong and sensitive are not opposites. Sensitive and insensitive are opposites. Strong and weak are not opposites. Strong and fake are opposites.
If you feel weak and you are honest about that weakness even in the face of criticism – that's strength to me. If you refuse to hide who you are by lashing out at others, by snarking all the time, by deflecting and judging and knocking others down to mask your own insecurity – if you just come out and say, "You know what? I'm weak a lot. I'm a little lost and confused and sensitive and insecure sometimes and that's all right with me because I'm pretty sure that's just what it means to be HUMAN." That's my kind of STRONG. None of this fake bravado, please. Be real. You don't need to be SuperHuman – Just Be human.
That's what I want for my sensitive Tish, and for me. For us, strong isn't about hardening up our insides – it's about keeping them soft no matter what other people think. No matter what's said, what criticism comes, what the world decides about who we should be – we're gonna go ahead and just be who we are. We love our extra soft selves because we believe in soft power. Soft power is water that over time, wears down the mightiest boulder. So we're just going to be strong enough to stay sensitive in this world. That's what it means to have tough skin and a soft heart.
Strength, for us, is a fierce determination to say soft. To stay weak. Our "weakness" – our sensitivity – is not something we "haven't gotten over yet." It's something we're recommitted to every day. It's our PLAN. It's our strategy to heal ourselves and heal others.
So when I say, "Be strong, Tish" what I'm really saying is "Be Tish, Tish." No matter what they do, what they say . . . Be Tish. Be Tish. Always Be Tish. Be strong enough to stay sensitive, baby.
Be you.
Stay Weak,
Glennon and Tishy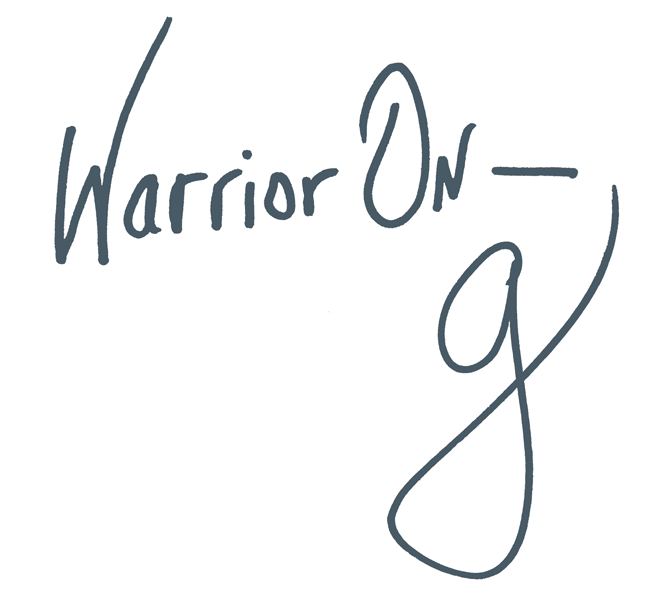 Author of the #1 New York Times Bestseller LOVE WARRIOR — ORDER HERE
Join Glennon on Facebook, Twitter, & Instagram