*********************************
Dear G: I read your essay about marriage yesterday and found it quite negative. Don't you think with a platform like yours you should be encouraging people about marriage instead of talking about all the negative parts? People put you on a pedestal- I really think you should use that pedestal more wisely. And as a Christian, I find your cursing offensive. Christians should not go around cursing.
In Him,
Friend
*********************************
Dear Friend:
Ah- the platform and pedestals conversation.
In my opinion, anyone who has a platform and truly wants to use it to encourage others must refuse to be put on a pedestal. She must just refuse that crap. And when folks put her up there anyway- she must continuously step down and off. If she wants to really connect with folks instead of just preach to them -every day she must use her platform to step down, step down, step down.  Hot air rises and the higher you go the thinner the air gets and so it's hard to breathe on a sizable pedestal. The writer's life and the spiritual life and all of life, really is about downward mobility. Down is where the love is. I don't want a pedestal that separates me from people- I want to be IN IT with people. I don't want to be envied, I want to be understood. I don't want to be a teacher- I just want to be a student alongside other students and talk about all the cool and hard stuff we're learning and how brutiful life is and how terrible and gorgeous we and other people are.
Also, I am a writer, not marriage's public relations rep. As a writer, my job is to notice how things actually are and write about it- not dream up how things should be and write about that. There is no place in my life or writing for should. Should is dead to me. Should is an imaginary cage that many people spend their entire lives in and No, Thank You to that. I'd rather be confused and free than certain and caged.
Also, here's the thing. Let's play this out together.
Pretend you're a blog reader. Chances are, you're going through some hard stuff in your marriage. This is a safe bet since at some point, we are all, if we're honest. You had a big fight with hubby last night and just took the kids to school and you sit down at your office already exhausted and tired and stressed and you read two essays. The first essay is a flowery description of a lovely, picturesque marriage with-I don't know- what do lovely picturesque marriage consist of? Maybe lots of wine and perfect kisses and squeals and I don't know- trips to Paris. How do you feel after reading that essay where ALL IS WELL AND SHINY AND LOVELY AND PEEERRRFECT. Do you feel encouraged? Don't you actually feel DISCOURAGED? Doesn't that essay make your heart sink because you get that feeling that you're not doing it right? That you're missing out? That everyone else has it better than you? And isn't that kind of a dangerous thing to do to folks? To paint an unrealistic picture that people measures their experience against and inevitably find their marriage lacking since theirs is REAL and three dimensional and messy and the one on the screen is …well, it's just NOT? It's dangerous. It's setting folks up for sadness and failure, I think. It's like promising folks the moon when all they really need to do is learn how to find regular, old, ordinary Earth beautiful enough.
I feel like what we have here, sister, is a failure to communicate, and so I'm trying to find the disconnect.
Maybe it's this: maybe the two of us have different ideas of what beautiful is. Because I have to tell you that the essay you found negative – I thought it was beautiful.
My marriage is messy as all hell. That's true. But listen, friend. Here's the thing: I LOVE IT THAT WAY. I LOVE MY MARRIAGE. I do not find messy and beautiful to be mutually exclusive. As a matter of fact- I ALWAYS SEEM TO FIND THEM TOGETHER. Messy and beautiful hang out together ALL THE TIME. Messy and beautiful are Like Laverne and Shirley or Joy and Pain or Love and Loss or peas and carrots or Family Picture Day and Nervous Breakdowns….THEY GO TOGETHER. Messy and beautiful are inseparable.
So what I'm saying about parenting and marriage is not:
Marriage and parenting are messy. They suck. Don't try them.
And it's not:
Marriage and Parenting are Beautiful. They're easy! JUMP IN NOW!
What I'm saying is:
Marriage and Parenting are the messiest and most beautiful things I have ever done in my life. I'll take them both because the beautiful is so damn good that it makes all the messy in the world worth wading through.
One last thing:
Whether we "should" or not – I have to tell you that actually, lots of Christians swear. As matter of fact, I have noticed with great amusement and adoration that when my most Christiany friends (the ones running orphanages and delivering babies and adopting people and being insanely brave and kind in normal, everyday ways)  and I get together, we swear MORE than my non-Christian friends and I do. I think it's because we are afraid that people think we're goody- goodies, so we throw swears around to show how edgy and totallywhatever we are. It's a funny thing. Maybe it's also that we feel safe enough together to finally let loose. Shit, I don't know.
I really do love you and me and the messy, beautiful work of trying to understand each other.
Grace for all.
Love,
G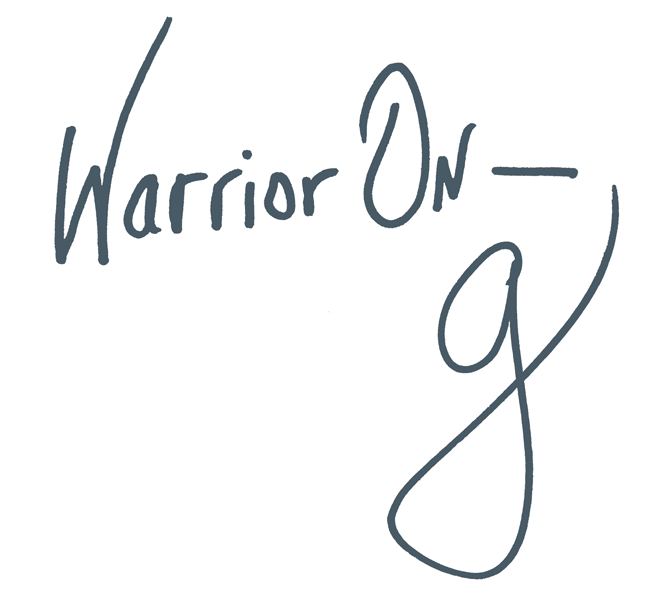 Author of the #1 New York Times Bestseller LOVE WARRIOR — ORDER HERE
Join the Momastery community on Facebook, Twitter, Instagram & Pinterest