If you are still wondering if broken-hearted is an okay way to be, to live– please read the comments after yesterday's post. It is. Grief and broken-heartedness are holy callings. Don't skip them, or pretend to. They are crucial parts of our life long quest to defrost. Grief hurts because it's supposed to. Sometimes life has to hurt to get our attention.
For the last few days I've been floating a little bit – like a satellite – ungrounded, unattached. I get like that sometimes. When called out of my head and back to the physical world by a pressing immediate matter (usually a little person who can't find her socks) I keep thinking about What Mindy Would Do.
I woke up this morning early and sat outside with my Bible in the Quiet- because my Bible and the Quiet both seem like appropriate Mindy meeting places. This morning I was reading John 2 and it made me think of a recurring theme I've noticed in my email inbox.
Since I never offer advice, people ask me for it constantly. During the past few weeks- I keep getting versions of this: "I want to _____ (write, dance, teach, rest, pray, whatehaveyou). I just feel like I'm not ready to start because ______ (I don't have time, I'm not good enough, the stars are not aligned, others are doing it better, whatehaveyou)."
The Bible story I read this morning was about the moment Jesus started his miracle ministry on Earth. Jesus was a man who some of us believe was actually God. I love Him. To be honest – I, like, WORSHIP the guy. I do not think you need to, though, and that gets me into some trouble now and again. It's okay. Anyway, at the start of this story- Jesus had been preparing to Do His Thing for a little over thirty years, but He'd never performed any sort of public miracle yet. So this one night he was with his buddies and his mom, Mary at a killer wedding (wine flowing, three days and nights, epic party) and the hosts of the wedding ran out of wine. As every Monkee knows – there are problems, and then there are problems – and running out of wine is a problem.
So they are all sitting around saying- "Jesus, this sucks. We're out of wine, what are we gonna DO?" Because there wasn't say, a local Brew Threw to hit up on a beer run. But then Mary remembered- "WAIT A MINUTE! I TOTALLY FORGOT! MY KID IS GOD!"
And so she ran and found Jesus and said something like- "HEY KID! WE'RE OUT OF WINE. DO YOUR MIRACLE THING. QUICK!" And Jesus did a funny thing. He looked at her and said, "Woman! No! It is not my time!"
Now, we don't know what Mary said to Jesus next. All we know is that all of a sudden, Jesus goes around changing all the water at the wedding to wine stat. So my guess is that Mary stopped in her tracks and gave Jesus a pointed look that clearly conveyed the following message: "I am unsure of what your lack of readiness has to do with the fact that I NEED MORE WINE. Additionally, if you call me "woman" again, I will smack you upside the head with one of those holy sandals."
From this we can learn two things:
No matter who you are, when your mom asks for wine, MAKE IT HAPPEN, since you are likely the reason she needs it in the first place.
Forget it, just Number One.
Mary was totally one of us. LOVE THAT LADY.
Anyway, this is all to say that if you don't feel ready- if you are waiting to Get Started Doing Your Thing- you are in good company. Even Jesus felt unprepared to begin. But look- I want you to picture me looking directly at you trying to convey this message: "I am unsure of what your lack of readiness has to do with the fact that the world needs the little miracle that only YOU can perform. The world needs you to use your gift – ready or not."
And yes- I'm looking at YOU, SISTER. And you and you and YES, YOU, there in the kitchen covered with baby spit up. Especially you. Actually never mind- you're off the hook. Nobody with kids under the age of five has to use any of her damn gifts ever. You forget all of this. Just SURVIVE, you. Reread in many years.
Anyway, here's the secret. Not a damn one of us knows what we're doing. You cannot wait till you know what you're doing to get started. I NEVER know I'm doing. So I just do the Next Right Thing, one thing at a time. Like this morning, I woke up and got the kids off to school and then I didn't know what to do because I am still very sad and hazy. So I asked myself what's the Next Right Thing? And then I sat in the quiet with my Bible and Mindy because that seemed right. And then the Quiet and my Bible and Mindy told me to write this essay. So now I'm here. After I'm done, I'll decide what the Next Right Thing is again, and then I'll do it. I'm hoping my Next Right Thing involves cinnamon raisin bagels covered in sugar because I just remembered, in the middle of writing this sentence, that I hid one of those on top on the refrigerator this past weekend. YES. That's it. It'll be a little stale, but I'm certain the bagel is the Next Right Thing for me. See, like that. Just the Next Right Thing, the whole way home.
This is a picture of my kid on the diving board. I took this one because it's the ultimate Life Moment.
Will she jump?
Or will she turn around and climb back down the stairs?
Jump, honey. Do it.
Sometimes you'll belly flop and it'll sting and everyone will laugh and sometimes you'll do a perfect screwdriver and everyone will clap. But after a while you will learn that you don't jump for everyone. Everyone doesn't even matter. You jump because at the end of the day- when your head hits the pillow- you want to Be One Who Jumps.
That's all. That's everything.
Don't wait till you're ready. Nobody's ever ready. Just jump now.
Love, G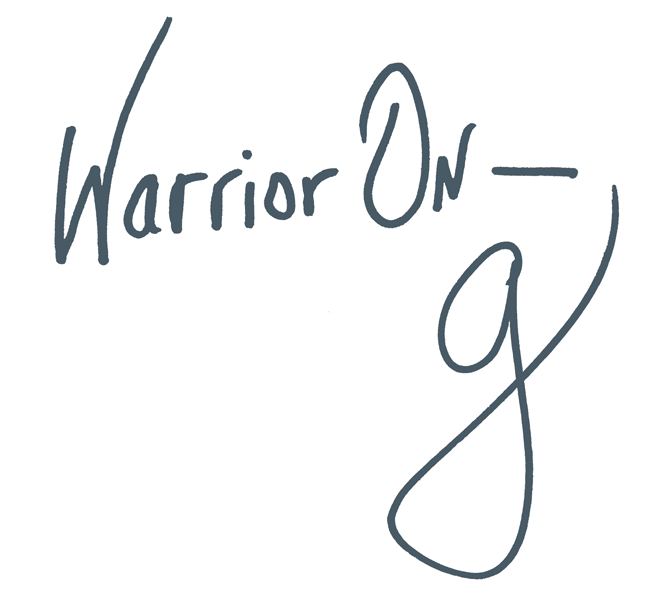 Author of the #1 New York Times Bestseller LOVE WARRIOR — ORDER HERE
Join Glennon on Facebook, Twitter, & Instagram