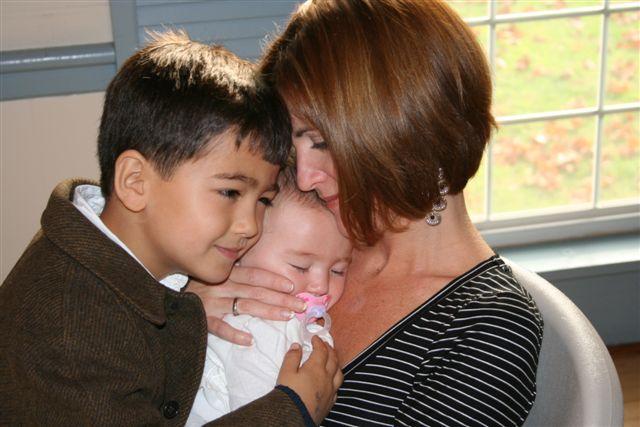 Come, they told me… Pa Rum Pum Pum Pum,Our Newborn King to see… Pa Rum Pum Pum Pum,
Our finest gifts we bring… Pa Rum Pum Pum Pum,
Today before the King… Pa Rum Pum Pum Pum, Rum Pum Pum Pum, Rum Pum Pum Pum,
So to honor Him… Pa Rum Pum Pum Pum,
When we come.
Baby Jesus, Pa Rum Pum Pum Pum,
I am a poor boy too… Pa Rum Pum Pum Pum,
I have no gift to bring, Pa Rum Pum Pum Pum, Rum Pum Pum Pum, Rum Pum Pum Pum,
Shall I play for you… Pa Rum Pum Pum Pum,
On my drum.
Mary nodded… Pa Rum Pum Pum Pum,
The ox and lamb kept time… Pa Rum Pum Pum Pum,
I played my best for Him… Pa Rum Pum Pum Pum, , Rum Pum Pum Pum, Rum Pum Pum Pum,
Then He smiled at me… Pa Rum Pum Pum Pum
Me and my drum…
Amanda and I sat on the kitchen floor last Friday and listened to The Little Drummer Boy again and again and I cried and cried. Amanda snuggled deep into my lap and she kept turning around, cupping my chin in her hands, tilting her little head and saying, "Are okay?" Are okay?" I nodded, held her tight, inhaled her neck and used all of my senses to take her in. I marveled at how she could offer me so little, how she could, in truth, be such an incredible drain, and how I could still adore her so completely. How I could cry just thinking of her. How I've memorized every roll on her thighs, every red streak in her hair, the feel of her velvety cheek, and every expression her face has ever made. How there is nothing she could ever do to make me love her any more or any less. How she is already everything she needs to be for me. How she is a reflection of all that is true and good in me, because I made her.
When she started rubbing her eyes, I put her inside her crib and watched her fall asleep. I love her most at the moment she decides to trust me to keep her safe, and so her eyelids close and she falls away and just breathes. And when she awakens and I walk into her room, she turns her face toward me, throws her arms in the air and says Mama, and it's enough to drive me to my knees in gratitude and awe and never get back up.
God gave me my little girl so that I might understand how God feels about His little girl.
I know, with my whole body, mind, and soul, that the way I love my baby girl is the same way God loves me. God has memorized every hair on my head and He watches me sleep and wake and when I cry He pets my hair and says "Are okay?" God has never, ever let go of my hand. When I run, He  follows, and He never grows tired or weary. God's plans for me are more beautiful than I can dream and He wants me to come to him like a child because that's the way He loves me most. Empty handed. Utterly dependent, with no gifts to bring. He looks at my face and my outstretched, empty hands and He sees his little baby girl. The little girl He created. I don't have to be a grown up with Him. I don't have to be a wife or a mother or a friend or a teacher or a writer or a woman in his presence. He created me solely because He wanted someone to love. So that's all I have to be, someone to love. He wants me to rest in the truth that there is nothing I can do to make Him love me any more or any less. He already knows about the choices I made yesterday – no need to be ashamed, and he already knows what will happen tomorrow – no need to be afraid. He doesn't want me or need me to be anything more than the needy bundle of tears and love that I was the day I was born and that I am today, on the kitchen floor. He just wants me to sit still and accept His gift, which today is the sensation that my heart might explode as His love and adoration flow from Him through me, His baby girl, and into my baby girl.
This is when Jesus smiles at me, I think. When I offer him my broken, overflowing heart. When I play for him with whatever I have, which is nothing. He doesn't want me to wait to play for him until I am better or different, or until I have something more worthy to offer. He was a poor boy, too, he understands. He was rejected and afraid and exhausted but he played his song for me anyway. And all he wants is to hear my song in return. He wants my song, the one only I can play, today. Not tomorrow.
And if it seems too good to be true that I'd have a song worthy of Him while I'm still broken and naked and crying, I need only to remember that the most beautiful song the world has ever heard was sung by our Jesus when he was all of those things, hanging on a cross.
That man who died for me, Jesus, my God, wants me to play for Him. And Mary nods her agreement, so I play, without fear of how I might sound. And here's why I'm not afraid to play my song in the face of God. You have asked how I can share my heart so openly, why am I not afraid to disarm myself and tell you my truth, even when it's ugly or scary.
It's because there is no need for weapons or armor when one is already standing inside a mighty fortress.
It's because while I want you to say that you like me, to tell me I'm okay, to say that we are the same, you and I… I don't need you to say those things. If no one ever likes or loves me again and I am left with only God, I will still have too much acceptance and love to handle well, or respond to appropriately, or endure gracefully. I can tell you the truth of my heart because when you handle my heart imperfectly, it's okay, I forgive you already. You don't have to love me perfectly. I don't depend on you for that. You can be human, and you can make mistakes with my heart. Because if you hurt me, if you accidentally ignore me, if you love me imperfectly, I still have perfect love to turn to, to remember, to feel. And so I feel safe with you. And you can feel safe with me too, because I will never expect you to be someone you're not. We don't need to be afraid of each other. Perfect love casts out fear.
And when I tell you about Bubba and Sister and Husband and Tisha and you say that you wish you had a perfect family, too, please understand that my family is not perfect. Lord, no. None of us loves each other perfectly. But I don't need them to love me perfectly because I already have perfect love. We are all wired to need perfect love but none of us is wired to offer it. Because we are meant to find it only in God. So I don't ask my family for perfection. I forgive them their humanness, and search for their divinity, knowing that we usually find exactly what we we're looking for. And when I catch glimpses of their divinity, I notice and share it. Just like my family and Jesus do for me.
I'd like to begin December by saying Happy Birthday and Thank You to Our Jesus. He guided these words, and they are meant for you. It's not an accident that you are reading them. He wants you to know that He loves you like you are the only little girl in the world. You don't have to be a grown up for Him. You don't need to bring Him gifts. Just play. He'll listen and smile. And we'll dance.
Love,
LDG (Little Drummer G)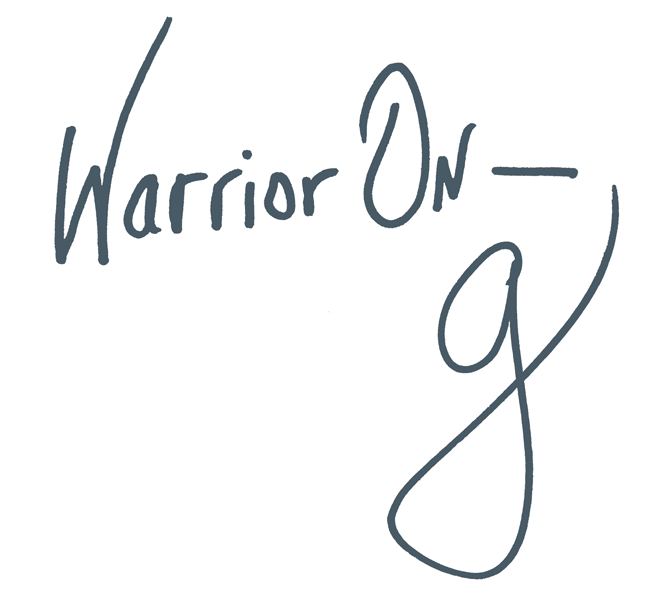 Author of the #1 New York Times Bestseller LOVE WARRIOR — ORDER HERE
Join Glennon on Facebook, Twitter, & Instagram