Dearest NBC and the Macy's Day Parade Committee,
When I was a little girl, the three hours between nine and twelve o'clock on Thanksgiving morning were my three favorite hours of the whole year. Thanksgiving morning was even better than Christmas morning, because on Christmas morning the holiday magic was almost over, but as I snuggled into the huge nest of blankets in front of the TV on Thanksgiving morning, it was all just beginning. For three hours –  as I watched those dances and floats and balloons and silly costumes and music and colors and WOW! I felt like the whole country had conspired together to make sure that I, a kid, BELIEVED.  Because all the grown-ups stopped their grown-up nonsense to give the kids their morning. Every celebrity was someone I knew and loved– MOM! THAT'S KERMIT! DO YOU SEE? I TOLD YOU HE WAS REAL! And even the grown-up TV hosts spoke directly to me that morning – SANTA'S ON HIS WAY, KIDS! And so in a very adult world- I felt like these three hours were just for me. I felt comfortable and unafraid and transfixed. And so my family cuddled up on the floor and we stayed in our pajamas and we ate too many donuts and we stopped arguing and being productive and together we fell into your kids' magic land. It was good.
It's still good. Now I'm thirty seven years old and I have three kids of my own – a boy and two little girls. During the past thirty seven years – I haven't missed a minute of the Macy's Parade. And since I'm the boss now, my kids haven't either. No one is allowed a bathroom break unless it's a commercial- everyone knows that's the parade rule. And now my kids wake me up  on Thanksgiving morning with: MOM, WAKE UP! ONLY TWO HOURS TILL THE PARADE!
This is my family, yesterday morning –during our countdown to Parade Time.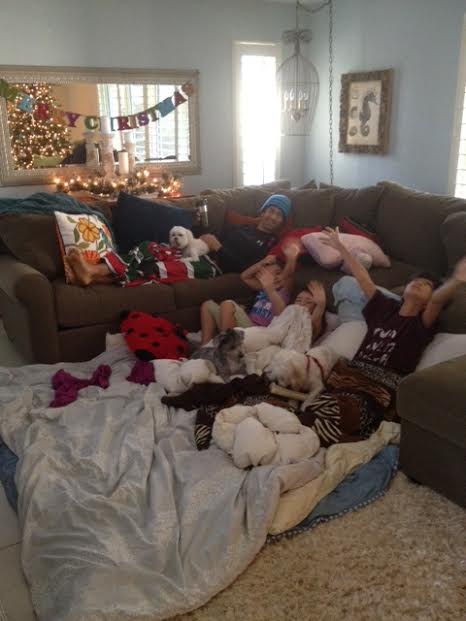 We sent that picture to my dad, to show him that the tradition was alive and well. He sent this picture back- of him and my mom counting down. Even twelve states away from each other- we were READY FOR PARADE TIME TOGETHER.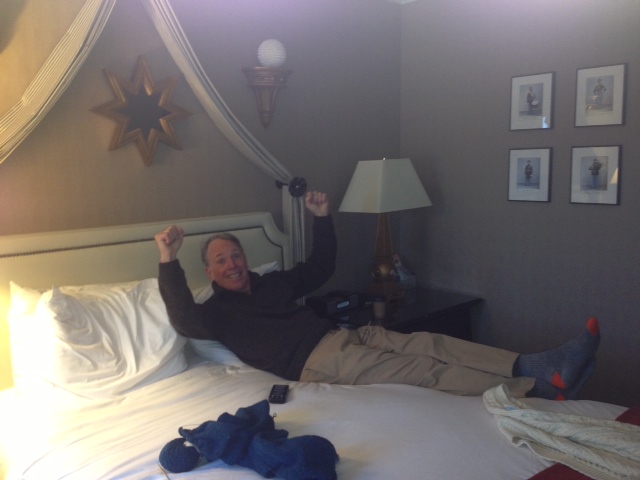 And so I'm writing this letter first to say thank you, and second to beg you to preserve this- one of our country's most iconic traditions.  Because the parade is in trouble, and I'm worried.
Yesterday- throughout most of the parade – almost every single time a new float or balloon was announced  – in other words- every single the time children were watching carefully– this was what they saw.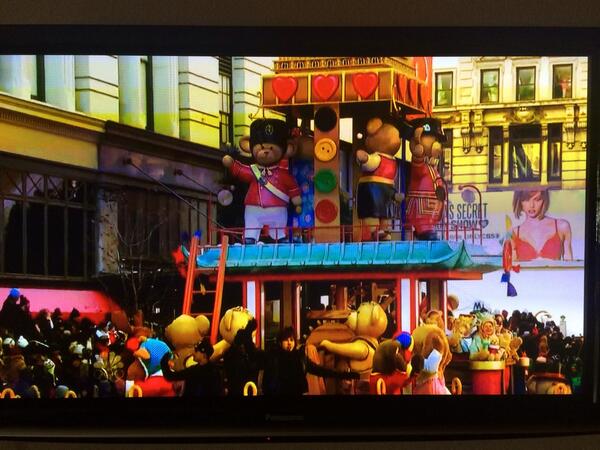 (photo by Carrie Columbia Campbell. Thank you, Carrie!)
As large as  the newest attraction- was the half-naked, sultry faced woman in the upper right corner of the screen. Her presence loomed the entire time. There was no ignoring her. Yesterday- the parade was not a kids' world anymore. What happened?
It's not right. Please, for next year- fix it. Let the kids and their parents have these three hours. Protect these three hours from the grown up, confusing world of half-naked women and commerce all mixed up together. Don't ask our little ones to decide between looking at Santa and a lingerie model. Because that was the shot, Macy's. I couldn't take the picture because I was too sad- so I'll describe it instead. This is the image that's burned into my memory from this year's parade. THIS:
My kids are up on their knees and glued to the screen. Santa and Mrs. Claus, surrounded by elves and reindeer, are smiling and waving to the little ones- encouraging them to live in their childhoods a little longer – just one more year- Stay Young! Believe! And above them is that Victoria's Secret model- just as big as Santa- insisting that sex is a commodity to be bought and sold on Times Square–scowling, luring those kids to forget the kids' stuff and look at her- instead. Insisting that THIS PARADE IS ABOUT YOU, KIDDOS. IT'S ABOUT YOU and WHAT WE CAN SELL TO YOU. To call it a mixed message would just be too ridiculous an understatement.
You handed our kids a candy cane- but there was a little poison in it, Macy's.
I couldn't tell if I was sadder for my girls or my tween boy or my husband or maybe, for me.
Probably for me- because when you show this iconic sign to us again and again- I'm tempted to believe that there are still some things- like this American tradition- that are not for sale to the highest bidder. But with that model in every single shot meant for our kids- it's getting harder to BELIEVE.
Protect this time for us. Allow us just for those three hours to NOT be confused. For three hours- let us leave behind the grown up world where everything is for sale and sink into all that is good and unspoiled.  Don't require that we parents spend our parade time struggling with what we should say to our kids about women's bodies and what they're worth- and don't make us pause the parade to remind our kids that they shouldn't be ashamed if they find themselves looking at that model instead of Santa because – it's not just you, honey- that's the advertisers intention. Those confused feelings you have – that's what was INTENDED.
NBC and Macy's- move that billboard from the shot next year, please.
Does it seem outrageous for one mother to ask you to remove an entire billboard?  I would suggest that it's less outrageous than inserting a half-naked woman suggesting that sex is something to be bought and sold into America's most beloved children's parade. That is outrageous. That is just outrageous.
And if she's there again next year – I won't be. After thirty seven years, I'll find a new Thanksgiving morning tradition. Because more important to me than tradition is refusing to send my kids such blatant mixed messages. Since I still BELIEVE,  I won't be able to be there with you. And losing one viewer might not make much a difference for you, but it sure will for me.
Don't sell our kids out to the highest bidder, NBC and Macy's. We want to BELIEVE.
Respectfully,
Glennon and Craig Melton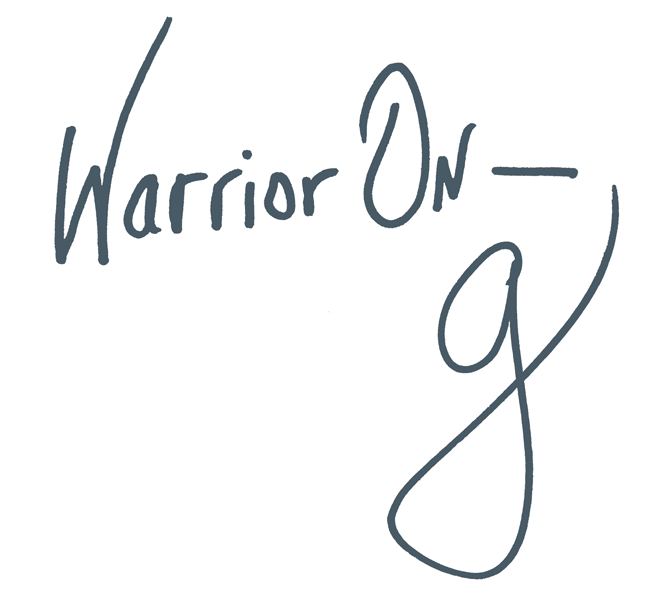 Author of the #1 New York Times Bestseller LOVE WARRIOR — ORDER HERE
Join the Momastery community on Facebook, Twitter, Instagram & Pinterest