Dear Amy and Emily,
My name is Glennon and I'm a writer. When Brain and Garreth asked me to speak at Wild Goose, they opened with, "Glennon,The Indigo Girls will be there" and I choked a little and started sweating and finally squeaked out, "Okay then, I'll be there, too. " And that was that.
I emceed your Saturday night show with Brain and I introduced you. I almost died. This is me almost dying.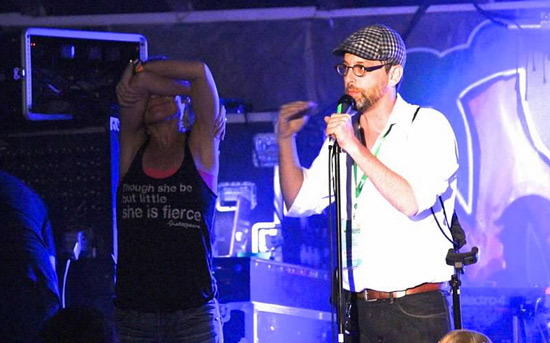 When I pulled it together, I said to the crowd:
"Twelve years ago, when I was getting sober, I was terrified every day and I didn't know how to wake up in the morning or how to fall asleep at night and I was suspicious of everyone – except for Amy and Emily. And so every morning and every night I lie in bed and shook from fear and withdrawal and listened to their voices to remind myself that I wasn't alone and that it was okay to FEEL. And over a decade later, I haven't stopped. I still listen to Amy and Emily every single day to remind myself that I'm  not alone. I've spent twenty years in doctor's offices and on therapist couches and in churches and libraries- and no one has ever saved me as often as Amy and Emily have. They are companions and sages and with their latest offering- Beauty Queen Sister – they keep reminding us that we are known and loved. And they're here. They're here."
And the crowd went wild. Because you were HERE. You'd shown up for us yet again.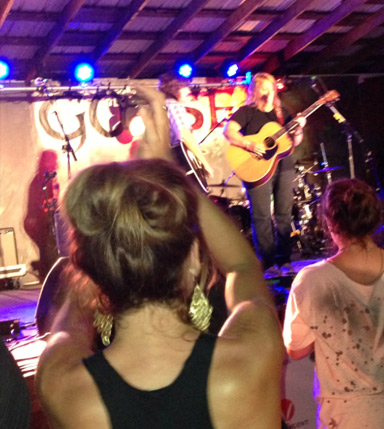 After I climbed off stage, someone who looked official started walking towards me and when she got close – she grabbed my arm and said, "Glennon, come backstage after the show – they want to meet you." At this, my legs buckled and I found myself crumbled into the lap of an unsuspecting lady in a lawn chair behind me. The lady was surprised but accommodating, because that's how Wild Geese are. And so I wrapped my arms around her neck and said, "Friend, I'm scared."  And since this friend heard both my intro and the backstage invitation, she smiled and said, "It's okay, honey. It's all grace, dear. It's all grace."
Still – I didn't want to come backstage after the show, because I am aware that our twenty year relationship has been between me and your art- not between me and you. I am mostly aware that there is a difference. But while I was thinking – no, nope, hell no, absolutely not – my sister whispered calmly but with great force – "Glennon. Let me be clear. YOU WILL NOT TURN DOWN AN INVITATION FROM THE INDIGO GIRLS."  And she is the boss. So I went. It was awful. I looked right at you and said something like, "Me. Glennon. Writer. You. Amy. Emily. Girls." I can't even think about it anymore, actually.  You looked sympathetic, so maybe you assumed I was some sort of caveman writer who only knew three words. After that I just crept out of your tent because Jesus – you've already done enough for me without having to talk me out of a panic attack.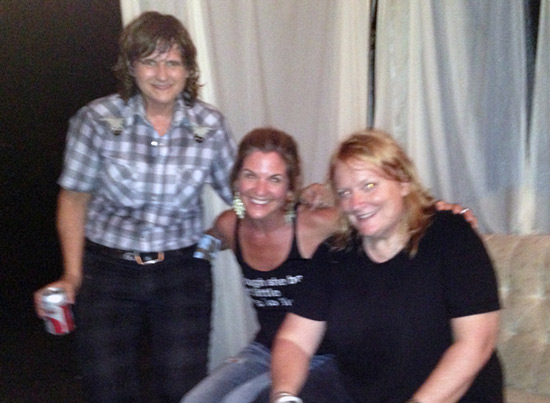 (This looks like a blurry picture but actually I was just shaking all three of us this hard.)
Anyway- I'd like to tell you now what I would have told you in the tent if I were saner.
Amy and Emily – when you are on stage, it's like you are the whole world. Your feet are planted on that stage like you're an oak tree and your voices– one minute  they're a raging, icy river and the next minute a warm, soothing brook. Then, whatever it is that happens with you and those guitars –  I don't know. It's fire, I guess. It's scalding and life giving and sometimes it's just too bright to look at directly. On stage- you are all the elements at once and that's what makes us feel so HOME when we're watching you. Nothing's missing. For a few hours- nothing is missing for us at all.
My son, Chase, was with me that night.
He knows you. He has heard you singing in our kitchen every single day of his ten years on Earth. Actually longer, because I was pregnant with him when I was getting sober, and so for those extra nine months he heard you promising me that it was okay to feel as much as I feel and that people who feel that much can turn their pain and joy into healing art.By helping to save his mama, you gave him a chance. Because you helped convince me that I could do it- that a girl like me could raise a little man like him. Every day, you promised me that. And you were right. Because even though I was a fall down drunk back then who'd burned to the ground every bridge in my life – one excruciating, hopeful day at a time –  I became sober. And then I became a mother. And then I became what you taught me to be – a writer who turns her pain and joy into healing art and then lets her art be her prayer. And at your continued insistence, I just kept becoming things, becoming ME – until one night a few weeks ago I found myself spinning in ecstatic circles three feet in front of you, my hands in the air, crying into my son's shaggy hair and laughing into his PROUD eyes. He was so proud of me, sisters. Because he had just watched his mama speak and hug and heal and then climb onstage and introduce her heroes to a huge crowd of heroes. And we were dancing- him and me. For a few minutes we weren't even mom and son- we were just two people who felt supremely alive together. Who were believing together. And then, Amy, when you started to sing Let It Ring,* my son and I stopped dancing and held each other so tight that we could feel each other's hearts beat.  I don't know if either of those hearts would have been beating that night if it weren't for you and your art.
During that song  –  during Let It Ring- you revealed to me that it wasn't you who was making me promises for all these years. It was Him, of course. The whole time it was Him, through you. Is that the difference? Are you Amy and Emily and then your art is AmyandEmilyplusHim? Maybe that's the magic? I don't know. I just know that my new friend who let me borrow her lap was right- it's all grace. And Chase and I could feel that so we just held on to each other and cried and cried in the middle of the magical grace- which was below and above and in front and behind us. We were just two lost and found souls in the middle of an ecstatic sea of lost and found souls. And it was GOOD. I do not know that it could ever, ever get better. Just me and my boy and you and the rest of the damn world. Grace Dancing.
Amy and Emily –  keep me and the rest of the Wild Geese somewhere in your head or heart or hands. Tuck us away. Know that all those days and nights that you've shown up – you and your pencil or you and your guitar or just you and your pain and ecstasy and despair and hope– all those times you've shown up instead of saving yourself for yourself saved my life and made me a believer. You made me a believer in God, in art, in women, in myself.
I love you.
Glennon
 *My favorite song ever. Ever ever ever. Also  ALL the other ones.
 ** COME TO WILD GOOSE NEXT YEAR!!!!!  Best three days of my life. Truth.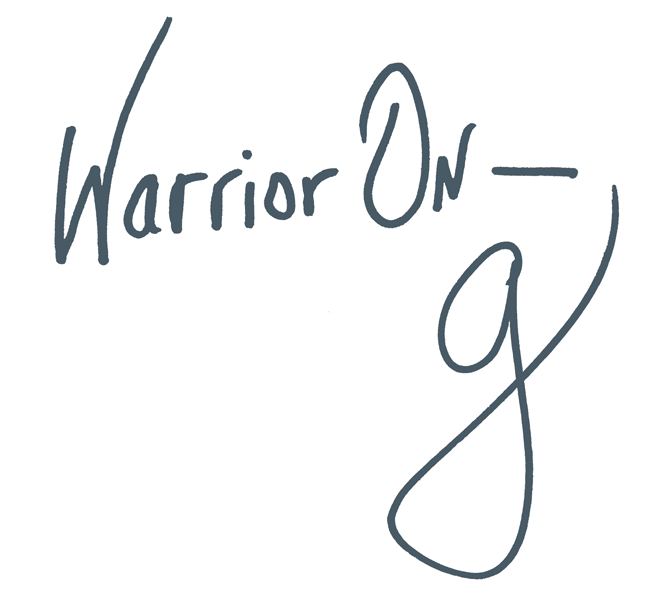 Author of the #1 New York Times Bestseller LOVE WARRIOR — ORDER HERE
Join the Momastery community on Facebook, Twitter, Instagram & Pinterest