I have been bamboozled, hoodwinked, duped, swindled, and punked.
This morning we took Tish for blood tests. She was afraid and distraught. I told her many supportive parenty things like "honey, it'll be over soon" and "sometimes we have to do things that hurt to keep us healthy," and basically kept throwing around nurturing phrases like that as if I were some kind of heroic blood testy mother of the year. She was a warrior. We both shined, really.
This is the last picture taken of me smiling and might forevermore be.
After our appointment, we took Tish to school. On our way back home, Craig mentioned that we needed to stop at the store. Okay, I said. Craig parked, came around to my side, opened my car door and held my hand to help me out. Odd, I thought.
Then he walked me toward a door that said – DENTIST. I stopped walking and stared up at him. He stopped too and looked at my confused face. He cleared his nervous throat and said, "Honey- we have to go."
I stopped cold on the sidewalk and  tried to process what was happening. It took a second, but I figured it out.
"OH, NO. NO WAY. THIS IS NOT GOING TO HAPPEN. NO, NO, NO, NO. YOU TRICKED ME???  WHAT IN THE ACTUAL HELL? YOU CANNOT TRICK ME INTO GOING TO THE DENTIST!! I AM NOT FOUR YEARS OLD!"
Craig looked around at the folks now watching us and said, "I am not certain about that."
And so I fumed and panicked and plotted an escape. I dropped to the concrete sidewalk and started rifling through my purse. I'd call Sister. Sister would help me. Yes, she lives in Virginia and I live in Florida but she would come. She would understand. She would save me. But- No PHONE.
I looked up and Craig said, "I took your phone, hon.  It's at home. And it won't help to call Sister anyway. Sister WANTS you to have teeth.  Everyone who loves you supports me in this. Think of all the things you said to Tish this morning. This is for your health. I have you here because I love you."
And I thought – O to the M to the G. I AM HAVING A SLEEPING WITH THE ENEMY MOMENT. AND CRAIG IS USING MY SUPER MOM SAYINGS AGAINST ME. BEING A GOOD MOM NEVER, EVER PAYS OFF – DAMMIT!! I KNOW THAT!! I KNOOOOOOW THAT ONE!!  AND HE PLANNED ALL OF THIS. THIS IS A FREAKING DENTAL INTERVENTION.  THAT IS WHAT IS HAPPENING HERE. IT'S AN INTERVENTION.
And I looked from Craig to the DENTIST door and I thought- I know this drill. This is not my first intervention rodeo. This is dental rock bottom. I have hit dental rock bottom. And so now I must walk through that DENTIST door and subject myself to those health experts. I must ACCEPT HELP NOW or everyone who loves me will refuse to support me in my lifestyle of tooth neglect any longer. There is nowhere to run.  My people are in on this.
And so I considered starting over with new people. New family, new husband, new Sister.  I decided YES, that was the answer. But then I thought for a moment about SOBER DATING and I decided that SOBER DATING might be the only thing in the whole wide world worse than a dental ambush.
So I glowered at Craig and said, "I CANNOT BELIEVE you did not even give me time to put on my responsible green cardigan so I look like someone who definitely flosses but maybe just forgot last night.  I cannot believe any of this."
And then I bravely walked through the DENTIST door. The lady behind the counter smiled her dentisty smile at me and handed me some paperwork. Because at the dentist you must SIGN UP to be tortured. You must expressly and officially beg for it.
I sat down and glared at Craig and tried to kill him with my eye balls.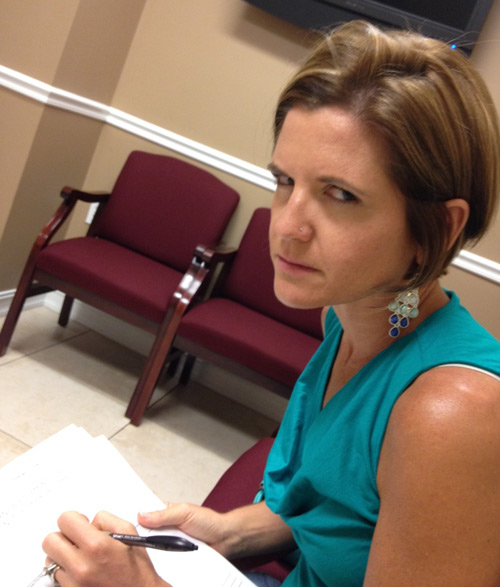 I filled out my paperwork and Craig kept taking pictures of me –likely to send to my family as they waited for Intervention news.
They called my name. I walked back slowly.
The hygienist looked over my desperate and unique questionnaire answers and said cheerily, "Well- why don't you tell us how you REALLY feel about the dentist! Ha- Ha! And –  oh my goodness! It's been over two years since your last appointment?! Why don't you come more regularly? You know you're supposed to come every six months, right?"
Now here's the thing about the dentist. THEY ALWAYS DO THIS.  THEY INSIST UPON ADDING SHAME TO FEAR AND THEN PAIN ON TOP OF SHAME ON TOP OF FEAR ON TOP OF HELPLESSNESS.
BRENE BROWN– GO TO THE DENTIST'S OFFICES, PLEASE. DO A WORKSHOP. TEACH THEM- ONCE AND FOR ALL- THAT DENTAL SHAMING IS UNHELPFUL.
I had no Brene with me- so I said something like the following:
"Yes. I do know that. I do know all the things I'm supposed to do. But the story of my life, ma'am, is that I don't always, or even usually, do the things I'm supposed to do. I think my aversion to taking care of my teeth is best explained scripturally.  Do you know this one?
I do not understand what I do. For what I want to do I do not do, but what I hate I do. I have the desire to do what is good, but I cannot carry it out. For I do not do the good I want to do, but the evil I do not want to do—this I keep on doing.
It's from Romans. Yes. My dental life is like that. All of my life is like that.
It's not my problem, you see. It's BIBLICAL. God said it, not me. I just can't seem to DO the dental things I'm supposed to do- but tragically I CAN manage to do lots of dental things I'm not supposed to do- like eat Twizzlers for breakfast and drink coffee all day and open everything from locked doors to tin cans with my teeth. And as you can see from the aforementioned scripture – none of this is my fault. It's because of JESUS. Something about JESUS.
And one more thing. In a few minutes you are going to look at my teeth and gasp and then ask me why I don't floss and if possible, I'd just like you to replay all of the sentences I just said in your head. I HAVE THE DESIRE TO DO WHAT IS GOOD BUT I CANNOT CARRY IT OUT. So- it's because of the Bible and Jesus. I don't floss because I'm a good Christian. It's a spiritual thing. And I think there is some kind of law that protects me from having to do things if they are against my religion. I can't tell you the law because my Sister is the one who knows about laws and I can't call her because she is in on this dental intervention and actually is a big, big jerk. But just know that I KNOW there's a law and I'm not afraid to use it if and when I can locate it."
Intervention? Did you say intervention? she asked.
"Yes. Intervention. It's okay. You don't have to act confused. I know what's happening here."
She stared at me with wide eyes and asked me to lie back in the chair of doom and I said: "WAIT! One more thing. I am a writer."
And she said, "Okay. What do you write about?
"DENTISTS, I said. I write about DENTISTS.  I really do. All the time. And listen lady. THE PEN IS MIGHTIER THAN THE DRILL."
I'm tired. I'll tell you the rest of the story later. It got worse.
Love,
G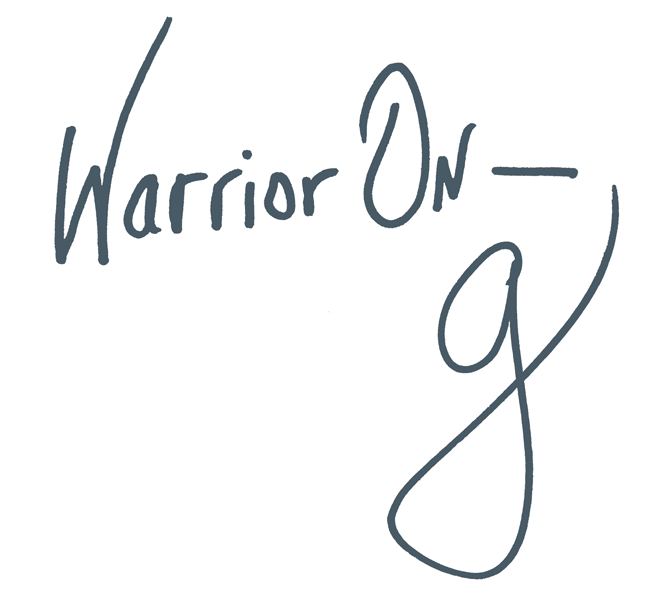 Author of the #1 New York Times Bestseller LOVE WARRIOR — ORDER HERE
Join the Momastery community on Facebook, Twitter, Instagram & Pinterest