SEPTEMBER IS CHILDHOOD CANCER AWARENESS MONTH AND THAT MATTERS TO ALL OF US, BECAUSE . . .
At Momastery- we redefine words, and that reshapes our worlds.
For example – we used to think that mother meant someone who birthed or adopted or co-parented a child. Now we know that a mother is anyone who nurtures life. We used to think that sister meant someone with whom we shared the same blood. Now we know that our sister is any woman with whom we share this Earth. We used to think that our babies were the children under our roof. Now we know that every child is our baby. And just like that-  one label at a time-   we have redefined what FAMILY means.
We are one family and you guys – our babies are sick. And our sisters are wracked with grief and worry and they are too busy keeping the faith and care-taking to fight for what their (our) babies need. And so we need to fight FOR our sisters.  We need to raise hell FOR them -because that's what families do.
Monkees, Meet Our Sister, Michelle and Our Baby, Cole
 On May 15, 2001, my second child was born. We had a perfectly imperfect week of adjusting to baby #2 but it was exactly the imperfection I had always dreamed of. I was loving life. Not the sleep deprivation, but life. When Aidan was a week old, Cole (who had just turned 3) started showing some viral symptoms…fever, fatigue, vomiting, crankiness. He was no better by day 3 of the illness so I dragged him along to Aidan's 10-day checkup. The doctor was concerned about his coloring, some pinpoint bruising, and some enlarged internal organs (liver and spleen). He did blood work and said he'd let us know but that it was probably just viral. At 8pm the phone rang…it was the pediatrician. Not good. Never good when the pediatrician calls after hours. He told us to get to Yale Children's Hospital as soon as possible…that Cole needed a blood transfusion and a bone marrow aspiration and probably had leukemia. And just like that, it all fell apart…that perfectly imperfect life. It's sort of funny when I think back on it now…I packed an overnight bag for myself, my husband and the two kids because I really believed we'd be there one night and the doctors would realize they had made a mistake. But it wasn't until 7 or 8 days later till we came home.
(Cole shortly before diagnosis…ironically playing with a bunch of medical equipment!)
We came home with chemo meds, anti-nausea meds, prophylactic antibiotics, meds to break up tumors, and steroids. We came home with a 3 year-old with a port, with a sore hip from where they took a chunk of his pelvic bone because they couldn't even extract enough bone marrow out of his malfunctioning bones, with veins that had been poked and prodded and were now bruised. We came home with a new life…one we didn't ask for, one we never saw coming, one that would either break us or make us better and stronger. It was a long two and a half years of treatment. Two and a half years of letting people pump poison into my child in the hopes he'd get better. Read that again, please – two and a half years of letting people PUMP POISON INTO MY CHILD.  (And frequently holding that child down while they did it.) Two and a half years (over 900 days) of countless spinal taps to let them pump poison into his cerebral spinal fluid to keep the cancer from spreading to his brain and spine, all the while knowing he would likely suffer learning disabilities due to it. Two and a half years (21,600 hours) filled with bottles and bottles and bottles of pills that my 3 year-old would learn to line up by the dozen on his tongue and swallow. And don't forget the many bone marrow aspirations to check if the cancer was coming back. That's right…to see if the poison had stopped working and the evil cancer was back inside my child.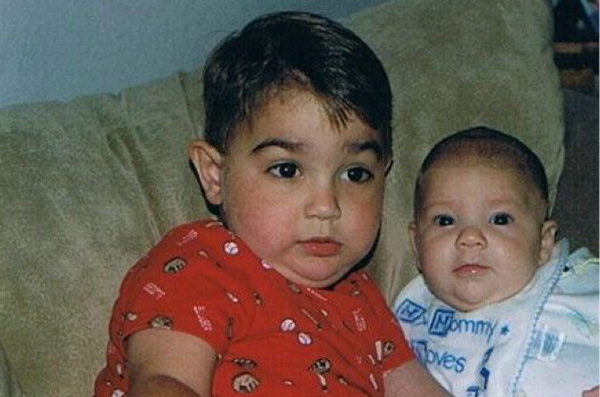 (Cole (approximately 3 months after diagnosis…all 'roided up!) and Aidan)
Cole endured getting the chicken pox from an unvaccinated boy at preschool and being hospitalized on IV antivirals so the chicken pox wouldn't kill him. Kill him. He endured "roid rage" from the massive doses of steroids…extreme fits of anger, superhuman strength, binge eating. (The 'roids  were bad!) Oh, and minor things like weekly finger sticks, missing preschool, and daily nausea. We lost friends who just didn't know what to say or do. We realized who really cared and who really didn't (there were more of the latter). We struggled to maintain some normalcy. I told the preschool teachers to treat him like any other kid because I had to believe he'd be ok and I didn't want him to be "a little shit" when he was older! (I don't think the little old ladies at preschool saw that one coming!) I forced myself to eat and sleep and "carry on" because I wanted to keep nursing my baby…my precious little newborn who was born into this chaos. We did the best we could to continue living in the face of our child dying.
And then at the end of the long two and half years (1,296,000 minutes…and some of those minutes were REALLY long), treatment was over. Sounds like a happy ending. But it never REALLY ends when your child has cancer. Because YOUR CHILD HAD CANCER!!! And you never really believe it's all gone or that it will never come back. In some very real and tangible ways, it is always with you. Cole will always have the scar from where his port was. He will always suffer from and deal with the anxiety of Post-traumatic Stress Disorder, with which he was diagnosed. He will always deal with some processing issues from the chemo they pumped into his brain. And we will always have the worry. A fever is never just a fever. A headache is never just a headache. And bigger yet, our eyes will never be blind again to the fact that childhood cancer is not rare. It is not something that happens to someone else's child. It happened to ours.
Me and my survivor (age 15)
But, you know what? We were the lucky ones. We have our child, who is now 15 and one handsome, healthy young man. We knew this experience would break us or make us…and I truly believe it made us. Made us stronger as a family. Made me realize I have a mission, even though it has taken me a while to realize it. I'm "using what I've got", and what I've got is a big, burning, growing fire inside of me and glimmer of hope that a few hundred thousand people who call themselves Monkees can help!
So, Monkees, this is where you come in. I challenge you as you go about your busy, crazy daily business to really pay attention…at the grocery store, the drug store, the craft store. I bet you'll see at least one breast cancer awareness display…or more likely, a sea of pink. You may even get asked to donate a dollar to breast cancer awareness. But I guarantee you will not see a sea of gold or a childhood cancer awareness display even though September is Childhood Cancer Awareness Month. Now, I'm all for the boobs. I want to save the ta-ta's, too. Really, I do. Three of my cousins have had breast cancer, as did my husband's aunt and two grandmothers, and my very good friend. I love them and support their cause, too. But we just want equal time for our kids. I support awareness for all sorts of cancers. My mom had colon cancer and later died from brain cancer. My dad had prostate cancer. My brother died at age 51 from leukemia. My beloved (seriously) mother-in-law died this past April from metastatic  melanoma. My husband's grandfather had lung cancer. Yes, that's a lot of cancer. A veritable crap-storm of cancer. So, yes, we support cancer awareness in general. But my mission is to fight for the kids. Because of our story and because of these sad but true facts:
* One in 330 children will be diagnosed with cancer before they reach 20. I think of it like this…my daughter's school has roughly 600 kids in it. 2 of those kids sitting at their desks today will eventually get diagnosed with cancer.
* 2/3 of survivors of childhood cancer deal with life-altering long-term side effects of their treatment, including an increased risk for other cancers.
* Cancer is the leading cause of death in children under the age of 15.
* Every year, 263,000 new cases of childhood cancer are diagnosed worldwide. That's 720 kids everyday.
* Over 90,000 kids die every year from childhood cancer.
* Less than 5% of the federal government's funding goes to childhood cancer research.
* The rate of childhood cancer has increased 21% in the past 36 years.
* Organizations like the American Cancer Society commit very little of the money they raise to childhood cancer research and awareness. For example, less than 1 cent of every dollar raised for Relay for Life goes to childhood cancer.
I spoke to a bunch of my friends who are cancer parents. It's quite a special little "club" we have. And I asked them, "what do you want people to know?" We all agreed that we want you to be more aware. To realize this is NOT rare. To realize it could be your child, too. And to act. AWARENESS=ACTION=CURE.
As all of us Monkees know, our individual actions don't have to be big and grand…our love is big enough and grand enough to make up for the "smallness" of our actions. So here are the "small" actions I ask you to consider now that you are aware:
1)    DONATE!!! But make sure you are donating to the right organization. We need more money for research because without it, there will be no cure. We suggest St. Jude's Children's Research Hospital, Alex's Lemonade Stand Foundation, St. Baldrick's Foundation, or The Pediatric Cancer Research Foundation.
2)    Find a local pediatric cancer organization or children's hospital near you and volunteer your time. Make meals for local families, take part in fundraisers, donate toys for kids and gas and grocery store gift cards for families. Our local organization, The Pediatric Cancer Foundation of the Lehigh Valley, is wonderful. We are truly a family and we are always looking for caring helpers. (If you live in Virginia, Glennon recommends the amazing Fairy Godmothers, run by two Monkees!)
3)    Raise awareness in your community! It's not too late to "Spread the Gold" before September is over or make a plan for next September. Let's make sure that gold is as common as pink! Use social media, get your child's school involved, wear a gold ribbon everywhere you go!
To read more stories about brave kids who have battled cancer, please visit http://pcflv.org/about/30-days-30-stories/. Thank you, Monkees. And know there is one thankful cancer mama out there who appreciates your love and action.
Michelle Zenie
(Michelle will be reading all of the comments today- so if you'd like to reach her about becoming involved in this fight- leave her a message. LOVE YOU, MY FAMILY. G)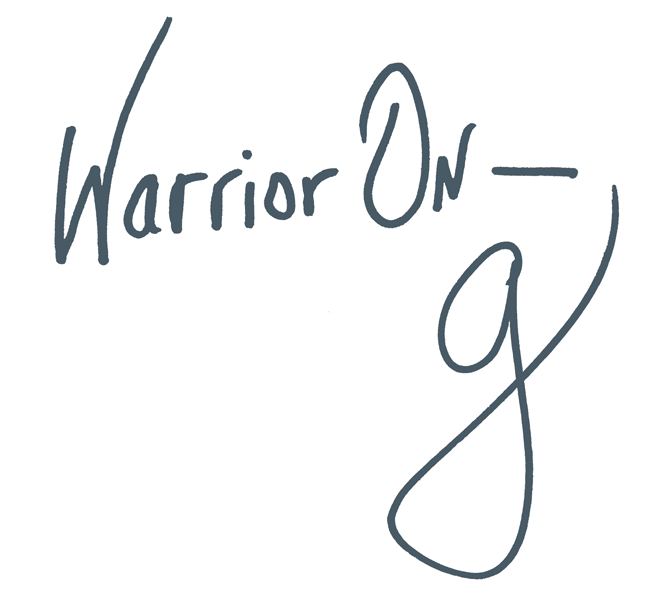 Author of the #1 New York Times Bestseller LOVE WARRIOR — ORDER HERE
Join the Momastery community on Facebook, Twitter, Instagram & Pinterest