I suck at yoga. Like really bad. Even though I suck at it, a few times a week I show up at a fancy studio down the street that smells like incense. The first time I walked in the door and smelled the incense, I knew I'd stay. I'm a sucker for incense, because it reminds me of God. I burn it in my home all the time and this drives Craig crazy. The reason he doesn't like incense is because it does not remind Craig of God, it reminds Craig of trying to cover up the smell of pot in his college dorm room. I know Craig well enough to understand that when he smells the incense, he doesn't become agitated because he feels ashamed of his past, he becomes agitated because he just really, really misses pot terribly and wishes he had some exactly now. Whenever I think about Craig using incense to cover up his college pot, I feel amazed that Craig was such an over-achieving pothead. Like, he cared about covering up the pot smell. Wow. So quaint. My friends and I actually used the smell of pot to distract the Bosses Of Us from much worse things we were doing. Pot smoke was like, our potpourri. Pot was really the least of our problems. It was honestly, one of our most responsible activities. Like, if anyone knocked on our door we'd yell, "NOTHING TO SEE HERE! JUST SMOKING POT!" Anyway, we're just different. Craig has always been really responsible and I'm proud he's my husband.
Back to yoga. My studio has a lobby that is quite small – so it gets a little awkward if you stay seated in that lobby just "smelling the incense." They really want you to take a class. It's important to them. So I do. Because I like the ladies at the front desk and want to make them happy– but mostly because somehow, yoga is the only thing that makes me lose my mind. I love my soul but I struggle with my mind daily, hourly, minute-ly. I just want it to stop. No matter how well my soul understands that All Is Well- my mind doesn't get it. It just refuses to accept the All Is Well memo. My mind spends all day trying to scare me and nursing grudges and replaying bad memories and generally trying it's damndest to keep me angry and jealous and paranoid. If there's nothing to be upset about, it makes stuff up. It has pretend arguments that will never, ever happen with people we don't like but will never meet. It wastes all of our energy. It just runs and runs and gets us nowhere like a pop-eyed hamster on a wheel after forty eight Red Bulls.
But sometimes in yoga or meditation – I notice that there has arisen a little SPACE between all my crazy thoughts. It's not like my Insane Hamster Mind has stopped- it's still bug eyed and panting and screeching at me – but somehow I become able to notice that I'm actually not the hamster at all. I am, like, ABOVE the hamster- watching it run itself ragged, feeling detached and a little amused and wholly unaffected by it. I am separate from it. Apart, in a safe space. Just for a few seconds. Maybe for these few seconds I am actually occupying my soul instead of my mind. I am seeing out from my soul. And this is the closest I've gotten to heaven: Losing my mind.
Since I am who I am, people often say to me in response to this thing I've said or done or written or that thing I've said or done or written– "G, have you lost your mind?" And I always say, "Not yet. But I'm trying." I think that losing your Insane Hamster Mind is heaven. And this is why people who just can't find a way to lose their minds kill themselves. They just needed a little heaven and they couldn't find it here because they never discovered the right meds or their version of yoga that would just Make it Stop for a minute.
Whenever I hear someone say that they are shocked we lose so many people to suicide, I always secretly think how shocked I am that we don't lose MORE people to suicide. People like me are desperate for a little heaven. People need a little break, a little peace from their minds. We "mentally ill" – our minds are on overdrive, all the time. And so we don't really need a piece of your mind – we just need some peace from our own minds. Some relief. We have to teach people like me to find their little slice of heaven here, so they don't have to leave us forever to find it. Stay here. Stay with us. There are ways. There are ways to find your heaven, your peace HERE. With us. We need you.
But for those of you who've lost loved ones –  if someone you love gave up on finding peace here – if  they DID leave us to find it –  then I believe with every iota of my being that they have found their forever heaven. That they have Lost Their Minds and so they can finally know with all of their being that All Is Well. That the memo has arrived.
This is getting long. I didn't plan to write any of that. More on yoga and losing your mind tomorrow.
Love,
G
P.S. This conversation happened yesterday when I got back from my Mind Doctor:
Craig: So, what did your new therapist diagnose you with?
Me: "Adjustment disorder"
Craig: Huh. What are you having a hard time adjusting to?
Me: I think life on this Earth.
P.P.S. We're also in the September issue of  Woman's Day today, talking about how I apply what I learned about shame in recovery to Tardy Passes!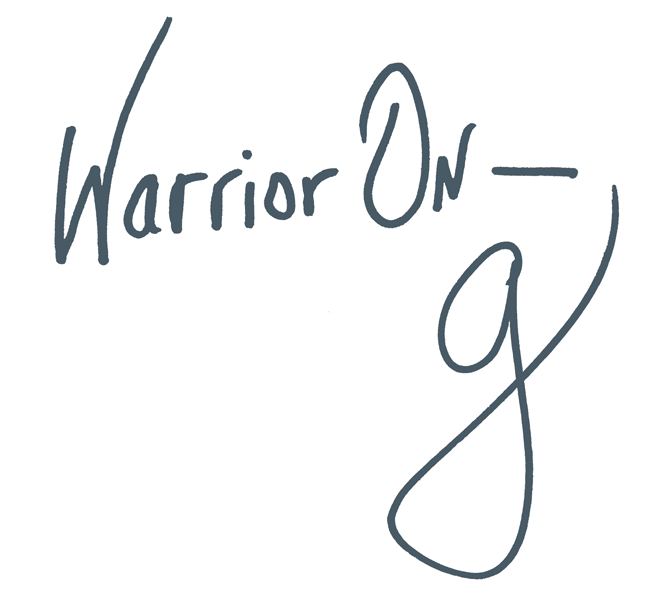 Author of the #1 New York Times Bestseller LOVE WARRIOR — ORDER HERE
Join the Momastery community on Facebook, Twitter, Instagram & Pinterest