I fasted last Saturday, because Pope Francis asked me to. At 3:30 pm, two hours before I planned to break my fast, I picked up a lesson plan to prepare for Sunday School the next day. I read the first sentence once. Then again, and again. No matter how many times I read that first stupid sentence – I could not get the extremely simple words to make sense to me. My brain just would not work right. It was frustrating and a little scary and I felt lightheaded and powerless and confused. I took a nap. When I woke up, I ate, and an hour later the entire lesson plan made perfect, easy sense to me.
That experience set me thinking about the little ones I used to teach. For six years, I taught third grade in a low-income area of Virginia. Many of my students' parents worked two and three jobs to keep food on the table for their babies and even so, there wasn't enough to go around. So my kids came to school hungry sometimes. And the state kept wondering why some of my babies' test scores were lower than the scores of their peers in more affluent areas. I knew it was because they were hungry. They were just hungry and sometimes a little tired. Because their parents were out working double shifts and then attending community college to learn English and often sacrificing their very lives for the hope that their kids might have a better one. They didn't have the time to have big PTA events to fundraise for the school or to be home at five to make sure their babies were well fed, rested, and their homework was done. So things just got a little out of balance for my kids. They had greater needs than their peers and fewer resources to meet those needs. I always wanted to call the state and say, you know, state – fair doesn't mean that everybody receives the same exact things – it means that everybody receives what she needs. My kids have some special needs. And their needs aren't getting met. What are we going to do? What are we going to do if we really do believe that WE BELONG TO EACH OTHER?
Well, lovies. I'll tell you what Monkee See — Monkee Do does.
We love families. We love children. We love schools. We love the teachers and support staffs and the volunteers and the administrators all over the country who do the hard and holy work of helping to raise our babies. So, last year we partnered with our Microsoft friends and their incredible GIVE Campaign to make our love and gratitude VISIBLE AND TANGIBLE. Take a look.
And it's almost October again. Which means WE'RE AT IT AGAIN. We asked YOU to nominate a school that you thought could use some visible, tangible love, and after receiving many heartbreakingly worthy applications and vetting them all and doing school visits and meeting staffs and students and families, your Monkee See — Monkee Do Board and our Microsoft friends have chosen our school.
MEET YOUR LYNBROOK ELEMENTARY SCHOOL!!!
Lynbrook Elementary School is a PK-6, Title I school located in Springfield, Virginia. It is a richly diverse cultural and academic learning community, with the highest concentration of English Language Learners in the county – more than 75 percent of students receive support for English-language learning. More than 80% of students also receive free or reduced breakfasts and lunches, based on significant family financial needs.
Lynbrook is an enhanced autism services site for the county. The school provides individualized educational support for more than 125 students that are identified as having unique specific and/or multiple learning disabilities needs. Students' special education learning needs include those related to autism; speech and language challenges; and intellectual, emotional, health, and physical needs.
The school is an anchor of the community.  Lynbrook's Family Learning Center serves as a safe haven, school and community center for students and families. And, each year the staff at Lynbrook meets with every family in their homes to get to know and better serve their families and students.
You are going to fall in love with Lynbrook (Home of the Leprechauns!); its brave Warrior Students, Families & Teachers; and its incredibly devoted and fiery Principal, Mary McNamee.  Here's a photo of Principal McNamee with MSMD Board Members Liz & Sister, and Microsoft Miracle-Maker Michelle, when we returned to the school to tell her Lynbrook won.  There were lots of tears and cake, much joyful dancing and many Leprechaun costume changes.
Keep your eyes open, Monkees. You will not want to miss out on the amazing stories about this school.  They'll break your heart right open.  And I promise I'll let you know what you can do to help. There will be much to do, we will need your help, and we will be making miracles together.
And in the meantime – if you feel drawn to this project- find a school in your area where things are a little out of balance and volunteer some time, supplies, or bagels for the front office.
WE BELONG TO EACH OTHER. It feels so good to LIVE like that is true.
It is the fourth greatest honor of my stinkin' life to serve you,
Love,
G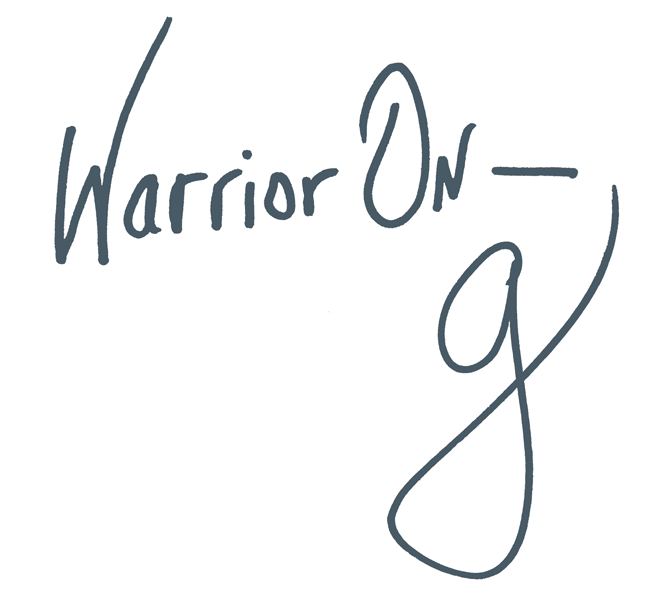 Author of the #1 New York Times Bestseller LOVE WARRIOR — ORDER HERE
Join the Momastery community on Facebook, Twitter, Instagram & Pinterest