You keeping asking me how I am over on Facebook and I keep not telling you because the truth is that I'm in the hole. Down deep and dark.
I did that thing I do every so often where I tell myself that I'm doing FINE and I am a WARRIOR and I shouldn't HAVE to be on anti-depressants and I should just be MYSELF WITHOUT PERFORMANCE-ENHANCING DRUGS and I CAN DO HARD THINGS and the world is OVERMEDICATED and etc etc etc. So I quit taking my pills. And a few days go by and then a week and I start feeling edgy. And then edgier and edgier and then I get angry. The whole world starts to feel like Vegas and every light and sound hurts. And then, one day – everything sucks. Everything just sucks. I can't remember ever feeling good or hopeful. Then – finally-  I wake up one day and I am who I am today- this person who cannot even smile at her own family and feels like she's slogging through Jello all day and who has not one single idea of how to fix any of it. Plus, she wouldn't have the energy to fix it even if someone told her how. Like – the energy it takes to type is just insane. It's like some force is hell bent on me NOT typing. And everything is horrible. Or I'm sure it would be if I could feel anything.
But I was afraid to tell you this because this Momastery place is getting so BIG and now people read it who love me but people also read it who don't like me. And being this vulnerable when you know some will use it against you is just hard. Just really hard. Especially when I'm feeling so weak. But I'm going to do it anyway. Because that's just fear talking and fear is bullshit. It's okay to be afraid, but it's not okay to do what it tells you to do. The other reason I'm writing this to you is that I know that I am enough. Even when I'm this jacked up – I am enough. And also because this place is not about how I SHOULD be or how I'm SUPPOSED to be. It's about how I ACTUALLY am. And I'm not sure what SHOULD or SUPPOSED TO have to do with life anyway. Who decides what people SHOULD be? Silly. I am who I am. And I am writing the truth about my depression because I will not be shamed back into the dark for being a  complicated, contradictory, brutiful mess. Because I actually LOVE my life as a brutiful mess. And because I want you to love and accept and even embrace and sing about your brutiful mess self, too. Even when I'm down like this- I know that this is part of what makes me beautiful. The valleys are deep but the mountains are high and I'll take both.
Anyway. You asked how I was and I know you meant REALLY, HOW ARE YOU? And I wanted to tell you REALLY, because Truth Telling is good for nothing if we only tell the beautiful and leave out the brutal. I promised myself I'd always tell you the truth about me. So, the truth about my lower case l life is that  I'm hiding at home and how I am is not so good at the moment. I'm trudging through the heaviness and claustrophobic-ness and DARK DARK GREY-NESS and murkiness of depression. But the truth about upper case L Life is that all is well and has always been well and will always be well.  This too shall pass and a gift will come from it.  I will find my way home, I'll be happy-ish again. Probably soon.
Also- I found my meds. I took one. I don't GET why I need them but I think I do.
I love you. We Can Do Hard Things and We Belong To Each Other and Love Wins. Life is never all brutal or all beautiful. It's both, all the time. Life is brutiful. For everybody. And all of these things are still true when we can't feel them, Thank God. And if you suffer from depression- call yourself a Tortured Artist and then call the doc. It's all about how we present ourselves. You and me,we can bring sexy back to Melton-choly.
Love, G
Here is an essay about depression and how it manifests for me. I wrote it a while back.  I can't reread it now because I'm too trudgy and murky and unfocused to read anything, but I wanted to post it here in case anybody else is dark grey today and needs it.  Love you.
Home to Myself
Since I find it impossible to understand what's going on in my own head, I would never try to describe what goes on in yours. But lately I've been considering the differences between navigating the normal highs and lows of motherhood and real depression. Since, over time, I have suffered through the effects of both an extremely dramatic personality and true depression, I thought I should try to describe the difference between the two. For me.
I come from a long line of dramatic Irish personalities. We are an emotional bunch – my family. Our highs are high and our lows are low. We love easily, but we cry and yell easily, too. We are quick to hug and quick to anger. Now I know that you won't believe me, because I am so sweet and calm on this here blog. But that is because no one in my house is awake yet. After people wake up, I tend to get dramatic. I often struggle through the day. Trudge through the day. I have to take a lot of deep breaths. I experience joy, too, everyday. But I am not the type to roll with things. I get very down – for reasons that I can never identify. I decide, thirty times a day, that no one in the history of the world has ever had a harder life than I do. When I say this to God and He brings homeless people to mind, I actually think, well – at least they don't have to SWEEP.
I also worry. Worry, worry, worry. Obsess might actually be a better word. Not about the plight of the Sudanese…I TRY to worry about things like that, but I ACTUALLY worry about whether I chose the wrong throw pillow for my new couch. I snap at my kids for acting like kids. I resent them for getting hungry three times a day. And even though I don't believe in mommy guilt, I feel guilty all the time. If I could choose a phrase to describe the polar opposite of my personality, it would be "easy-breezy." As a matter of fact, I call Sister daily crying and whining and I CANT DO IT ANYMOR-ING and I always end the conversation with "Whatever. I'm easy-breezy, Sister." And she says, "I know you are, Sister. I know you are. Me too."
Sometimes I get so upset that I become debilitated…I'm talking crumble to the ground, tears, head in hands… the whole she-bang. My break downs appear to be brought on by one little thing… like a grocery bag breaking in the driveway – and so Craig will say, "It's okay honey, it's just a grocery bag," and I'll say: "IT"S NOT A GROCERY BAG! IT'S EVERYTHING! WHY CAN'T YOU SEE IT'S EVERYTHING???" And I don't want anyone to try to fix it or fix me – I just want to be upset. I just need to be upset for awhile. Because life is upsetting, obviously.
I do not cruise through life. I sort of crash through life. But I also "WOW" through life, too. And so it's okay. I'll take the lows with the highs. Basically, I really like myself. And I think I'm an awesome mom. God chose ME for these kiddos and He knows me better than anyone, so I'm gonna be myself. My kids don't need some fake idea of a perfect mom, they need me -Glennon, the real person. I get that.
But every once in awhile – something scary happens to me. A black, heavy, murky fog sets in over my heart and my head. When this happens, I do not alternate between super high and super low. During these awful times I alternate between super low and super numb. The fog is so thick that even when I get still and try to find my way home to myself – I can't. During these times, none of my usual tricks….quiet time, sunshine, exercise, friends, prayer . . .none of them help me find my way through the fog. I can go through the motions of the day . . . I remember what to do – pack the lunches, smile at the kids, sweep the floor, hug my husband….repeat. I just can't remember why any of these things matter. The love, the life that usually infuses each of these tasks with meaning is gone. I become like a robot. I have completely lost myself. All I want is to disappear into a dark room. Gone is the joy, the drama, even the suffering that makes me, me. This state of mind has nothing to do with my dramatic personality. It is more like a complete loss of my personality. I've suffered this loss three times in my life. Once when I was much younger and suffering from bulimia and alcoholism. Once after my second child was born, and again about a month ago. I have come to believe that this loss of myself is what is commonly accepted as depression.
This past month, when I realized that I had lost myself again, I called my doctor who told me it was time for some help. She prescribed a pill for me and I brought the bottle home and told Craig that I was going to start taking the pills immediately. His face lit up like a Christmas tree. I said, "Be patient though, husband. They take two weeks to kick in." Craig's face fell and he said frantically, "What? Well then maybe you could just take a whole bunch at once. Or snort it. Maybe that would work faster." Clearly, the preceding months had been as hard on him as they were on me. He loves me. He loves his high and low wife. He wanted her back. He didn't want to medicate me away. He wanted to medicate me back.
Last year I was having a hard time dealing with my usual anxiety about life and love. I emailed my friend Josie and said, "I can't take the intensity in my head anymore. I need to relax. I'm gonna medicate myself. What do you think?" I hadn't talked to Josie for years, so I don't know why I emailed her. I guess if you listen hard enough, God will always point you towards the right person. Josie wrote back and said, "A friend once told me that if medicine allows you to be more yourself, take it. If it doesn't, don't." I really liked that. And that advice helped me decide NOT to take medicine back then. Because the truth is that myself is dramatic and anxious and obsessive and ridiculously intense and you know, a little WOOOOOOOOOOO!!!!!
But myself is not numb. When I get numb, I take my own hand and help myself find my way of the fog, back home. And medicine helped me this time around. I'm grateful.
I'm also hesitant about taking medicine. Not for the reasons that many others are. I'm not embarrassed. Ever, really. It's a gift, my shamelessness. I know that I'm only gonna get one go 'round on this beautiful Earth and I want it to be a good ride. I figured out a while back that there is no award for she who suffers most. No way, Jose. Not my bag. I think it's a strong and brave and inspiring thing to find out who you are and then find a way to be it.
No, I'm hesitant to medicate away my depression because I worry that my depression fuels my writing. What medicine does for me is help me to relax into life a bit. Craig's perspective is that when I'm on it, I am the same Glennon, I just "struggle a little less." I agree. I struggle a little less. And I also lose the feeling that if I don't write I will die. This is how I feel when I'm depressed. Since I lose my joy and meaning, I come to the blank page to create meaning and joy, to get it back. Because I become desperate to make sense of things. And that desperation, I'm afraid, is what makes my writing good. So it scares me, I guess, not to be depressed. A lot of really good writers are depressed. But, as Craig says – "Honey, don't a lot of good writers also kill themselves?"
True, dat.
Anyway, even if my medicine dulls my creativity a little, I think that at this point in my life, I'm willing to risk it. I think I'd rather be a good friend to myself and Craig than a good writer. Yep, I would. How nice of me. I really do like myself.
Love You,
GDo
P.S. Here's my spoken truth on showing up, even when we're all sludgy and actually not okay at all, thank you very much.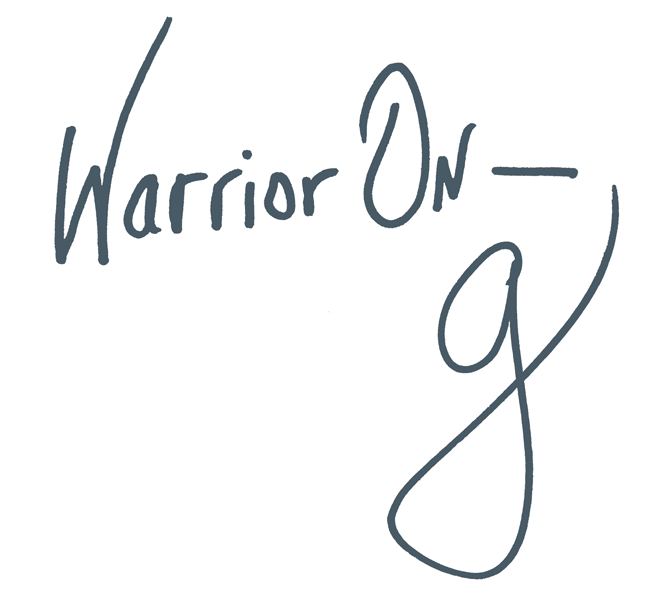 Author of the #1 New York Times Bestseller LOVE WARRIOR — ORDER HERE
Join the Momastery community on Facebook, Twitter, Instagram & Pinterest