I have a wild and precious friend named Joanna. She's an artist and she's a sister to Sister and me. I used to take care of Joanna in college. By "take care of" I mean that I would kick anyone who looked at her wrong, (yes- I mean that literally – I haven't always believed in non-violence- actually I don't want to talk about it) and I'd listen to her. I'd listen and listen and listen. That's all I was capable of at the time and luckily, whatever we're capable of is always enough.
This morning Joey sent me this:
Four years ago this Friday I wrote Joey that email.
Listen.
That Thing you want to start, don't wait till you're ready. You'll never be ready. Start it now. The time to start is always before you're ready.
If you don't know how to start your Thing – ask a friend to help you.
Don't worry about whether or not people will like your Thing or you. If you start, you will like you. That is all and that is everything. Last night I read this quote, "In this life, people will love you and people will hate you and none of that will have anything to do with you." (Abraham Hicks)
Whatever the Thing is that you're starting- whether it's health or art or service. . . . wait. I don't know what else there is besides health and art and service. . . is there something else? I thought about this for ten minutes and I got nothing. Anyway- whatever the Thing is – don't forget that it's not really about the Thing. It's not. It's about LOVE. It's about allowing the PAIN AND LOVE (same/same) that is trapped inside of you OUT. That's what folks mean when they talk about "expressing themselves." That's what they mean. Get it out. Share it through your Thing. Then travel light.
None of this is as big or difficult as you think it is.  Do you want to know what the main thing is that keeps me from my writing? Do you want me to tell you THE NUMBER ONE OBSTACLE TO MY ART? Is it fear? Is it depression/angst/motherhood/wifedom/the paralysis of exposure? No. It's not. It's House Hunters International. And maybe ice cream. It's that decision I make to stay up an extra half hour to watch strangers walk through houses and wolf down more Rocky Road. The inevitable consequence of this decision is that I'm too tired and sugar hungover to get out of bed early to meet the next morning's inspiration. People think that artists/writers/ etc are free spirits and often, nothing could be farther from the truth. STRUCTURE LIBERATES. Give up what you want right now (BRAVO AND HGTV AND FACEBOOK and DOUBLE CHOCOLATE FUDGE!) for what you really want (LOVE. To give it and to get it.)
If you need a few more nights, weeks, months of Not Starting – fine. Life will never give up on you.  Life and inspiration are Forever Tries.
Love you.
G
P.S. Do you have a Thing? Do you not have a Thing? Are you doing your Thing? If not, what's keeping you from doing your Thing? Tell me about it.
And yes, Adrianne… I know. That's what she said.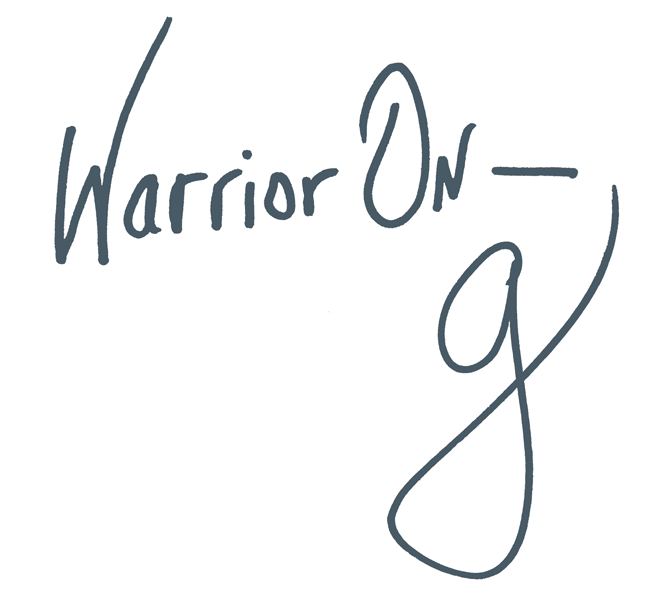 Author of the #1 New York Times Bestseller LOVE WARRIOR — ORDER HERE
Join the Momastery community on Facebook, Twitter, Instagram & Pinterest