This sister's got some peace and wisdom. Let's borrow a little today. Enjoy Rachel, Friends. Happy Friday. Love, G
I am an imperfect human being who happens to be a writer. A few years ago, I felt compelled to share my imperfections, my struggles, and my journey to grasp what really matters in life on a blog. This was not easy, but it was what I felt I must do.
Shortly into my journey, I found that in order to gather the courage to share my stories, I needed a place of refuge—a safe haven from unrealistic expectations, harsh comparisons, hurtful criticism, and inner doubt.
I found two such places.
One is an open road about a mile from my house. With a playlist of my favorite songs and the wind at my back, I cry. I laugh. I rejoice, and I pray. In this place, I am okay "as is." In this place, I am enough. I am refueled.
The other place is the sanctity of Glennon Doyle Melton's words. With brutiful truths and hope spreading like my grandma's arms, I cry. I laugh. I rejoice, and I pray. In this place, I am okay "as is." In this place, I am enough. I am refueled.
So being here today—right smack dab in the middle of my place of refuge—is surreal. I look up and the walls are colorful … vibrant … and it's not because of Glennon's red tutu or canary-yellow shoes (although they are lovely)—it's from every sister that has shared her story, her struggle, her words of encouragement, and her brutiful truths. When Glennon says everyone is welcome here, she means it. And I see the marks you've left, my friends. And they take my breath away.
I know my truths will be safe here in your loving care, and I thank you for that.
Friends, this is my story. May it bring hope where there is doubt. May it bring peace where there is conflict. May it bring love where love is needed most.
Thank you, Glennon, for inviting me in, as you have so many. It's beautiful here.
*********************************
Love as a Reference Point
By Rachel Macy Stafford
On very rare occasions, I find myself alone in the car with my six-year-old. And when I do, I try to stay extra quiet to see what gems my deep thinker might feel like spilling out to the headrest in front of her.
On this particular day, we had just dropped off her playmate. The setting sun was illuminating her tangled curls and freckled face as she gazed out the window with sleepy eyes.
Suddenly, she perked up. "Could you play, 'Daylight' by Maroon 5?" she asked, sounding more like a sixteen-year-old than a six-year-old.  "It's my favorite song," she added as if she knew her request might require a bit of explaining.
And she was right. Coming from her, it did strike me as an odd song request. For the past three years, my happy, little ukulele player had strummed and sang her way through the likes of Taylor Swift, Martina McBride, and Carly Rae Jepsen. Romantic ballads by heavily tattooed rock stars had never once come from this southern girl's lips.
But I pushed play on "Daylight," and ever since then I have been able to breath easier, even on the hardest of parenting days.
You see, as Adam Levine belted out the following lyrics in his signature falsetto, my daughter's face turned wistful, almost sad.
And when the daylight comes, I'll have to go

But tonight I'm gonna hold you so close.

Cause in the daylight, we'll be on our own,

But tonight I need to hold you so close.
My child noticed me watching her in the rearview mirror. As we locked eyes, it was solemnly revealed why this particular song was her favorite. "That song is about morning when I have to go to school," she said pushing up her tiny spectacles so they sat squarely on her face. "I don't like morning to come. I like night when you hold me in your arms."
For a moment, I couldn't speak. My child's interpretation of this blatantly obvious love song surprised me. How could she get that meaning from those lyrics? I thought. But then I reminded myself that children make sense of the world using their own experiences as a frame of reference. Therefore, her lyrical interpretation of "Daylight" made perfect sense. The reason this song wasn't about two lovers parting at daybreak was because my child hadn't experienced that. But she did know what it felt like to be so safe and secure in your mother's arms that you never want to leave.
And that's when it hit me.
Warm, cleansing tears dripped down my face as an indescribable feeling of peace came over me.
For the first time in a long time, I felt I had done something right along this parenting journey. The nightly tuck-in had become my child's frame of reference.
It was the one thing I managed to do consistently for all six years of her life …
Through the baby years when piercing screams of colic, cutting teeth, sleep deprivation, and sibling jealousy hallowed me out until I felt empty … I still managed to hold her every night despite my exhaustion.
Through the toddler years when pajamas were itchy, getting out of bed was her fulltime job, and lost stuffed animals ensued atomic meltdowns … I still managed to smooth her hair every night despite my frustration.
Through her preschool years when I was present, but absent, focusing too much on electronic screens, to-do lists, and keeping up the façade of a perfect life … I still managed to kiss her face every night despite my distraction.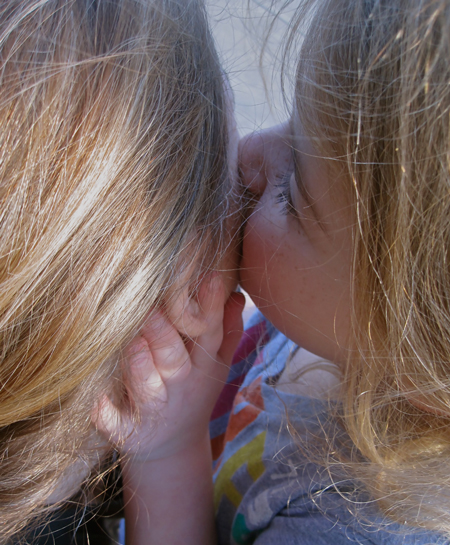 Through the daily struggles of raising children, I managed to reach my child's bedside. And for a few minutes each night, I would hold her and say, "I love you," so those could be the last words she heard, even if I failed to say them in syllables or actions during day.
And through a pop song with a catchy tune on a Sunday afternoon drive, I learned this nightly ritual mattered; it mattered a lot. It was a little beacon of light in a sea of failings, and I intended to grasp it.
Because let's face it. We need this validation. We need to know we're doing something right. We need to know our children are going to turn out okay despite it all. We need to know love prevails over failures, flaws, and imperfect days.
Because sometimes the "experts," the psychologists, the well-meaning friends, the sweet ladies in line behind us at Starbucks, and the critics inside our head suggest otherwise … making us feel like there is more to it than just loving them.
But then you attend an end-of-the-year school program. (And no matter what age the children are, this always happens.) You see a child on stage scanning the crowd with eager, almost frantic, eyes. And then suddenly, her eyes stop. As she enthusiastically waves at a focal point in the crowd, a visible sigh of relief comes from her small chest. If you follow her gaze to see what brought her such great comfort, you will see love etched across the face of the person who met her gaze. That child found her reference point, her source of comfort, her go-to place in times of uncertainty and doubt—and it made all the difference. 
I don't care what anybody says. It's the love that sustains them.
Whether he's stepping into kindergarten or into battle …
Whether she's walking out on stage or out of a bad relationship …
Whether he's taking an honest look inward or a stand for what he believes in …
Whether she's reaching up to grab her dream or reaching down to help the fallen …
When faced with the fears, uncertainties, and worries of life, children need a reference point—a place in their mind where they feel loved and safe. And we can provide that. My friends, we can provide that.
So let's not worry about doing everything right in this parenting gig. Let's just focus on doing one thing right: a little love each day.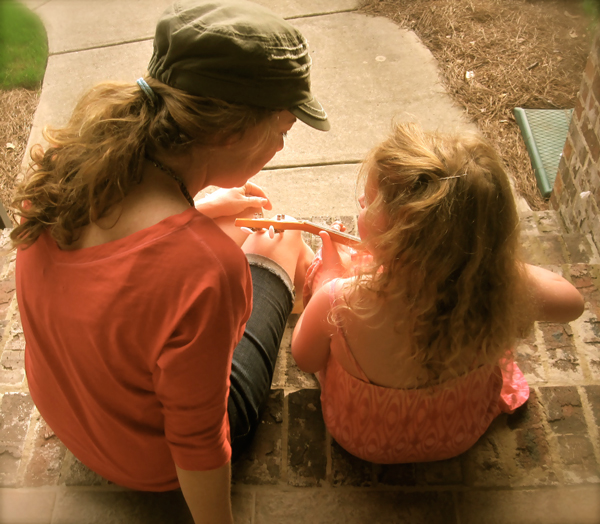 Love them as they walk out the door.
Love them before they hop out the car.
Love them as they pull the covers up to their chin.
Love them in such a way that it becomes their reference point in a cruel, harsh world like the lyrics to their favorite song that never quite leave their head or their heart.
Three years ago, Rachel Macy Stafford admitted the honest answer to the question that had been a long-time source of pride: "How do you do it all?" Rachel's answer was painfully simple: "I miss out on life, and what I miss I cannot get back." That very day, Rachel began her Hands Free journey to let go of distraction, perfection, and societal pressure to grasp what really matters in life. Join her on her journey to let go and live at www.handsfreemama.com and by visiting "The Hands Free Revolution" on Facebook. Rachel's book, Hands Free Mama, published by Zondervan, will be released in January 2014.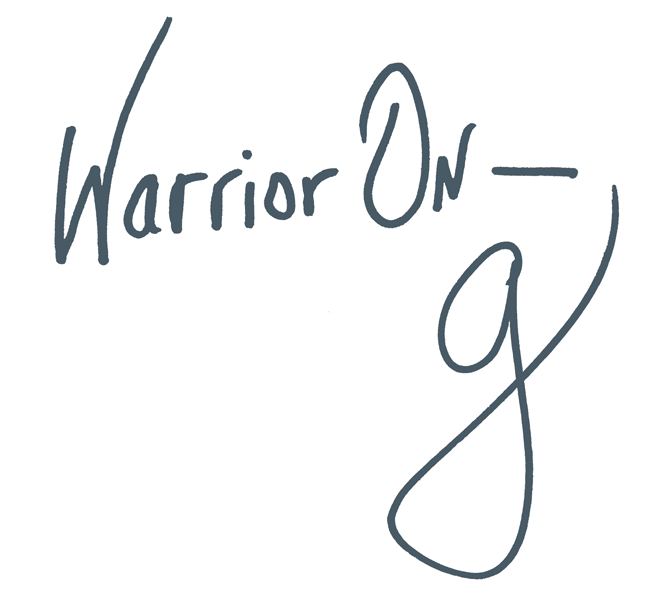 Author of the #1 New York Times Bestseller LOVE WARRIOR — ORDER HERE
Join Glennon on Facebook, Twitter, & Instagram