So, Nate Berkus and I were hanging out last week.
I was having a blast, but Nate looks a little board.
A little cardboard.
I love Nate Berkus. Something about that guy. He makes things beautiful. Lights things up with his crinkly eyes and patterned lamp shades. I even wrote him into my bio:
I love Jesus, gay people, adoption, and rearranging furniture. In the interest of combining all my loves, I have asked Jesus to help me adopt Nate Berkus.
And again in my favorite essay, A Mountain I'm Willing to Die On:
I can only speak from my personal experience, but I've been married for nine years and barely any gay people have tried to break up my marriage. I say barely any because that Nate Berkus is a little shady. I am defenseless against his cuteness and eye for accessories and so he is always convincing me to buy beautiful trinkets with our grocery money. This drives your sweet father a bit nuts. So you might want to keep your eye on Berkus. But with the exception of him, I'm fairly certain that the only threats to my marriage are my pride and anger and plain old human wanderlust. Do not be afraid of people who seem different than you, baby. Different always turns out to be an illusion. Look hard.
You guys. LOOK AT WHAT NATE TWEETED.  LOOK!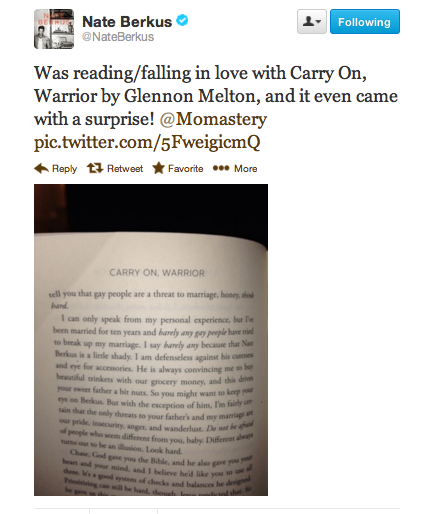 After I showed these tweets to Craig he said – "So, Berkus likes Carry On, Warrior and you're introducing the Indigo Girls (THE ARTISTS WHO CONTINUE TO INFLUENCE ME MORE THAN ANY OTHER) at The Wild Goose Festival this summer…who's left on your hero list?"
I thought for a minute and said: "ELLEN! We need Ellen!"
And speaking of gorgeous, gay, God-filled guys and gals – HAPPY BIRTHDAY, PRECIOUS LAURA.
Okay, Happy Friday, So much love.
G
PS. I've never been more excited for an event than I am for the Wild Goose Festival this summer in Hot Springs, NC.  What is Wild Goose, you ask? Well – this from their site: Wild Goose is a community gathered at the intersection of justice, spirituality, music and art.  (My commentary – BEST INTERSECTION EVER!) Our main annual event is a 4-day, outdoor festival hosted each summer in North Carolina.
Gather your friends and come see me (AND EMILY AND AMY) and lots of amazing folks whose main spiritual goal is celebrating God in every.single.one of us.
Everybody's In, Baby.
The WONDERFUL folks at Wild Goose have offered the Monkees a discounted rate through May. Your unique 20% off discount code is: MOMMAY. Users can go to the Tickets order form on the Wild Goose Festival website (http://www.wildgoosefestival.org/tickets) and click "Enter promotional code" at the bottom of the page, enter the discount code (above) and receive an instant 20% off discount on most of our ticket prices.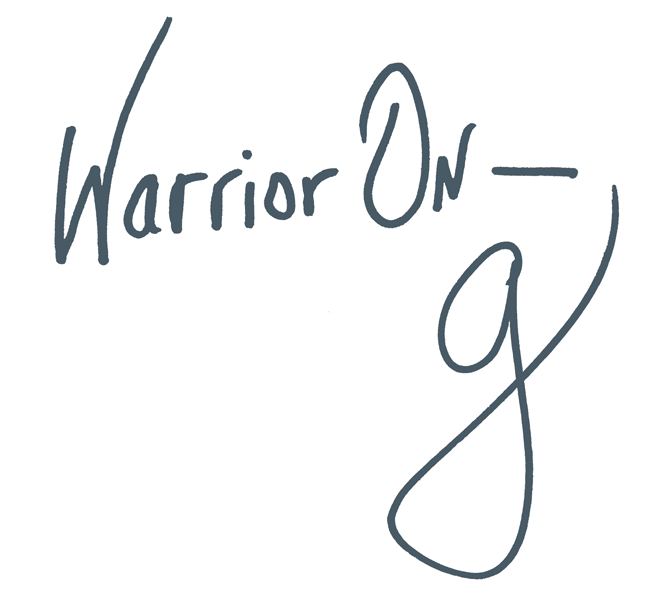 Author of the #1 New York Times Bestseller LOVE WARRIOR — ORDER HERE
Join the Momastery community on Facebook, Twitter, Instagram & Pinterest