Here we go…we're starting a Momastery mini-series that I'm really excited about. It's called "Moma-query" and  it's your questions/comments submitted to [email protected] and my answers.
I'll often throw in a few that might sting a little.  Today they are almost all sting-y ones. That's okay. When it comes to these – my job is to refuse to be a victim while ALSO refusing to victimize anybody else. I'd like to practice that art in my writing and in real life. Would you like to practice with me? Great.
So – If I post something here, that means that I've been able to come at it with truth and love. If you can, let's avoid victimizing the question ask-ers with our outrage. It's okay, really.
Let us begin.
1. Did you make up your marriage trouble to sell books?
No.
2. I have a sweating problem, too. What deodorant do you use?
I alternate between men's Mitchum Roll- On and Secret Clinical Dry. I'm sure they both have stuff in them that will eventually kill me – but in the meantime, I'm SAVING LIVES. The people who have to spend time close to me are grateful to both companies.
3. You pretend to be "normal" but you wear designer dresses and you travel first class!
1.  I have to say that I'm tickled by this question because I have never – not once in my life – been accused of  pretending to be "normal."  But I see where you're going with this. Yes, I have a few BCBG dresses that I wore on my book tour.  I chose BCBG because at our mall, it's the closest store to the parking garage. When I was in college, I originally chose to be a business major based on the fact that the business building was closest to my dorm. Yes, some folks would consider this lazy, but I consider it "energy conservation." I'm like a scientist.  Anyway, I hated business classes, but  I like my dresses.
We should probably stop criticizing each other for our clothing choices. Men don't do that and this might be partly why historically –  they've been able to get more done. They just have more time because they're not busy worrying that someone might get upset that they're wearing the wrong thing.
2.  Yes, I got upgraded to First Class once.  It was awesome for about ten minutes –  until I saw a soldier in uniform get on the plane and walk back to coach. We all clapped when he boarded which was nice, I suppose, but felt sort of hollow to me, since none of us were really offering any sort of sacrifice to honor the sacrifice he'd made. So when the flight attendant came around to give me EARLY DIET COKE AND PEANUTS (!) I asked her if she'd go back to the cabin and offer my first class seat to the soldier. At first the whole thing was quite awkward because the flight attendant didn't understand what I was requesting. 
Has no one in first class ever offered her seat to a soldier before? I asked.
I've never seen it happen, she said, and I've been doing this for a decade.
Insane, I said.
When you put it that way, it does seem kind of silly, she said.
She went back to ask the soldier to come up to first class. He refused, but the folks around him gave him another round of applause. The flight attendant came back to tell me all about it. The older man sitting next to me got teary and told the flight attendant and me that he'd been a soldier too, and it felt like I'd just thanked him. I felt grateful that both soldiers knew that not only was somebody willing to clap for them, but to give up a little something for them.
I was also grateful that I got to stay in first class after all.  WIN/ WIN! KINDNESS! Bottomless coffee! Warm Towelettes!
My first class experience was awesome, but every other time I've flown – I've been in coach. Typically, I spend my time in coach divided three ways:
Planning exactly what I will do if the plane is taken over by terrorists. My plan is usually as follows:  FIRST I will attempt to convince the wayward terrorist that We Belong To Each Other and that actually, Love Wins. I'm always SURE that will work but on the off chance that it doesn't- I'm ready. Plan B is  to attack the stubborn terrorists with my book and paper cut them to death. (Yet another reason to buy real books, not kindle/nook versions, people)
Searching for and glaring relentlessly at anyone who dares to glare at crying babies or screaming toddlers.
Stewing about how it seems men always take BOTH the arm rests even though we're supposed to be sharing them and how sharing is caring and a sign of respect and that just because a person TAKES UP less space doesn't mean she DESERVES LESS SPACE and that this arm rest thing is really a feminist issue.
Also, we should probably stop worrying about how other women travel. Men don't do that – and perhaps this is why – historically, they've been able to get more done.
4. G- You are totally neurotic.
Okay – I've heard this one so many times that I finally Googled it. Here we go:
neu·rot·ic  (n

-r

t


k, ny

-)
adj.
1.  Informal A person prone to excessive anxiety and emotional upset.
YES!!! That's me!! You are correct and dead on and exactly right! I feel known.
Love!
G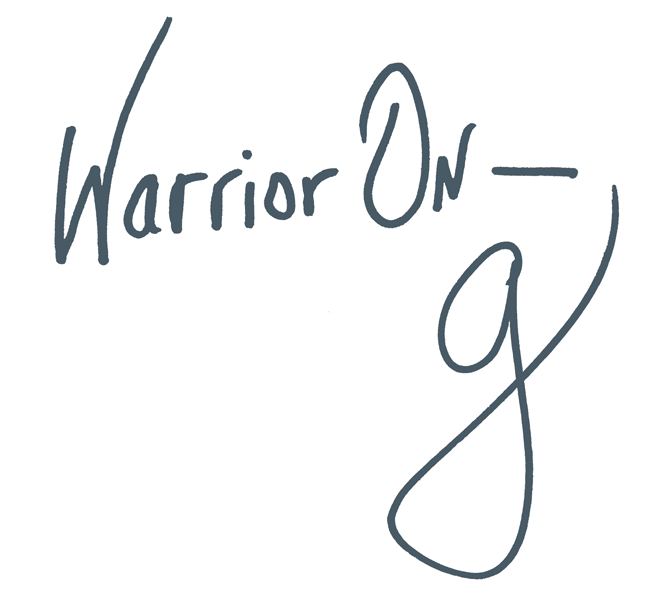 Author of the #1 New York Times Bestseller LOVE WARRIOR — ORDER HERE
Join the Momastery community on Facebook, Twitter, Instagram & Pinterest