I might have an update for you about Craig and me.  Actually, maybe you can think of this post as less about Craig and me specifically, and more about what I've noticed during the past few months about marriage.
Since many of you are new here, (WELCOME HOME!) here's our drive-by story-
We were a happy-ish, good enough family. I was the woohooo! one and Craig was the steady one. That worked for me. Then one day Craig told me some shocking News, and I learned that he was actually WOOHOO! too. So I had to be the steady one. I lost every single pretty idea I had about what marriage was supposed to look like, feel like, and stand for. I resented the living hell out of Craig for all of this.
During those months it felt like the universe was revealing information to me a little bit at a time and I was responding the best I could. The universe was kind  to reveal things slowly. When I didn't know what to do, I'd remind myself that "more will be revealed." If I didn't know what to do, it was just that I didn't have all the necessary information yet. Like all BIG DECISIONS –  I didn't really make any. Sometimes it feels like the BIG DECISIONS make themselves and we just have to wait to see how things unfold. This total loss of control is both a relief and disastrous.
One day, a couple of months after our separation, I knew it was time to reunite. I knew as certainly  as I knew when it was time to leave.
So we reunited. It was not a romantic reunion.
To me, I felt more like I was surrendering to something than making a bold decision. I certainly wasn't surrendering to Craig. Maybe I was surrendering to the transformational power of committed love? No, I never thought I could change Craig or that he could change me. I suppose I was surrendering to hard work and hope. So it was a warrior's surrender.
You know –this whole process has felt a lot like getting sober, actually. People don't tell you that things are going to SUCK before they get better. So folks get sober and they feel like they've been duped. DRUNK WAS BETTER! DRUNK WAS BETTER! This hurts too much!! I'm so uncomfortable!! That's how it feels, for a long time,  when two people are picking up the pieces of a busted up marriage.
After we reunited, everything sucked. I felt nothing, nothing, nothing except for jealousy towards every single couple on Earth who seemed to trust each other, enjoy each other's company, and understand why they were married to each other. But I promised myself I'd just keep showing up. I did not force myself to smile or fake a damn thing. I just promised myself I'd show up and be honest. I'd be kind and brave. I'd do the next right thing.
Be kind and brave, Glennon – even when you're afraid. Just do the next right thing, Glennon –  even when you're really, really tired.
On the days I felt full of doubt (all the days) I forced myself to think about how marriages are living things – like trees –  and  how all living things are subject to the changes that seasons bring. How the most beautiful blossoming tree could be mistaken for dead-as-a-door-nail in the winter. But if you can stand the wait – and if you keep showing up to water that tree and if you keep a little faith even on the iciest days – that sucker might just bloom again. It might even be beautiful again.
Maybe.
I'm not sure what's going on in my marriage these days, but I'm writing this essay because I think I might be seeing my first blossoms.
I left for a trip last week and when I opened up our minivan door at the airport – this is what I saw.
And I FELT something swelling up. It felt like hope.
And then when I got home, I found these little love notes hidden all around my room.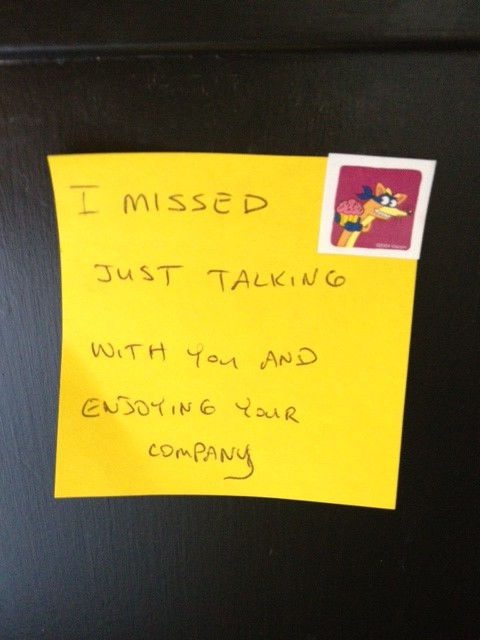 And I felt something that felt like love.
Is it possible that the barren ground is giving way to spring?
Maybe it's a new season for us. Maybe.
Love.
P.S.  Just as I refused to be the poster child for Leaving, I also refuse to be the poster child for Staying. Life and relationships are complicated and messy and when we try to tidy them up with advice or generalizations- we offend, alienate and leave folks feeling misunderstood and alone. My only advice is this-
Drown out the external noise. Wait for the universe to reveal enough evidence to draw a conclusion. Be Still and Know. Wait for that teeny little nugget of Truth to arise- you know that nugget. It's often the quietest but deepest voice inside us that insists we have to go even though staying is more comfortable or the one that requires us to stay when we'd prefer, at the moment,  to run for the hills.  Listen to your truthiest truth. Your truthiest truth sounds more like Love and Courage than Fear. Don't ignore it. Don't be afraid. Trust. 
God won't invite us anywhere God's not already waiting.
Love again.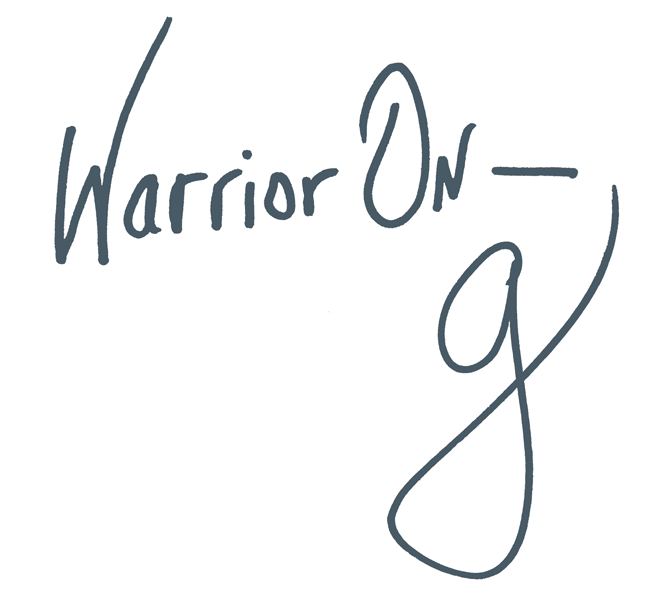 Author of the #1 New York Times Bestseller LOVE WARRIOR — ORDER HERE
Join the Momastery community on Facebook, Twitter, Instagram & Pinterest