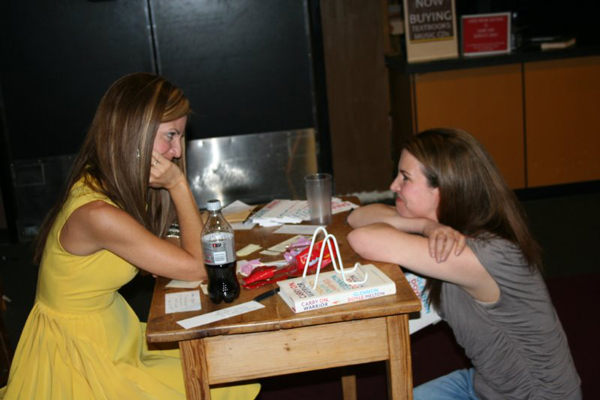 Friends, this one might not be pretty. I've got thirty minutes for shameless truth telling before the little ones wake up and start fighting. The Monkee Kindness Revolution has not permeated the walls of our home or of Amma and Tish's heads. One of the questions I get most often on the book tour is "how do you get your kids to treat each other well?" My standard answer is: "wait twenty years."
You guys, the tour is hard. It's also one of the most beautiful things I've ever experienced , but so incredibly hard. I'm going to write about all the beauty soon, but this morning I need to write about the hard because honestly, I'm kind of freaking out. And the best way to reel myself in is to write. So I'm writing and reeling today.
I've been on the road for a few weeks now, and there are many more weeks to come. Being away from the family is hard. They miss me and I miss them. And then usually about three days into a trip I call them and I can tell that they don't really want to stop what they're doing to chat with me anymore. They're settling into life without me. And I'm settling into life without them, honestly. That feels awful.  And when it happens I vow to myself that I will be the Best Mom on Earth as soon as I get home. But then I get home. And they are so sweet and so am I for like four minutes. And then we all get snappy and whiny again. And I get distracted. And  back comes that ever present nagging feeling that so many of us experience – one foot in family world, one foot in career world and feeling totally off balance.
Speaking of balance – during my last radio interview, the DJ asked me "How do you balance family and work life so beautifully?" And I just started laughing. No words, just laughter.
I have vertigo.
I feel sorry to report this to you. I feel like I should have some of it figured out for you. I should be well rounded and confident and secure. I should be more like Cheryl Sandberg, really. I just finished Lean In – her new book – and I liked it. Good woman, good book. Lean In is about how we as women need to lean in to our careers and accept more responsibility and not worry so much about balance, I guess. She seems to have a lot figured out  – she doesn't seem tortured by any of it. Me – I'm a little tortured. I know my work is important, and I'd love to keep Leaning In, but mostly I just want to Lie Down to tell you the damn truth. Perhaps that will be the title of my next book.
LIE DOWN: How One Woman Finally Learned Balance by Going To Sleep
Here's the thing. I miss Craig. I miss talking to my friends. I miss writing. I miss my kids . . . or at least dropping them off at things. I miss MOMASTERY. I miss you. I know I'm on the road to see you, but I miss you, too. I miss meeting you here every day.
I'm trying to remind myself that sometimes life is hard. Not because we're doing it wrong, but because it's supposed to be hard. And maybe this time is like that. Maybe book tours are supposed to be hard. I'm not doing it wrong. I'm learning a lot, actually. And this too shall pass. This too shall pass and soon I'll be writing everyday again and the kids will be happily driving me insane and I'll be dreaming of hitting the road again. Breathe. This too shall pass.
Having a career and a family is hard. Having a family AS a career is hard. Having a career and no family is hard. We all need support. We need to talk about it. We don't need anybody to fix it for us –  we're not doing it wrong. Nothing needs fixing. We just need to be allowed to talk about the hard. Support is severely underrated in this country.
Okay.
Soon I'll write to you about how I lost my damn mind and turned myself into a Barbie Doll for this Today Show interview. I don't really look like that.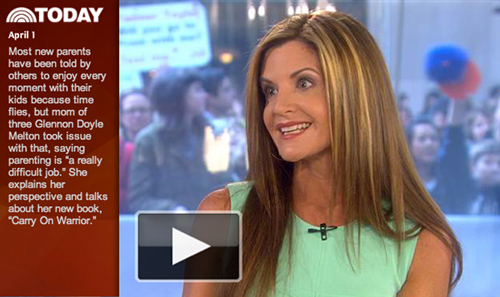 It's okay. Everybody needs some armor now and again. Mine was some fake boobs and fake hair and forty pounds of makeup and six inch heels. I reserve the right to reapply these things whenever I need them. I peeled it all off for the remainder of the tour, though. Raw and real. Raw and real. Somebody told me recently that it's braver to be Clark Kent than it is to be Superman.
Anyway- this is what I really look like. It's me on The Talk. Better.
I love you and I miss you and all will be back to "normal" soon. I've got a wonderful Monkee for you to meet tomorrow. You'll Eat Her Up, You'll Love Her So.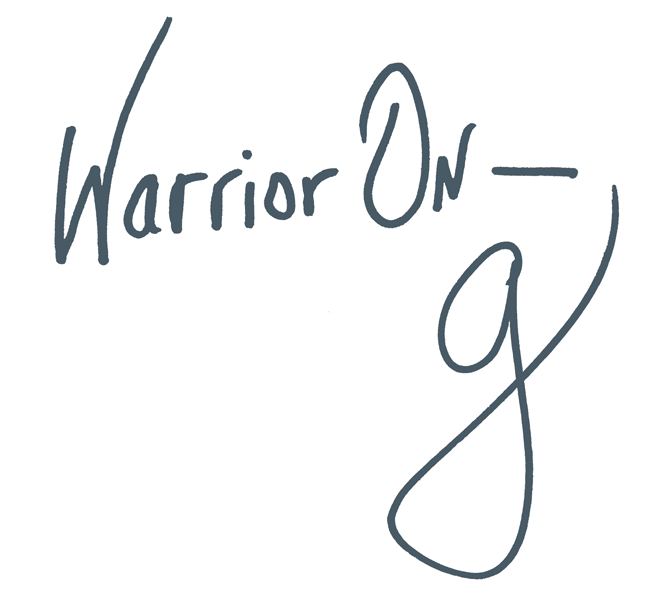 Author of the #1 New York Times Bestseller LOVE WARRIOR — ORDER HERE
Join Glennon on Facebook, Twitter, & Instagram