It is with great fear and trembling that I introduce you to my soul sisters, Jaime and Laura. As every mama knows, it's scary to offer the world your treasures. Jaime, Laura and Simon are treasures to me. Please love them well.
 Monkees, Meet Jaime.
*********************************
 (Left to right…Jaime, Simon, Laura!)
I spent a good chunk of my 5th wedding anniversary silently sobbing at my desk at work.
It was all Glennon's fault.
To her credit, she didn't mean to make me cry.  Honestly, she didn't even know me yet.  It was her writing that made me cry.  Specifically the post, "A Mountain I'm Willing To Die On". 
That day in October 2010, a graduate school friend sent me a link to the post.  I really didn't have time to start reading a blog.  I was working full-time to support my family, including our son who has a life-threatening heart condition and my wife Laura who had put her career on hold to stay home to manage his medical care.   We were trying to keep up with entries on our own blog about the crazy journey *we* were on for our friends and family.  I did not have time to start reading a blog.
Especially a blog by some white, straight, suburban CHRISTIAN lady.  I am an urban, secular, lesbian in Oakland, California.  I don't care what some Christian lady in Virginia thinks about gay people, even if she has not-so-mean things to say.
Pffffft.  Like I care.
And then I read the post.
I cried and cried and cried like my heart was broken.  Something about Glennon proclaiming her fanatical love for Jesus with her love for homos in the same breath broke something open in me.  I started reading the comments by other self-identified Christians who didn't hate gay people and wept.
I kept reading and slowly became a Momastery zealot.  I came to love Christian women all across the country who commented in Momastery.  If you had told me that I would ever say "I adore this amazing blog by a born-again Christian" I would have thought you'd lost your ever-loving mind.  But I do.  I have come to love Glennon and Monkees, even the grumpy ones.
Our family has been in one hell of a fight for the last four years to keep our kid alive and well.  We collect love and support and care like it's our job.  Which really, it is.  It's our job as parents to pull together everything we possibly can to get our little unit through this mishegas.  Momastery has become part of the resource we draw on.
When Simon was four months old, he got acutely ill and was diagnosed with acute congestive heart failure due to Dilated Cardiomyopathy, a life-threatening heart disease. He was put on life support the next morning and we were told to expect at least three weeks in the ICU.   We spent the next four months there.
We slowly carved a strange and simple life out of the chaos. Laura spent fourteen hours a day in Simon's tiny cubicle, and I sandwiched full-time work between visits to the hospital.  Despite crushing guilt, three days into our stay Laura and I decided it would be best for us to sleep at home together.  Our nurses had seen countless marriages crumble in the ICU and literally cheered at this news. We jokingly called them the most expensive babysitters we ever hired.
We read Simon bedtime stories accompanied by the frantic sounds of children battling for life on the other side of our thin curtain. Then we went home and cuddled on the couch, watching T.V. with the volume low as though we were run-of-the-mill parents with a child asleep in the other room. We rose early to get to the hospital before Simon woke up and grilled the nurses and neighboring parents about how the night went.  Some mornings the report included news that a friend in the ICU had died.  Those nights we stayed a little longer, watching the rise and fall of Simon's chest in the pale green light of the monitors before going home.
We have never felt more loved and connected than we did during those months in the hospital. Within three weeks, over one hundred people had come to visit.  Complete strangers dropped off care packages at the hospital. Patients and their parents joined dance parties in our ICU "living room."  Scores of doctors and nurses wore buttons my father had made to honor Simon.
I have also never felt more helpless. Twice we prepared to go home and twice Simon developing life-threatening infections days before the departure date.  It felt as though we would never get out of the hospital. We had no idea what our lives would look like when and if we finally did get to leave. We watched the seasons change with noses pressed against the window. Then, one terrifying, wonderful day in November, they sent us home.
Simon's delicate immune system became our compass.  We obsessively washed our hands and put hostile signs on our front door to ward off would-be cootie carriers.   My lofty plans to be a relaxed parent lay crumpled in a corner next to bottles of Clorox wipes and hand sanitizer.  Our world shrank into a tiny sphere of medications and therapies and flashbacks of young warriors and their families fighting death.
Slowly hope began to thaw, dripping unevenly back into our lives.  We tentatively talked about events that might happen months instead of days into the future, gently holding the possibility that we would not be in mourning when the day came.  We began to venture out to parks and playgrounds.  We began to rejoin the world.
We soon found ourselves becoming map-makers for other families with critically ill children. Parents with heartbreaking stories began to seek us out, desperate to learn how to make it through hell intact.   We offer these simple landmarks:
Your needs will not magically go away while your child is sick.  Fill them. Go on dates, even if it's just a walk to the cafeteria for terrible coffee.  Forget about making things look like they're okay.  They're not.  Hunt for joy.  If you find it twinkling in the dark, dark night, it is meant to be found.  It is no mistake. Pick it up and take it with you.  You're going to need it later.  Above all, accept every single scrap of kindness that is offered.  The web they weave will hold you when the bottom drops out and hard reality rushes up to meet you.  Memories of awkward hugs from strangers and mowed lawns and pans of lasagna will help.  I promise.
We now live with a Zen-like focus on filling our cups with tiny crumbs of progress. The ordinary life we imagined before Simon got sick is a tattered fantasy left on the smudged floor of the emergency room. Laura's career is on hold and I now single handedly support a family of three. Simon is fed through a tube, which is surgically implanted into his stomach. He takes six medications daily. He is developmentally delayed and looks and acts like a child half his age.  It's a daily struggle to ignore the constant threat of a relapse like an anvil over our heads.
Miraculously, most day we do ignore the anvil.  How? The best answer I can come up with is plants.
Yup.
Plants.
Plants take crap and toxic waste (carbon dioxide), stuff that would kill other type of organisms, and turn it into life.  The catch is that most plants can't perform that alchemy themselves. They need sunlight to work their magic.
For us, the sunlight is people. The universe dumped a big, stinky pile of crap on our plans for a simple and average life.  We won't argue about that.  But the universe also blessed us with incredible resource, in the form of people.
Without people, we might be another tragic story of a couple whose kid got sick and their lives were ruined and they went bankrupt and divorced.  But that's not our story.  We're not buried.  Our lives aren't ruined.  They're just different.   With our community, including our family and friends and Momastery, we have managed to grow big, sprawling, tangled up, thriving, joy-filled lives.
It's not what I envisioned for my grown-up life. Though we in our 30's and both have masters degrees, Laura and I are financially dependent on our parents to make ends meet every month. We have applied for financial aid for more programs and events than I care to remember.  A few years ago, Glennon organized a group of Monkees to collect enough money to get Simon an iPad to help him with his language delays.  My gratitude for these gifts and humiliation at needing help push at each other constantly.
I never thought I could stand to be this dependent on others and yet…I've never felt so connected in my life.  Shortly after we received Simon's iPad, one of the Monkees who donated towards it had a baby that was hospitalized.  Laura and I kicked into high gear to help them in any way we could not only because we felt indebted but because we felt CONNECTED.
Being on the receiving end of so much kindness has driven me to be more conscious of other people in need.  I do random acts of kindness throughout the month of January to celebrate my birthday.  I talk to strangers.  I stop and check on people who are stalled on the side of the road.  I get, on a visceral level that I hadn't before Simon's diagnosis, that we are interdependent.  Kind of like an ecosystem.
A doctor warned us early on that a diagnosis like Simon's can "make or break a family." It's made ours.  Laura and I are more firmly committed to each other and this family than the day we married. We live snugly in the center of our community's circled wagons. Though scarred and bruised, we now know what we and our loved ones are made of. Since that sunny day in August when our world fell apart, we have managed to knit our hearts and our lives back together and we are still here.   We are all still here.
A short documentary film, "Listen From the Heart", was made about the Fitch-Jenett family as part of "The Devotion Project." (Don't miss this one, Monkees!!! Love, G)
For updates on Simon and his family, visit simonlev.blogspot.com.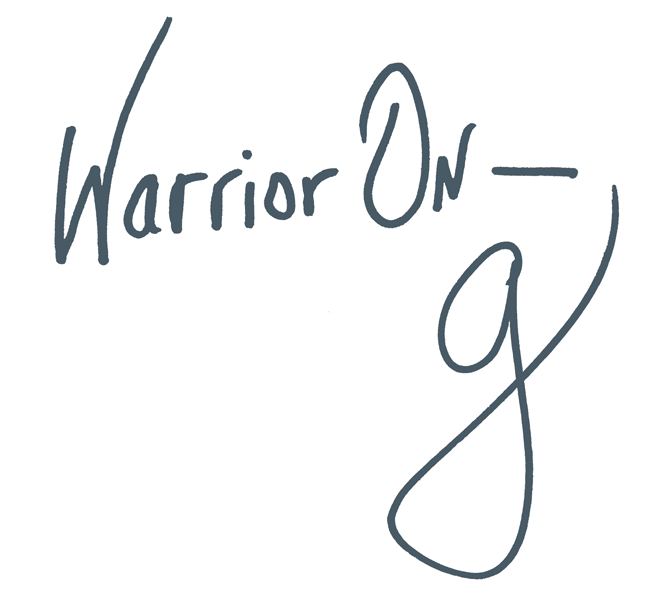 Author of the #1 New York Times Bestseller LOVE WARRIOR — ORDER HERE
Join the Momastery community on Facebook, Twitter, Instagram & Pinterest