Monkees, meet Deanna from Everything and Nothing From Essex. I hope you love her voice and message as much as I do.
Sometimes I just want to be a normal mom. I pretend that I am. I post blithely as though my two children are more normal than the normalist of normal (say that ten times really fast). I declare that I'm just like any other mother. I chime in on conversations as though my story is no different.
And yet, no one really takes me seriously unless I wear the hat "special" mom. I write long posts on being a new mother. A few people nod and smile. I scribble together a post on Down syndrome, and thousands of people salute and declare me to be some sort of expert.
Um, no. I am not an expert. I am just a mother. A normal mother.
I fight against the labeling. Especially when it comes with the tagline "you must have been SO special to have been chosen to be a SPECIAL mom".
I look to myself and see nothing special. Nothing noteworthy. Nothing that would earn me the title "special". And yet that word is there- before my name, after my name, between each letter of my name.
SPECIAL
That word carries with it such a stigma. Some pronunciations carry a negative inflection that might be followed by whispers of pity or looks of judgement. Others state it with admiration and "you are a hero" respect.
They call me special because of the specific special needs of my daughter. And even though I dislike my title, I wouldn't trade my daughter for anything, so I hold my head high under the hat of "special" mom. But in my heart I know the truth. I'm as normal as that setting on the dryer. I didn't sweep down in my cape and face mask to motherhood, nor am I being punished for crimes in a past life.
I've spent a lot of time contemplating what it means to be a special mom. And honestly to each special mom this title will mean something different because all of our children are different. Keeping that in mind, here's my current take on the situation of being a special mom:
It means that you love your child unconditionally. It means that you fight for your child when necessary. It means you teach your child how to live. It means you deny yourself on a daily basis in order to give your best to someone else. It means you nurture even when it's not convenient; comfort when there are tears; lecture when there is disobedience; praise when there are accomplishments.
Will there be moments when it's hard? Yes, yes there will. But the truth is, I have moments like that with my son as well as my daughter. Having special needs doesn't hold the claim on hard. It's simply a part of life which means it is subjected to all the components of it- good and bad.
Is it so different in the journey of motherhood to be down the "special" path? Deep down we're all the same. We want the same basic goals for our children. We beat ourselves up over silly mistakes and project a dim future because of them. We worry about safety and preach about being careful. We fret over the small and forget about the big. We remember what our dreams promised us and feel resentful that reality wasn't as generous. We love and protect our children fiercely. We sacrifice whatever we have to give them a good life. We fight for them. We fight with them. We fight within ourselves for how we mother them.
I think that every mother has that certain something in her life that makes her "special". That thing that sets her apart from all other mothers and that at times seems so difficult that she wonders why she has it worse than everyone else. It's something different for all of us. Money, jobs, family, health, achievements, a child with delays, a child who is incredibly advanced, a child with health problems, a child with allergies, a child with behavioral problems, a child who makes bad choices, a child who doesn't sleep, a child who- you name it.
So to me, saying "special" mother is like saying "mother" mother which really is ridiculously redundant. All of us are dealing with something because no matter which angle you look at that triangle of balancing life, there are sharp edges and hard surfaces.
We're all normal, imperfect women trying to mother the best we can. We fight, and we struggle on different things, but we all relish that extra depth of flavor in the good when motherhood throws it our way.
As a special mother, I don't want to be considered a saint or pitied because of unusual things that might be in my path. I want you to see me in the trenches right beside you, doing my very best with what I've been given in the gift of my children.
Motherhood isn't easy for any of us. But at the end of the day, fighting through issues- both mundane and emergent alike- there's a fundamental good that comes from the hard work of being a mother that makes it all unquestionably worth it no matter the specific details of our story.
That comes to you from a super normal mom who has dealt with a lot of health problems, delays, and stress in her motherhood career. And yet in my experience all of the hard of motherhood is washed away by a monsoon of love, leaving a clean slate available for important stuff like hand tracing, name spelling, and doodled drawings.
Call me a special mom if you must. I understand how that word might obviously belong to our family. But before you use that word as permission to set me up on a pedestal or throw me to the wolves, I ask you to remember that underneath that construction hardhat that declares SPECIAL is a uniquely normal mother, taking it one day at a time, raising little people to be kind, loving, thoughtful adults. Just like any other mother.
**************************************
Deanna is mother to two toddlers, writer to one blog (Everything and Nothing from Essex), and a long time avoider of anything resembling housework. Tripping through new motherhood (literally tripping- Duplos are all over the house) with two babies close in age, extra medical drama, and too much coffee (for her…not the children), she has learned and loved more these past three years more than she ever thought possible. Her latest thoughts on this new motherhood gig have been summed up in her new ebook- "Diapers, Onesies, Stretch Marks- Oh My!"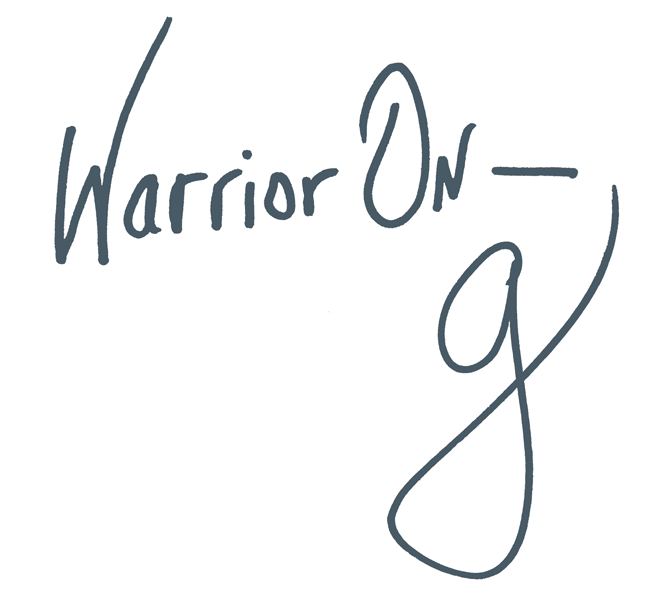 Author of the #1 New York Times Bestseller LOVE WARRIOR — ORDER HERE
Join Glennon on Facebook, Twitter, & Instagram