It's book eve. Tomorrow is our Carry On, Warrior's birthday.  For the first time, I haven't called the delivery boss (doctor) and threatened to go postal if said delivery boss does not force-ably DELIVER THIS THING from my person early. I'm going for a natural delivery this time around. So tomorrow's the day.
I'm on the road today. Tomorrow – on her birthday –  I'll be in my hometown celebrating in my red tutu. My Sister and parents and  many of my best friends and hundreds of Monkees will be celebrating at a book signing with me. I know you'll be there with me too. I always know that. And so I'm feeling scared but grateful . I can't believe that I get to stand with all of these people who love me and were so afraid for me for so long and smile and say, Look, guys. We made it. You were right to believe in me. God and you and I – we turned my mess into something beautiful.
I wrote down a few things to take with me on the road. Just in case I get busy and nervous and forget who we are for a couple minutes.  I'm putting this list in my purse. So I can Remember and Not be Afraid.
1. We Can Do Hard Things.  
Life is not hard because you're doing it wrong. Like marriage, parenting, and many things worth doing – Life is just hard. It's okay. 
2. Love wins.
What you do matters less than how you do it. Just do what you do with love. 
3. We belong to each other.
Be confident  – you're a child of God. Be humble – everyone else is, too. 
4. Just show up.
Things are not good, nor bad. Everything is a teacher. Be curious.
5. Breathe. Despite every shred of evidence to the contrary – All is Well.
I love you so.
Don't worry about having a great day – just grab a couple great moments. That's my plan, too.
Love and Hope and Heeeeeere We Go!
G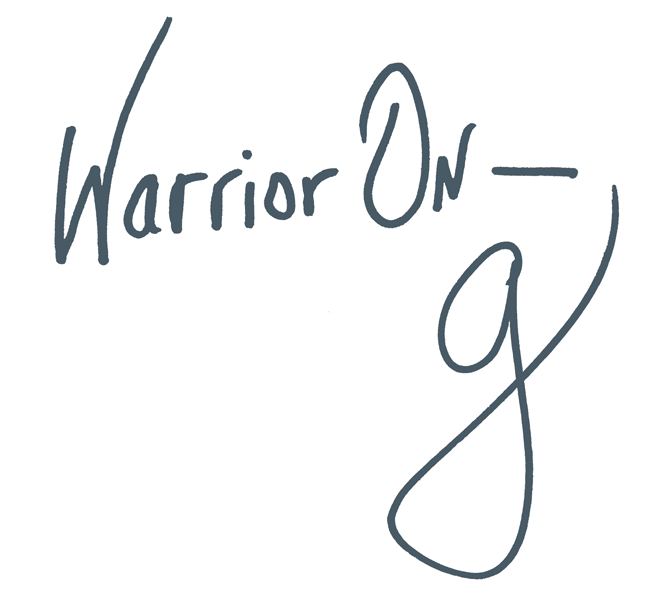 Author of the #1 New York Times Bestseller LOVE WARRIOR — ORDER HERE
Join the Momastery community on Facebook, Twitter, Instagram & Pinterest