Friends, the Carry On, Warrior tour begins next week.
You know, Thoreau helped start all of this. I love Walden Pond, which is a book Thoreau wrote when he retreated from the world, built his own house deep in the woods, and did nothing but think and read and write about the world he'd left. That sounds so wonderful to me. As a serious introvert with a deep need to connect, I'm always playing tug-o-war with myself. I want to run far away from the world – I want to sprint – open armed – toward the world. I want to retreat from people – I want to melt into people. I need escape and immersion simultaneously. This tug-o-war is what led to my fascination with monasteries. The idea of dropping out from the hustle and bustle to read, contemplate, and practice living peacefully in community with other quiet thinkers –  well –  that sounds heavenly. So I made my own retreat here – a place to think and write and read with other thinkers. A place to practice peace. A place where I could hide AND come out of hiding at the same time. A Momastery. YAY art! Thank you, writing!
The thing is that if your writing actually does connect with people, sometimes (not usually, but sometimes) the next step is that you must go from being a writer to being a PUBLIC PERSON, a speaker, a real-life-shower-upper. Mostly, writers become writers so they don't have to show up anywhere. And so this progression is as natural as if, say, a baker had a little success with a certain pastry – people really liked it- and so word got around and the next morning someone fancy showed up at her bakery with a helmet and camouflage pants and said "CONGRATULATIONS ON THE PASTRY, BAKER LADY –  YOU ARE NOW A NAVY SEAL! PUT DOWN THAT (what do bakers use? Spatulas?) SPATULA, YOU'RE HEADED TO THE FRONT LINES! CONGRATULATIONS!"  And the baker was like, um, okay. But I like my cozy kitchen. It's like that, a little bit. And so it's taken me a bit of time to get used to this real-life-shower-upper/FRONT LINES idea. You may have noticed.
But I'm okay now. I'm not nervous anymore. This is a bit of a miracle.
You see, I've been clothes shopping. By myself, because neither Sister nor my mom nor my best friends (who usually help dress me) live in my state. Unfortunately, I don't know how to dress myself and I never have. For the past ten years this has not been a problem, because as you've seen- I wear yoga pants all day, every day. Old ratty ones at home and newer – less hole-y ones for special occasions. So when I went out Book Tour Clothes Shopping for the first time on my own – I ended up buying a red lace tutu. I thought it was pretty. A little "ice skater-ish" maybe – but pretty.  Celebratory. However, when I got home and proudly sent a picture of myself in my tutu to Sister- she wrote back with just this: Ha. Very Funny. What did you really get?
She thought I was joking.
I wasn't joking. And I'm wearing the damn tutu on opening night of the tour. On publication day in Mclean, Virginia, as a matter of fact. Like I'm Katy Perry. Or Michelle Kwan. Play along, please. By the way, since words build the house we live in, I choose mine carefully. And so I have decided that I'm not a bad dresser, I'm just an extreme dresser. Yoga pants and hoodie or TUTU. No in between. Go ridiculous or go home.
But after the tutu incident, I did buy some sensible dresses and what Sister calls "pumps." It was hard. This figuring out what people wear and finding those things has been the most brutal part of being a writer thus far. But it's also been helpful.
Because last week, as I stood in a fancy-for-me store and looked at my grown up self in my new clothes in the big, huge mirror, I thought immediately of one of Thoreau's warnings – "beware of all endeavors that require new clothes, but not a new wearer of the clothes." I think about that one often. I like it.
But this time – as I considered his advice- I took a deep breath, exhaled long, and smiled at my own reflection in the mirror. Because I realized all of a sudden, that I am a new wearer of the clothes. And so I'm not afraid of this tour anymore – because for the first time in my life- I know exactly what I'm doing. I know what I'm doing. And I know how to do it. I know my job well.
My job for the next month on tour is the same as it was yesterday and last year and it is today. My job is your job. It's everybody's job. Our job is to try to stay open to the people and experiences that approach us – to allow them to soak in and shift our perspectives. To drag us a little further out of our ruts and fears and prejudices and isolation and pain. Our jobs are simply to:
Show up
Pay attention
The way we do this is to believe that we are worthy of taking up some space, of arriving, and then when we arrive we are to try to treat each person who also arrives with reverence – whether it's a celebrity or child or cab driver. Because arriving, anywhere at all,  is brave. And because everyone is worth exactly the same. That's all and that's everything.
That's my job out on tour. That's it. Just to remember that I'm a student of life, and every person and every moment is my teacher.
I did an interview yesterday and a reporter asked me:
What's next for Momastery? Where is all of this going?
And I said, "Oh, I've never known where all of this is going. I just know how we're going to get there."
Okay, she said. How are you going to get there?
"We're going to do the next right thing- one thing at a time. We're going to take good care of ourselves and each other. We're going to keep our collective sense of humor. We're going to be kind and brave. We are going to remember that We Can Do Hard Things and that We Belong To Each Other and that Love Wins. We will do the right things for each other and that way – wherever we land- we'll have no regrets. Our means will justify our ends."
She paused and then said: "Glennon, Do you consider yourself to be a leader?"
And I swallowed hard and fought the urge to giggle dismissively and say: Ummm, NO (we must stop doing that) and instead I held tight to the corner of my kitchen counter for support and said steadily into the phone:
Yes. Yes, I do. I consider myself to be an accidental leader of thousands of other leaders. At Momastery, I lead quiet heroes who are already the love leaders of their families, communities, and countries. They are the ones who make the world go 'round. It's a ridiculous, amazing, sacred honor.
Then she said, "What is your definition of a leader?
And I said – "Leadership is joyful service."
That's my job. My job is to show up, pay attention and serve women. And I'm included in there. I serve myself, too. First, usually.
Some mamas serve dinner, I serve women. Including myself.
And I know how to do that. It's what I was born to do.
So I've spent months thinking about how to best serve you, my people, my women while I'm out and about on tour next month. Because we all know that I just can't spend the next month slamming you with pictures from the road and promotional stuff for Carry On. I just can't.
Carry On, Warrior – she's my baby, and if you knew how much I really love her you might be alarmed. I created her, with God's help, and like every parent is called to at some point –  now I'll let her go into the big, brutiful world and I'll pray every day that she's handled with care and that she leaves each person who's kind enough to hold her a little more relaxed and cozy and connected on this Earth.  I'll pray that she finds great adventure and great love.
But I won't sit around posting pictures of her all day. I mean, she's my FOURTH baby. And we've got things to do here. Still . . . this is a SPECIAL month for me. I hope for all of us. And I decided that the best way to celebrate our special month is to do what we always do, and more of it.
So this month, we will celebrate and serve women. This month, the month my book comes out- I will offer my gratitude to the world by celebrating other women writers.  Writers who have not so much changed me as changed the way I think about me. For me – that perspective shift has made all the difference. Writers have convinced me in a million ways that maybe I'm not too sensitive to live in this world. Maybe I'm just sensitive enough to change this world. I owe writers my life. And so I have gathered some of these women writers  – many who are New York Times Bestseller and others who should be – and I am going to share them with you over the next month. We will call this series Momastory, and every Monday and Tuesday one of these Love Warriors will visit us and tell us her story. Her story of how being a woman connected to other woman has made all the difference.
Remember that moment when I was looking in the dressing room mirror at myself in my new clothes and smiling?
This is how I knew I was a new wearer of clothes. This is what I realized at that moment:
In that moment, while I was looking at myself, I was thinking about my new friend Claire who wrote one of the most brutiful books I've ever read in my life. And it hit me that I was as excited to introduce you to my Claire and to the other writers in the series – to make those sacred introductions –  as I was to introduce you  to my book.  I realized that that's how much I love you.  I care more that you are well-served and well-loved while I'm on the road than I care about being on that road in the first place.
Because you are one of my families. After thirty years of searching, I've finally found a group to which  I really, truly feel like I belong. Not because we're all the same, but because we're all so different, and that's okay with us. 
So in that mirror moment, I wasn't smiling at my new clothes. I was smiling at the new wearer of the clothes.
THIS IS THE HOLY GRAIL TO ME. I have been so desperate to smother my ego and replace it with love. It's happening. In the words of another lady I love, Penny Lane: it's all happening.
I wanted to be a Server of Women, and I AM. I am READY. I know I'm ready because I finally believe, down deep in my bones- that I can stop grabbing, because there is enough love, enough attention, enough success and joy to take care of us all. I finally believe that when she rises, I rise and when you rise, she rises and when I rise, we all rise. That has nothing to do with me – it's just the way of the world. So I can relax. And I can spend my fifteen minutes – or however long I'm in the spotlight –  catching a little light and throwing it around to as many women as I can illuminate. Because THAT is the best use of me.
Whether it is from my playroom behind this computer screen or at a book signing or on the television – It is my DREAM and honor to serve you.
Love –
G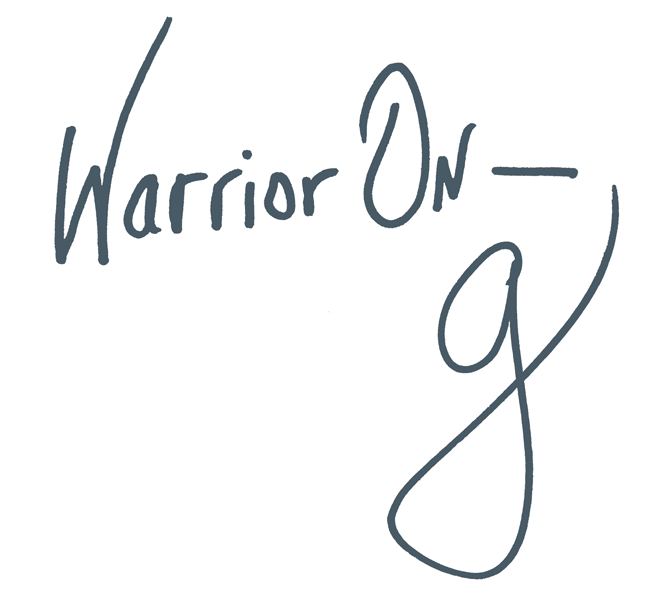 Author of the #1 New York Times Bestseller LOVE WARRIOR — ORDER HERE
Join the Momastery community on Facebook, Twitter, Instagram & Pinterest