Amma up, no time to edit- so sorry. Love.
"To be yourself in a world that is constantly trying to make you something else is the greatest accomplishment."  – Ralph Waldo Emerson
It's 5:30 am and still dark out. It's sort of dark and chilly inside, too. The coffee is making that ticking, bubbling sound it makes when it's brewing. There are not many spans of time I need to move through faster than the span between I have no coffee  and that first sip.
When Chase was a baby, he was so chubby that he couldn't move for a couple months. I just thought: "I guess that's how babies look!" But I've seen a lot of babies in the past decade and none of them look like Chase looked. He couldn't crawl – couldn't move, even. That part was nice. He just sat and laughed. Here's a baby picture.
Every time we took him to well checks, the doctor would show us his growth curve and inform us that he was "off the charts."  I always took that to be a compliment.  but in retrospect, maybe not.
That's how I feel- like I'm always off the charts- up, down, left, right – one way or another. Too dramatic. I've heard it my whole life. Mostly from the critic in my own brain.
I woke up this morning thinking maybe I'd tell you how I'm really feeling.  I still keep some feelings secret. Sometimes, even here, I feel like I can only go so far. I feel inappropriate. I have felt, my whole life – like I'm just a little too much.  Life, in all its bruty – other people, the sunset, dogs, coffee, music – these things threaten to explode my heart on a daily basis. I don't know how to explain how I feel other than explosive. I also feel explosive in other ways. I almost exploded from anger at some other parents at Chase's soccer game on Saturday. Yep, I had to pray my way through the entire game to stay dormant – and by the time I made it to the car- I had to let a few tears go to get myself back on the charts.
Thick skin must be nice to have. Skinless is a hard way to live. It's probably hard to live with, too. But maybe it's good in some ways, also. Maybe it's easier for me to see and catch beauty – like my sensitivity means I've been given an extra wide butterfly net with especially strong netting. Life is about how you use what you got, right?
Even though I know that, I've spent a whole lot of my life trying to be different than I am at my core. Fighting my nature. Trying to be less sensitive. More social. Trying to climb back onto the charts. Dulling my intense feelings with whatever was nearest- wine, food, cigarettes, sex, whatever. I just wanted to be acceptable. I wanted to fit in. But I don't know about that anymore.
I'm thirty six years old. And as I sit here in the dark this morning, I am realizing that in all the most important ways- I am still the same person I was when I was six. So maybe I am who I am for a purpose. And maybe I'm wasting my energy trying to be different. The book "Quiet" by Susan Cain is helping me understand this better.
Truth: I think that no matter how hard I fight it,  I am an incredibly sensitive, extreme introvert.
I can go days without speaking to anyone other than my family.
Craig always wants to travel – and I try to love the idea, but in the end it doesn't really make sense to me. I can learn everything I need to know from the gas station attendant down the street –or from this book that 's rocking my world today – or from just staring at the ocean. Why travel? You can learn everything from anything.
I live in a retirement community. I call that an "accident" but, I mean, c'mon.
I'd rather give a speech to five hundred people than go to a party.
I feel most connected to humanity when I'm physically with no other human beings. Listening to a beautiful song, reading a gripping poem – looking at the sea. By myself.
I can write to you about my most personal things (marriage trouble, etc) but I find these things close to  impossible discuss out loud with my friends. Everything in writing, please.
I've forever felt like these things meant that something was wrong with me. My friends are mostly extroverts…and I didn't understand how I could love them so much but really not need to see them all that often.  In a culture where GIRLS NIGHTS are supposed to be the holy grail of womenhood, I just felt like maybe I was less womanish than most. Anti-social, maybe.  I hate Girls' Nights. There, I said it. I need my friends one on one. And I need them before eight pm. After eight pm is for the couch and  for TV and for books or it's for bed. After eight pm is for turning into a pumpkin. It's time to surrender to myself.
In honor of letting myself be myself –  Let me tell you my real feelings about this upcoming book tour.
I am scared- but not for the reasons you might think.
Truth- doing book signings sometimes feels like a little slice of hell to me.  At the last signing there were tons of Monkees in line. Monkees.  In a line. Doesn't that seem off? And there were so many of them. One after the other. As far as I could see. Each with her own novel full of life chapters bursting inside of her. Pages and pages of triumphs and tragedies and comedies and horrors. I wanted to hear it all. I wanted to hear it all, from everyone. I am a student of this brutiful life and it was painfully clear to me as I sat in that stupid chair behind that stupid table that everyone in that line was my teacher.  And I had only a minute with each teacher. So I'd look into a woman's eyes and I'd know from the electrically charged space between us that she was A MONKEE- someone who believed deeply in what was happening here- someone who recognized the truth here, someone who'd been changed by this place , someone who had been DOING LIFE with me and all the others here. Someone who had been catching these Hail Mary passes that my soul sends out every day. And so we'd hug over the table and cry a little and I'd try to write something in her book that would show her that I KNEW – that I was in this moment with her- that I wanted to run away with her actually, and hear her entire life story from start to finish with a bottomless cup of tea and a two cozy blankets. That even though I looked like I was on the charts- with my smile and regular appearance and heels and plain old words coming out of my mouth –  that inside my soul was completely off the charts. That my soul could see the strength and depth and height and width of her soul and wanted to just DANCE with her.
But we had a minute. And so every meeting felt like a missed opportunity.  Damn TIME and SPACE. How could we build this connection, this divine connection over five years and then only have one minute together? It felt absolutely hellish to me.
Hell is when the stupid boundaries of this physical world make it impossible to show how much you care.
Hell is Chronos when what you desperately need is Kairos.
Whenever something feels hellish to me, I try to consider the flipside of that experience, which points me to heaven. Part of my soul is rejecting this experience –so my soul must need something different, because Heaven is where our souls get what they need. And so all of a sudden, in this book signing context –  the idea of eternity made sense to me for the first time.
Eternity is for bottomless cups of tea and learning every little thing about each other. It's the time and space for real intimacy with everyone. Heaven.
Anyway- this is what I was thinking about this morning.
I know. Off the charts. Whatevs.
Every day I discover more and more beautiful things. It's enough to drive one mad. I have such a desire to do everything, my head is bursting with it.
Monet- via Jeanette LeBlanc
Love You-
G
PS. Listen- there was a moment during the last book signing that I will never forget. A Monkee who had traveled far to meet me and the other Monkees made it to the front of the line. She looked at me and leaned over towards me and so I leaned towards her. And she wiped at her nose and whispered, "G – do this."  So I wiped at my nose. And I had a BOOGER.
This Monkee used her minute to tell me I had a booger. She looked at me and made a snap decision to take one for the team. To risk an awkward moment in the hopes of saving me from 100 more awkward moments.
THAT, my friends, is MONKEE LOVE.
PPS.  Grab a few Kairos moments today. Let the rest go.
G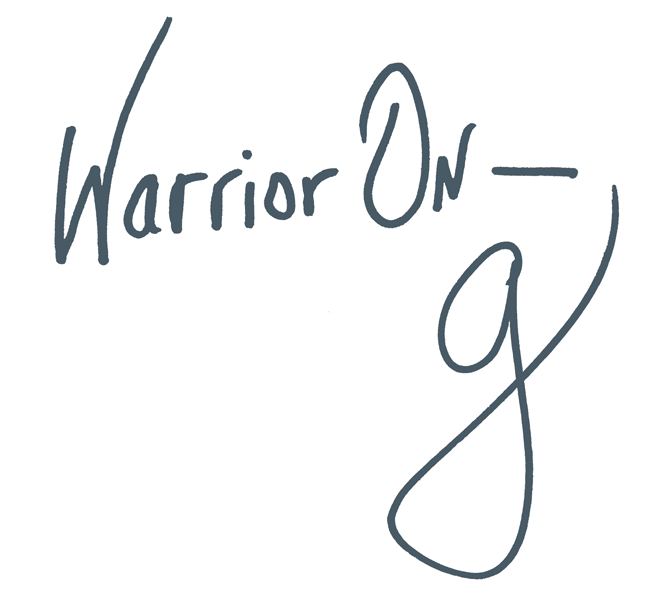 Author of the #1 New York Times Bestseller LOVE WARRIOR — ORDER HERE
Join the Momastery community on Facebook, Twitter, Instagram & Pinterest