Dear Gail,
I saw you in Charlotte this past weekend. I was on stage with the beautiful preacher-man and there was a big, big crowd in front of me – but I saw you there. When I spoke of God's love and the sun you closed your eyes and nodded your beautiful head and I saw your lips make the word "amen" again and again. I love that word – amen. You helped me, Gail. Because I could see that we were riding a wave together, you and me. You in the crowd and me on the stage- we were riding together. And so when I felt like I should quiet down already, that maybe I'd said enough, I kept riding with you anyway.  I kept getting truthier and truthier and the truthier I got the more heads started nodding and then folks started crying and that was all because of you, Gail. Your nodding head and your amens made me brave. Your eyes made me calm.
I tried to grab your hand after the service, but my escorts swept me off stage fast. They put me upstairs in a room and told me to stay, but when they left I broke out of there. I sneaked down the fire escape and back into the huge room to find you and the others. The others were still there, which made the risk worth it- but you were gone. There was no nodding you and there was no regal, beautiful one with you. I wondered who the regal, beautiful one was. She looked like you.
The night I got home from North Carolina, I searched our Facebook page for your face. I found you there. What are the chances, Gail? I clicked on your name and I read your wall. My sister had been there already. You two had already connected. You'd hugged each other at the event. What are the chances, Gail?
I friended you. You wrote to me. I knew you were a writer after reading your first sentence. I wrote back and said YOU ARE SO ALIVE. Your writing is so ALIVE. You are a WRITER.
You already knew you were a writer, but you thanked me anyway. Then you told me that you'd rearranged your chemo, your healing treatment, to come hear me speak. Because you thought listening to me would be a healing treatment, too. And you told me that you'd brought your daughter along with you. She was the regal, beautiful one at your side. What a lucky woman she is, to call you mother.
You thanked me for writing, for loving, for showing up, for fighting. I thanked you for doing the same things.  We both wished like hell we were thanking each other over tea on my couch or yours. We wished we were thanking each other's eyes and holding each other's hands  –  but the next best thing was still pretty damn good. Reading you, Gail, is pretty damn good.
I needed to give you something, Gail. I needed to give you everything. Out of gratitude and awe…for your strength and frailty and grace and dignity and for, as our sister Maya says, making me proud to spell my name w-o-m-a-n.
I didn't know what it could be. What could I give you, Gail? What could I give you, that would say all of those things? All of those things that I mean so deeply and urgently and truly? Those things that I mean more than I mean anything else at all?
And then it came, Gail. It came to me. What I have for you. It came in the mail. What are the chances?
This is the first copy of my book, Gail. I've been working on it for thirty six years. All of me's in there, Gail. And that's exactly what I wanted to give you. All of me.
It's the only first  final copy of my first book that I'll ever have. More will come later, Gail, but there will never be another first one.  The first one is for you.
It's for you, Gail. Don't worry, I don't need it. I already know what it says. It's good, Gail. I worked really hard on it. Not as hard as you're working these days, but hard. It's my story. There are parts of yours in there too, I think.
I wrote my phone number on the inside of the cover, Gail. Please use it when the doctor calls to tell you that it's all gone. Please use it when the doctor calls to tell you that you beat it. That it's nothing but a memory. That it's nothing but the hot coals that made the soles of your feet tougher and quicker and that made the moon shine brighter upon that beautiful nodding, amen-ing head of yours.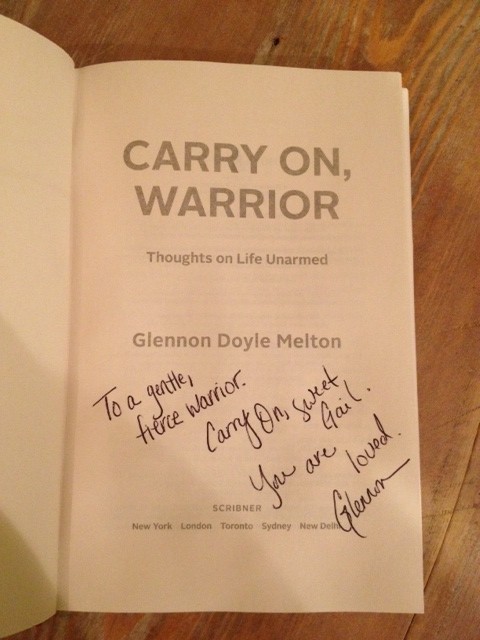 Amen, Gail.
Love, Glennon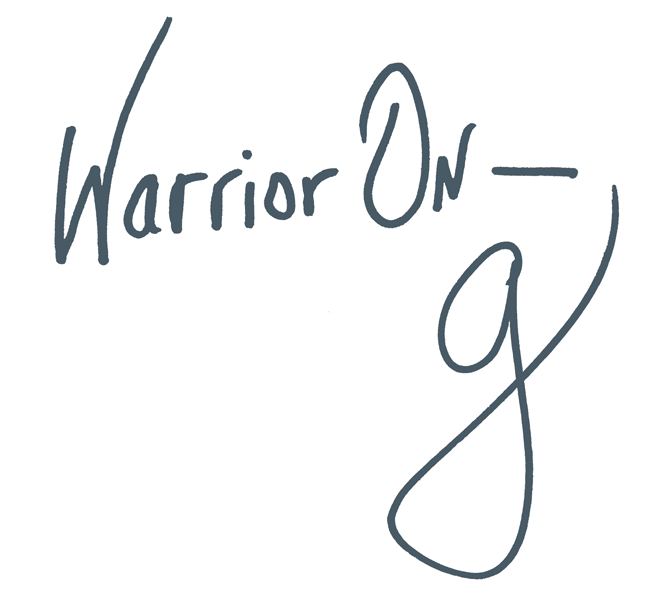 Author of the #1 New York Times Bestseller LOVE WARRIOR — ORDER HERE
Join the Momastery community on Facebook, Twitter, Instagram & Pinterest