Friends . . . I'm in a Lymie Fog this week,  so I have placed myself in receiving mode. I love receiving mode. When I'm in receiving mode it means I have let myself off the hook. I'm not creating anything new –  I'm just reading and breathing and listening and taking it all in. Deep Inhales.
Last night I watched the news. Sigh. All of the not-working-together and trying- to-be-right-instead-of-helpful was tiring. It made me want to put something different out into the polarized world today. Remember this? Progress is possible. It's harder than arguing, but it's possible. Miss you, Tim.
*******
On Thursday morning, Chase and I returned from a mommy/ son overnight date. It was really a let's get the hell away from the girls who will never ever, ever stop fighting date. It was awesome. We  played and talked and talked and talked. We splurged on donuts for breakfast and snuggled in bed at night and woke up early for walks on the beach and dolphin sightings. I got to say yes, yes, yes instead of no, no, no all day. We dreamed up a book we're going to write together. It was perfect. It kind of made me wish I could raise my kids one at a time.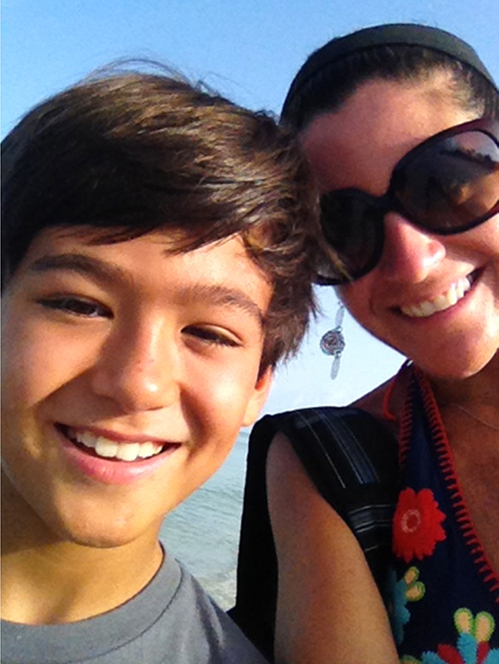 Exhausted and happy, we boarded the plane for the flight home. Since I just had Chase- no girls- I was envisioning a relaxing, blissful flight.  I would not be breaking up fights or crawling around on the cabin floor trying to find tiny plastic toys the size of my fingernail that someone who really, really hates parents created. It was just Chase and me, happy and relaxed after our trip, ready to curl up with our brand new books.
But the Universe decided that I had had quite enough relaxing, thank you very much.
I wedged myself in the seat next to an older, furious, panicked man who was having trouble sending an email. He was huffing, puffing, moaning, and cursing. He was making all the noises that beg the person next to you to say, "what's wrong?" But I didn't say "what's wrong?" No way, Jose. All I could do was think about how this man's state of being was a lesson to me. Nothing that can be done over a computer is worth that much angst and stress. Unless one is trying to reach a dying friend, one should not allow a two hour loss of technology to work him up that way. Not healthy. This man's level of stress was so high that I could FEEL it radiating off of him. Killing my vacay buzz.  I wanted none of it. I kept leaning closer and closer to Chase's side until half of my body was in his seat. What are youdoing? Chase said. I just love you, I responded. He gave me his "I'm practicing to be a teenager" eye roll.
The man finally shut his laptop. Then he started taking huge, deep breaths. Loud, angry, breaths. But his deep breaths were interrupted by deep, repetitive coughs. Smoker coughs. Loud, jarring coughs that wracked his whole body. I tried to discreetly cover my face with my Monkee sweat shirt.  By now I was basically sitting IN Chase's lap.
We take off. I start reading.
And he starts.
He starts talking to me, in monologue form, and it is clear right away that he plans to get a few things off of his croupy chest. To me. He is grizzly. He is angry. He is, how shall we say…not my type. Something tells me to close my book and listen anyway.  I resent that Something. But I do. I close my book and look at my new teacher and listen.
This man talked for a full hour before I spoke at all. During this hour I learned that he was a small company owner on his way to DC to tell his employees that he was moving his headquarters out of the country because, according to him, the Obama administration's new rules had made it impossible for him to stay in the US.
Then, during the next hour, He talked about the poor in sweeping generalizations. He discussed any sort of service program workers or supporters as foolish enablers. He repeated the word fools twenty times. He proclaimed all non-profits to be corrupt money grubbers who hire hookers and buy drugs with donations. He said that liberals would be the ruin of our country. He talked more about his own company, and how liberals hated him and were always trying to put him a box and make him the bad guy. He explained that he'd fight his way out of that box any way he had to. He was a fighter, he said. He spoke loudly and peppered his sentences with curse words.
As God is my witness, I am not making any of this up. Every single thing he said was something that makes my fists clench and heart want to jump out of my throat and onto my lap. Even my beloved Mitchum stopped working. But something told me to stay open. Ride this out. I kept listening.
Once Chase leaned over and said, "Why are you arguing?"
Our new friend said, "Son, we're not arguing, we're just stating very different opinions in a tense way." (I still hadn't said a word.)
"Isn't that the definition of arguing?" Chase said.
I shot him my best, "I've got this and respect your elders even when they think differently than anyone you've ever met" look.
I took inward deep breaths and shot a twitter prayer up to the G-O-D.
Not subtle with this one, huh? What am I supposed to do with this? Politics? Politics? There are two things I avoid like the plague- politics and real ticks.
Then in the back of my head, I hear. "It has been said to love your friends. But don't even jerks do that? I say – Love your enemies and those who think differently than you."
Daaaaaamnnnniiiiiiiittttttt.
In the middle of describing various tax codes he looked at me and said, "Are you following me, here?"
I said, Well, I'm a writer, so I'm not familiar with a lot of this, but I think I'm with you. I'm learning as you talk.
He said, "Oh, a writer. I tried that road once. I tried to do nothing, because my doctor and wife told me I was going to die if I didn't slow down. So I stopped working and sat on the couch all day. But how much Jerry Springer can you watch, right?"
Right. Well, maybe your doctor didn't mean for you to go from 100 to 0. Maybe she just wanted you to cruise at 50. Also, as a writer, I don't do nothing. But you're right, I have found a way to live without so much stress.
"Right, right, that's not what I meant," he said.
I know, I said. Stay open, the Something said. Stay open. Ride this out.
At one point the man took a breath, looked sideways at me and said, "You're a liberal, aren't you."
I said, I try not to label myself, because I don't want to shut down conversations. Right now I'm just a person trying to understand you.
"Oh you're definitely a liberal," he said.
When he started back in on non-profits and how they were all money grubbing thieves, I said,You know, I run a group like a non-profit, and we give back 100 percent of what we raise. No overhead. We all work for free.
He raised his eyebrow and didn't respond for a minute.
He looked out the airplane window. He was remembering something. His tirade stopped. His voice changed a little.
Then he turned back and said, "I haven't given a penny away for fifteen years. I used to. Every Christmas I used to buy ten turkeys and deliver them to the homeless shelter myself.  But I don't do that anymore. I don't give anything away anymore."
What changed? I said.
He looked out the window again and I thought- HERE we go. HERE we go- here comes the real stuff. Here politics die and the person behind them introduces himself.
Scruffy angry man said, "When my daughter was little, we left a candle burning in our house and the whole house burned down. With all of our things. We had nothing. We lived in our car for seven months with our daughter and no one reached out to help us. Not our neighbors, not our families, friends. Not even our church. No one."
God. That must have been awful.
"It was. But I eventually found work and I pulled us out of there on my own."
That's amazing. Still. Don't you wish someone had reached out to you?
"Well, they didn't."
I know, but doesn't a part of you really wish they had?
"No. We're fine. I pulled us out of there and I turned out perfectly fine."
Here is where I couldn't help but stop the conversation and give scruffy angry man my face. I can't describe it so here it is. I used to be able to appear much more skeptical but you know, all the Botox.
"What??" He said defensively. Then he laughed.  "What?"
You're perfectly fine? Not a teeny bit hard hearted, friend?
Scruffy man laughed again. Hard this time. Hard enough that his whole body shook again.Thank you. baby Jesus, I thought.
"Maybe a little," he said,  "Maybe a little."
I walked through this heavenly door of laughter and I told him that I was glad he'd told me his story. I told him that I usually did lean to the left and so I didn't often have a chance to hear the stories of folks on the other side. I told him I understood a lot of where he was coming from, and I do. Being a small business owner, from my friend Tim's point of view, is a very tough gig these days, and maybe always.
"I'm not a bad guy.They are always making me out to be a bad guy. I'm not."
I know, I said. I'm one of the "theys," most days, and I don't think you're a bad guy.
Then I asked if he'd do me a favor. I told him that I'd keep his story in my head and heart if he'd consider changing one teeny part of the way he spoke. The alls. The mosts. I told him the generalizations were killing me. All the poor, Most of the non-profits, all the democrats, every single liberal.  It discredits you a little, I said. Weakens your arguments.
Then I told him about the poor people who were the parents of the kids at the school where I taught. How many of them worked 24 hours straight and then came into my classroom, blurry-eyed, to hear about the children for whom they'd sacrificed everything.
Illegals? He said.
No, friend. Or maybe so. But do you understand what I'm saying? We can't say all or most. We just can't.
He nodded. "I hear you. I'll stop saying all. But I might stick with most."
Okay, I said. A compromise. I love compromises.
Then he said, "Give me the name of your non-profit. I'll look it up."
I squealed and clapped like a seal. He rolled his eyes and stuck his finger down his throat like he was gagging. But it was definitely an affectionate gag.
As I wrote our website on his work folder,  I told him about our Love Flash Mobs. About how we send money to hurting people to let them know we care.
He said, "Why the hell do you send them money? Why money?"
It's not about the money. It's about what the money represents-  love, care for a stranger, sacrifice.
More gagging. "How much you send them?"
Last time we raised 80 thousand dollars in six hours. All kinds of people gave. Conservatives, liberals. People like you. Actually, I don't know if there are any other people like you.
Laughter and huge eyes. "80k? And you gave it all away??
 Yep. I know.
"Well, if it's not about the money, you should just send them a card. Have all your "people" sign it and send a goddamn card. I'll even give you $2.50 for the card. I wouldnta done that before this conversation, I'll tell you that. I don't get you, but the world needs people like you and your monks or whatever the hell you call them."
I looked at him and said – I wish we were around when you were stuck in your car.
"Well you weren't, and we were fine."
 I know, I still wish though.
"Yeah."
Then I went in for the love kill.
Look at us, friend. We did it. We made it through two hours. I learned a little about you, you learned a little about me. The rightiest and the leftiest. Maybe in the whole WORLD. We didn't yell, You taught me a lot.
"You taught me a little."
I'll take it. Tim, can I get a picture?
"No. hell no. You're just gonna put it on that Mama's Tree of yours."
True. That's what I was going to do. Well let me at least shoot this, so I can prove this really happened. That the rightest right man and the leftiest left girl sat together on a plane and said all of our things and learned from each other. And made friends.
Tim said – "I've never made friends with a goddamn liberal before."
I am proud to be your first goddamn liberal friend, Tim. And I want you to know that I can see how upset you are about your company, and this upcoming meeting, and the country, and I'm rooting for you.  Just treat them like people, not issues, Tim. And you must start sleeping more. And you gotta quit smoking, Tim. We've gotta take you down 6 million notches.
"I know. You're right," he said."Good luck with your book and all of  your giving people's hard earned money away."
Thank you Tim, I appreciate it.
"Write down your book's name too. I'm going to order it as soon as it comes out."
Thank you, Tim. I hope you like it.
And then we HUGGED. We HUGGED.
On the cab ride home I thought: our world views usually come from the world we've experienced, not from the goodness of our hearts. If you've experienced the world as loving and generous – that is how you will live, in abundance. But if you've experienced the world as uncaring and cold, then it only makes sense that you will continue to live with that world view.
It's really why we need to take care of each other. Listen to each other. Undig our heels. Surprise each other. We really do.
Tim- thank you for teaching me so much. You are in my prayers. For real. Not just saying that.
Love and Peace,
Glennon- the goddamn liberal from Mama's Tree
Post Script: Tim reached out to me and we've exchanged emails. He wasn't sure whether he liked this article or not, but his wife loved it and laughed her way through it. She said  she couldn't believe he told me about their house fire, because he'd never told anyone before. Tim asked for my address so he could send Monkee See -Monkee Do some cash. It was his first donation since the fire. I still send Twitter prayers for Tim daily.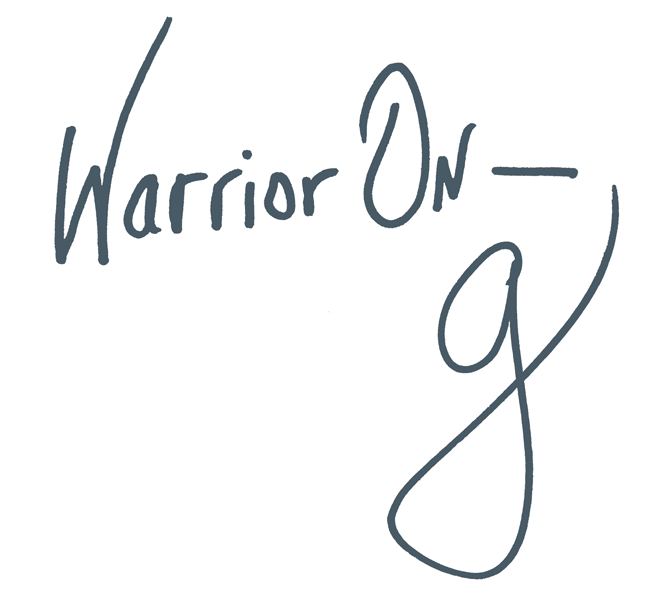 Author of the #1 New York Times Bestseller LOVE WARRIOR — ORDER HERE
Join Glennon on Facebook, Twitter, & Instagram