You took our book to # 5 on Amazon this morning.
Our book is Number Five. It's number five OF THE WHOLE AMAZON. OF ALL THE BOOKS. And it's not EVEN OUT YET. No one can believe this. The fancy folks can.not.believe it.
Raise your hand if you can totally believe it? I can. It's actually pretty easy to believe, after all we've been through together. We can do hard things. We know this.
This morning I am filled with awe and gratitude and an overwhelming desire to keep things real. I want to remind myself every minute that this revolution is not about wide, it's about deep. It's not about shiny, it's about a little banged up. It's not about impressing folks in fancy offices…it's about touching folks one at a time right in their family rooms.
Our revolution is simply about reminding folks that they are already home. And that there are thousands of people who will say "welcome home" and then offer a sister a seat and a cup of tea and a place to stay forever. Even if and when she makes a mistake. Even then. Especially then. There is plenty of room for mistakes inside our revolution. You need to know that. Don't hold your breath.
And so . . . the bigger things get, the smaller we need to keep them. One at a time. On the ground. Upside down revolution. Person to person. Hand to hand. If we lose this- we lose it all. What good is it to gain the world if you lose your soul? My job is not to top the charts. It's to keep the soul in the Momastery.
I was thinking about this yesterday evening as I watched the numbers soar. I kept remembering that we are never as good as we think we are and we are never as bad as we think we are. I kept thinking about a quote I read in Bob Goff's book, Love Does. He says, "I'd rather fail at something that matters than succeed at something that doesn't."
What you did yesterday on Amazon matters to me. It matters to Sister and Tisha and our editor, Whitney, who is as Monkee as Monkees come, and who spent the afternoon yesterday holding flowers I sent her, staring at her screen and breathing deeply while re-freshing the Amazon site every ten seconds. That matters to me. It matters to me that you made her so happy. I'll never forget the image I have of my Whitney holding her flowers and refreshing her screen. She believed in us, she vouched for us, she went out on many thousands of limbs for us, and then she worked her Monkee BUTT off for us. Now it's all paying off.  I am eternally grateful to you for that. As is she.
Still, in my heart of hearts, I know without question that yesterday's frenzy matters less than other things matter.
And as I snuggled into bed thinking about that last night, I remembered an email I'd received a few days back from a woman in Indiana who runs a home for unwed teen mamas. Just five teen mamas at a time live there. They are loved well and so are their babies. They are taught hope. They graduate from high school. They learn what Carry On, Warrior and Sister On really mean.
In her email, this woman mentioned that her home was low on funding. And that they needed help. And that they all love Momastery and wondered if maybe we could be that help. They wanted me to come to them, but they didn't have the money to pay for my flight there.
I wasn't going to go. They needed me in the middle of the book tour, and my health and my kids and I get these requests all the time and you cant help everybody and you know…yadda yadda yadda and more endless yadda.
Last night I decided to quit yaddda-ing. Love doesn't yadda. Neither does gratitude.
I got out of bed and I wrote the Indiana hero this message:
***
Friend,
I love your organization. And I just love you. Yes. I'm in.
I am honored that you want me. I want to come hold babies and hug warrior mamas and tell them my story and hear theirs. And yours. And dance on my head or sing horribly or make speeches or whatever else we need to do to raise money for this beautiful home. I'll pay my own way- I want you to save every penny for the lovies.
What next? Sister and Bobby are coming, too. And my friend and fellow Love Warrior, Amy. And maybe a hell of a lot more folks. What you do matters. We want to celebrate that.

Love Wins.
G
***
I just wanted you to know that I KNOW that gratitude is as gratitude does.
And I want you to know that the work you do, the door you hold open today for the mama with one arm on the stroller and the other holding her toddler, the coffee you buy for a stranger, the millionth diaper you change, the character assassination you step away from and the smile you offer a lonely looking teenager in the check-out line:
Those are the things that matter. Those things are who we are.
I haven't forgotten, and I won't forget.
Serving this revolution is the fourth greatest honor of my life.
I love you. I truly, truly love you. And I'm not a smart man, but I know what love is.
Glennon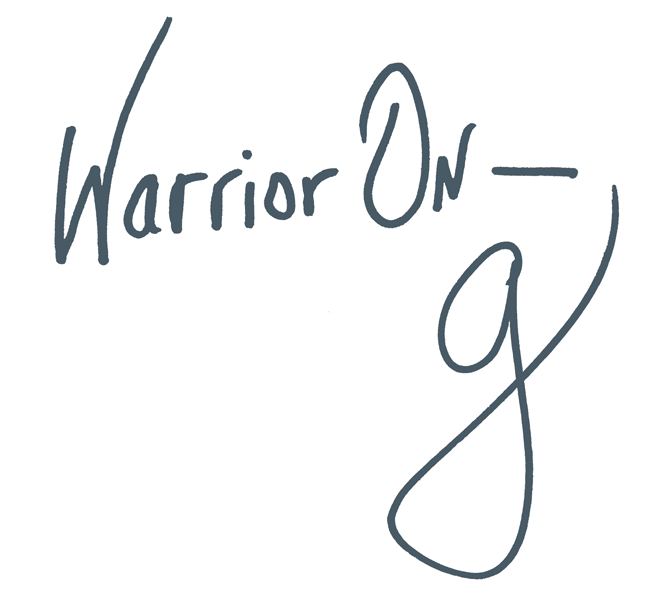 Author of the #1 New York Times Bestseller LOVE WARRIOR — ORDER HERE
Join the Momastery community on Facebook, Twitter, Instagram & Pinterest