HELLO, and Happy Day, Monkees!  Sister here, reporting for Glennon on this most exciting day.
I was forced to put G in a one day Momastery time out because her distaste for anything that smells like promotion was threatening to ruin the perfectly fabulous time we are about to all have together.  But sister-promotion is a basic tenant here at Momastery, and what G does whenever she sees a sister doing something good and true and smart, so here I am.
Because she and WE – this whole Momastery community – have done something very good and true and smart.
WE HAVE MADE A BOOK.
We have made a book that will arrive in 70 short days! Carry On, Warrior is our baby, and we are in our LAST TRIMESTER! Which, actually, is a very good reason to order up many foot rubs and naps and chocolate desserts and stay in our yoga-pants until April.  Carry On, Warrior will be here before we know it and there will be crying and rejoicing and visitors and no sleeping and we'll really wish we had used these 70 days more wisely and lazily.
If you've been reading Momastery long enough, you know that G has a tendency to rename her babies. Some people play tennis, others cook, and Glennon picks new names for her kids.  Partly because it is a hobby she can enjoy without leaving the house, but also because, as she gets to know each kid, her name reveals itself undeniably.
Remember how Amma got her name(s)?  In utero she was Tess. Then Amanda. Then Amme. Then Scout. Finally, Amma. Rhymes with Anna. We repeat that "rhymes with" part a lot. Glennon has friends who still won't attempt the third child's name because they're so confused. They gesture in Amma's general direction and say, "you know . . . her."   In fact, when Amma was four she looked up from her coloring book and said, "Mama! What my name again??" Which would've been funnier if G had been able to remember it more quickly. The point is, she was always, undeniably and for all time, just an Amma of a thing.
So it should not be a shock to us that this phenomenon also happened to our baby – Carry On, Warrior.  Glennon took that book home and loved her and learned her.  And, as these things go, Carry On revealed herself and her cover was blown. Carry On, Warrior is, undeniably and for all time, a beautiful and bold rainbow of a thing. So without further ado, may I present to you the new and final cover of Carry On, Warrior. . .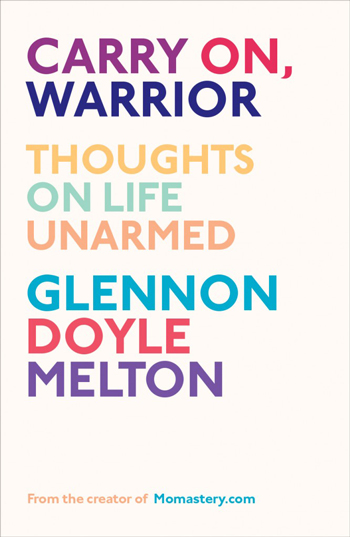 IT'S A GIRL!!!  And we love her.  We love that she assumes nothing. Everyone has a home with her. Each of us can find our place and take what we need. Just like our community. Everybody's in, baby.
It's time for the Shower (without all the awkward 4-hour gift opening and the pretending you've never seen a Boppy quite that beautiful before). It is time to celebrate all of the doing of the hard things and the loving each other so well here.
Every preorder of Carry On, Warrior (www.carryonwarrior.com) will arrive to your home ON the first day of the book's release, April 2. And if just half of Monkees preorder the book today, Carry On, Warrior could be on the New York Times bestseller list in the first week of publication. Wouldn't that be wild? It would be historic and magical, just like our community. And it would be a proper way to celebrate a baby sister's arrival to the world.
And if you believe our baby will help folks breathe easier and further the kindness revolution….
 Pinners, Pin THIS! 
For you Tweeters and Facebookers, share the book with your friends by posting this link into your status:  www.carryonwarrior.com.  
And then PREORDER!!!  All preorders will arrive on publication day, April 2, and many of the sellers are offering the book on preorder for 40% off list price – that's $10 off each book!
Buy a copy for your bookshelf or nightstand (you are going to want to HOLD this beautiful baby in your hands, trust us!) and preorder one for your friend who is becoming a mom, becoming sober, healing, becoming more real. Buy one for your mama and mama in law and sisters and daughters and your child's teachers. Buy a copy for each of your warrior girlfriends for Mothers Day. Stock up, make this book your 2013 Go To Gift to Those You Love.
And Thank You. For everything. For Every Thing.
Carry On, Warriors.
Sister and G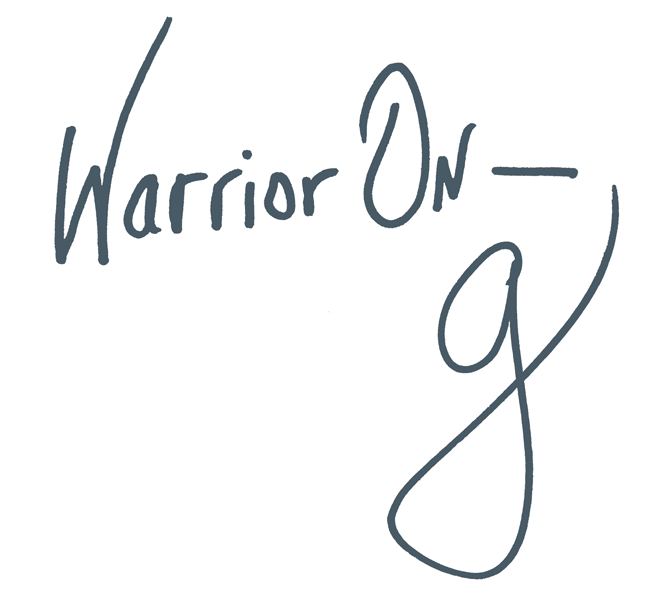 Author of the #1 New York Times Bestseller LOVE WARRIOR — ORDER HERE
Join the Momastery community on Facebook, Twitter, Instagram & Pinterest