When Chase was in kindergarten, he wrote a really beautiful poem. He brought it home to me and I loved it and insisted he show his teacher. He resisted, but final agreed. He came home crying the next day and when I asked him what the fuss was about, he told me that he won a writing contest. I said wow, that's awful. He said I know. Tragically, his prize was the opportunity to read his poem to the whole school at an evening assembly. Oh, I said. I see. He's not the spotlight type, Chase. We used to have to exit birthday parties immediately upon sight of a piñata. Too much pressure. His first soccer game, I had to hold his hand throughout the entire game…on the field . . . while holding a nine month Tish in the other arm. Throughout the entire game, Chase dragged me back and forth across the field, screaming FASTER FASTER MOMMY! We're never going to WIN!!!
You're right, Chase. We are never going to win. That is true, I said. Craig, former professional soccer player and Chase's coach that day was so proud.
So when Chase told me about the assembly,  I wondered why folks always decide that because people are decent at writing words, they must be decent at speaking them. Seems like two separate things. As a matter of fact, most writers start writing because they're a little reclusive. A little piñata averse. A little hidey, maybe.
The night of the big assembly Chase cried all day. I told him that once we got to the school, he'd see his friends and relax. I lied. He did not relax. He wouldn't walk up to the stage without me holding his hand and following him. Fine, I told myself. No biggie. Once he holds the mic, he'll hit his stride. Wrong again, mama.
I situated Chase in front of the mic, smiled, and handed his poem to him. He immediately burst out crying again –  directly into the mic this time. Every time I tried to encourage him, he cried harder. The crowd did its best to look supportive, but you know, they were staring. It wasn't their fault, that's really the crowd's job. So since I'm a good mom, I took the microphone and the poem and tried to read it for Chase. But here was the other problem:  In ridiculous, awful and important situations like these, I tend to involuntarily do what's MOST inappropriate. Like I'm supposed to be helping my son, but all I can think about is….what if I grab this mic right now and scream VAGINA AND PENIS!! into it?
It's like when you're on a balcony and you think : What if I just jump? What if I do? Oh my God, I might! Why isn't there anyone here to stop me??? TOO. MUCH. FREEDOM AND POWER!!  I am not wise or self- controlled enough for this precarious situation!! I'm NOT READY!
That's what I'm thinking. On every balcony.
In church, too. It looks like I'm praying but I'm mostly wondering: what is the absolute most profane, awful thing I could scream into this sacred silence? Then I think of the thing. It's always really, really bad. It's always an awful thing. I immediately feel horribly guilty because I don't know much about God, but I'm fairly certain he can see into folks brains, especially at church. So I try my very, very hardest to UNTHINK that awful thing. But then it becomes like the Stay Puft Marshmallow Man scene in Ghost Busters. I CAN'T unthink a thing. And this situation is so ridiculous that I always, always start laughing.  It's that awful laugh…that  funeral laugh. That: Oh my god I canNOT be laughing right now laugh. My husband is glaring at me because I'm embarrassing the family again, and that is TOTALLY hysterical, of course. So now my shoulders are lurching up and down and tears are coming out of my eyes and I eventually have to excuse myself because there is no other way out.
This is what happened to me on stage.
Chase was hysterically crying and I was hysterically laughing. It was nerves. But it looked like I was laughing AT Chase. And the whole school audience was slack – jawed. Including Craig, whom I saw lower his video camera, dissociating with us officially. I finally pulled myself together enough to squeak out a couple lines from the poem. Then I grabbed Chase by the hand and pulled him off stage as quickly as I could without appearing to be both emotionally AND physically abusive. We both cried our way back to our seats. When we flopped back down, I noticed that Craig looked stunned. He stared straight ahead. He was speechless. He looked like he was trying to pretend to belong to the family on his other side.
Chase and I both wiped tears from our eyes. I looked down at Chase and he looked back up at me. He smiled through his tears and said, "Wow! We did GREAT, mom. That was awesome."
"Um. Yes, yes we did, baby. Yes we did. We were the best."
All of this is to say . . . I'm a little nervous about my book tour.
Happy Monday.
Love,
G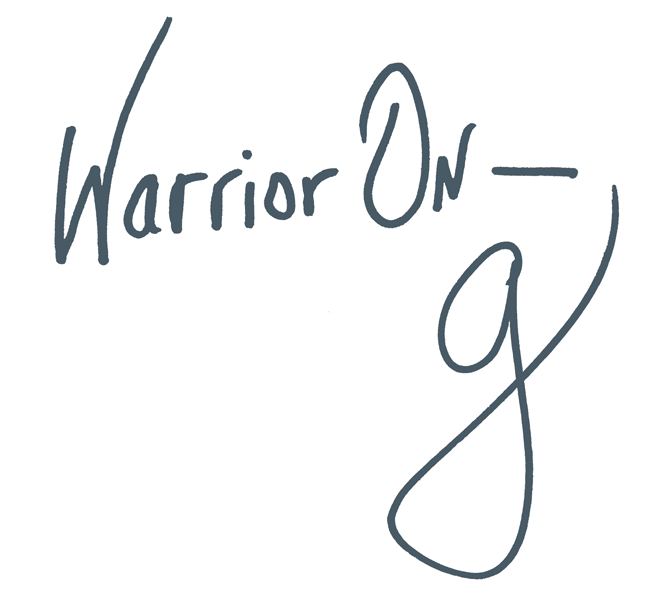 Author of the #1 New York Times Bestseller LOVE WARRIOR — ORDER HERE
Join the Momastery community on Facebook, Twitter, Instagram & Pinterest