Hi Friends.
In an hour, the kids and I are heading to the airport. Back to Virginia to be with my people.  I just booked the flights yesterday. I couldn't spend another day without my Sister and my (her) baby. Can you blame me?
Bubba and Tisha will pick us up at the airport. I just want my mom and my dad. Don't you? I want my friends. And more than I want my friends, I want their kids. I need to hold and smell and pray for each one of them. I need to check in to make sure the things I love are real.
I don't have anything helpful to say. I'm sorry. I wish I did. I will tell you that I am so, so grateful for this place. I needed it the last two days. I needed you. So many Is. Grief and anger and hopelessness are personal and selfish, I guess. Until they're not. Then they usually turn into good works and connection. Eventually. St. Anne Lamott always reminds us that it's the eventually part that blows. Time takes time. We have to just let it be unbearable and awful for as long as it takes.
Here's what we decided after Aurora. Still true, I think:
  When the world feels too loud, we must be quiet. When the world feels too violent, we must be peaceful. When the world seems evil, we must be good.
A Monkee added this: the harder life is the softer I must become. I think that for now, this is true. Softness is not weakness. It's where true strength is born. Water is soft, and rocks are hard. Over time- the water wins. Even the rock succumbs to water, eventually. That freaking word again. Eventually. Time takes time. I believe that God's love and parents' love are like water. Stay soft.
I can tell I'm getting softer. I'm so grateful to God for that. There were comments made on our FB page that a year ago would have sent me into a rage and a deep depression. Not anymore. Folks need to say what they need to say. The expression of grief and anger are so unique to each of us. I'm just glad we can hold a safe space for people to express their pain. It's okay. We can handle it.  I hear the humanity and desperation and ultimately, the LOVE, behind the comments of EVERYONE this time around. EVERYONE, from both sides of the every "issue." I hear my friends who are furious at me for believing in God. I understand. I hear my friends who are defending God like their very lives depend on it. I understand. I hear my friends who are screaming for gun control and my friends who are screaming against it. I think, at the end of the day, that both groups think their way is the way to protect their children. I understand.
As for me, I'm at ground zero. For the first time in my life, I know that I don't know ANYTHING. Maybe one day I will, but today I don't. I keep thinking of that line from An American President. "These are serious times and they call for serious people." I think if never before, now is the time to admit that the problems we have are very,very complicated and multi-layered and desperate. And to solve them, it's going to take all of us. Right now, we cannot scream at each other for peace. I can't anyway. If we've done what we've always done, we'll get what we're always gotten. We've got to try something else. I don't know what yet.  I just want to admit I don't know and ask for help from everyone. We need everybody's very best, very highest self to step forward.
And I just know I want my mom and dad and Bobby and Sister and Brother in law and I want to hold my friends' babies. That will have to be okay for now. I'm going home. To love and be loved.
Adrianne sent me this yesterday:
"The teachers who hid in the bathroom with students during yesterday's massacre read books to the kids to keep them quiet and calm. They read books to the little ones, G. In the midst of so much darkness and evil, books…written words…were the light. I know books saved you. They saved some precious babies yesterday, too. Thank God for all the writers of the world who put pen to paper and create life rafts for the rest of us."
We are both teachers and writers and readers, Adrianne and I. And so this part. Those teachers. Protecting the hearts and bodies of their babies with books. Well. Thank you. That's all. Thank you to all the teachers. All the helpers.
I've got no advice nor solutions for the world. I just know that I still love this broken place and the broken folks in it. The brutality is deeper and more horrific than I've ever understood before. But the beauty is deeper and more blindingly present than I understood before either.
We are living in a very dark world but the candle reminds us that darkness cannot extinguish the tiniest flame. Darkness has no breath.
Each night –  for the next twenty six nights – I'll be holding my ten minute vigils. I start at 8:30 EST and end at 8:40.  I don't do much. I just light a candle and take it outside. I go outside to remember that we all live under the same sky. I sit with my candle for ten minutes. I try to pray but usually I just stare at the flame and try to empty my mind. Each vigil  I'll dedicate to one of the beloved who died this week. I'm starting tonight with the principal, Dawn Hochsprung. She was a mama of five. She called her kindergartens "kinders." I know that there is a special place in heaven for folks who call kindergarteners kinders.
We are members of two worlds down here. One is the world of politics and marches and petitions and votes and opinions and arguments and that world is very, very important. I will re-enter it someday soon, I'm sure. But there's another world, too. That world is the kingdom of God. And I just know, the very very wise fool in me knows that in the Kingdom of God, one mama with a two dollar candle on her back porch is equally important.
During the Vietnam war there was a man who stood outside the White House every night holding a single candle. After several weeks, the news discovered him and a reporter came and said something like, "Sir. Do you really think that standing here with this candle is going to change the world's mind?" And the man looked at him and said, "I don't stand here with my candle to change the world. I stand here to keep the world from changing me."
I love you. I am so grateful for you. I deeply, deeply cherish you and your families. I can't do much. But I'll show up here. This year- 2013. I'll keep showing up. I will keep my candle lit. I will stay soft. Soft like a river.
Pray for Peace, People Everywhere.
Glennon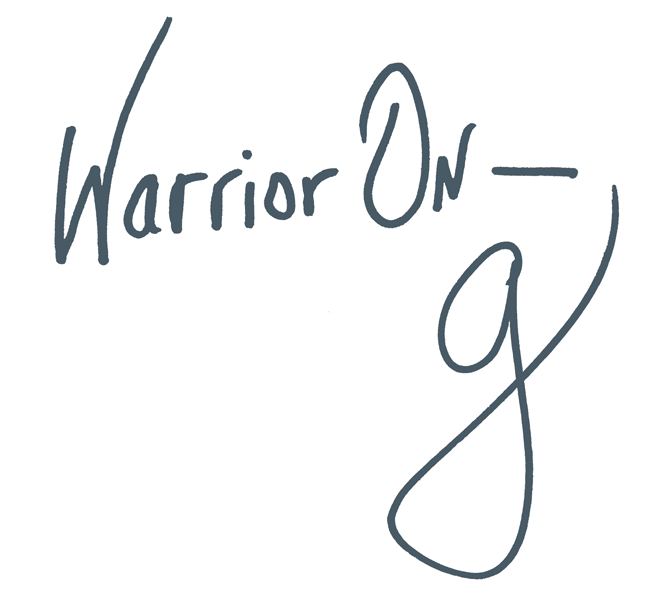 Author of the #1 New York Times Bestseller LOVE WARRIOR — ORDER HERE
Join the Momastery community on Facebook, Twitter, Instagram & Pinterest