It's storming here in Naples. Weird, for December. I usually love an excuse to stay inside and hibernate, but not so much this morning. I'm kind of stormy inside today, too, and that's too much storm.
I'm feeling down. Yep, even though kids are starving all over the world and I am in my comfortable home surrounded by material and spiritual blessings, I'm down. It's okay.  Suffering is a part of life. Everyone's life. We can let it come. When we add guilt about suffering on top of regular suffering things become too heavy. So we just let suffering come and ask the bastard to at least teach us something while he outstays his welcome.
I'm not sure what else I'm supposed to do when I'm down, other than breathe and stay mindful that this too shall pass.  Sometimes it helps to remember what I love and do those things. So I try to think of myself as my best friend and I say…"What does Glennon love? What will remind her of who she is?" and then I make sure she has those things. Like we'd do for our sister or our best friend. Love others as yourself.  That doesn't mean much unless we love ourselves well, right? If you love yourself crappy, nobody wants you going around loving others like you love yourself.
Kay, self. Here's what I love:  I love women. I love books. I love pajamas and I love, love love Random Acts of Kindness. I actually don't think they're random at all. I think they make perfect sense.
*I love Twizzlers, M&Ms, and TV too, but I already spent the day with them yesterday and all I have to show for it is a sugar/Bravo channel hangover.  So today we'll try the books, pajamas, women and Acts of Kindness.
Here is what it looks like under my tree right now.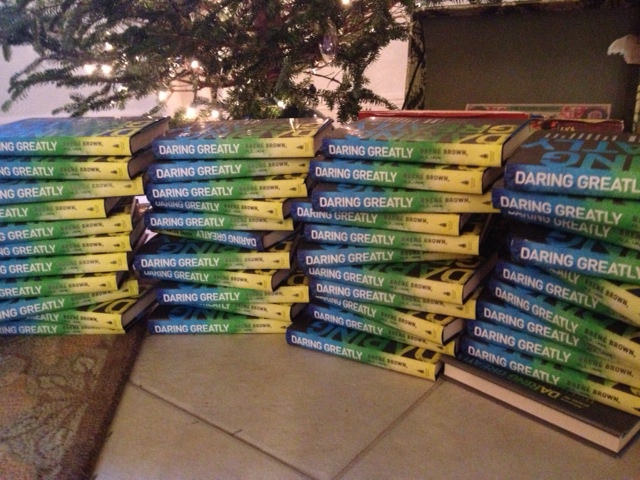 Molly, a new Momastery reader and devoted Brene Brown fan read this post and decided to send fifty Daring Greatlys to me.  Molly often feels deeply blessed, and Brene's work has helped her develop this gratitude. So Molly wanted to thank Brene and help spread her message on to you. I love Molly. She speaks of the kingdom of God like a poet and swears like an Osbourne. She is a scholar and a farmer. She is my kind of peeps. Most are, though, lately.
Listen. Last time I screwed up the Daring Greatly thing. Sometimes we just have to say we screwed up and start over. I was full of energy and passion and love when I posted and then immediately after posting I got tired. So, I didn't send out my five copies and I didn't keep track of your emails that day. Forgive me, and let us start again.
If you'd like a copy of this book but can't afford it this month, please send me an email with-
Your name and address in the SUBJECT line of the email. Those are the only emails that will go on my Daring Greatly spread sheet. I know. I make spread sheets now. That's how much I love you.
I'm going to take the first hundred emails that fly in to me at [email protected]. Fifty will receive the book first, and after finishing they'll send it along to the address written by me inside the front cover.
If you can afford this book, please buy it. Brene has poured years of her life into this book and we should pay her for her brilliant work. The truth is that this book helped me at least as much as two years of therapy, pounds of psychotropic drugs and hundreds of retail therapy trips did. It's a REALLY GOOD buy compared to other types of intervention, trust me. But if you can't squeeze it into the budget- email me.
I want to spend my down day on my living room floor addressing Brene's books to you. One at a time, with a smooth, flowy pen. Holding books that you will hold. Saying little prayers for every recipient. Sending gratitude to Brene and all artists and teachers whose Daring helps me breathe easier.
Pretty good use of a down day, I think.
G
PS. I've received several emails from other Monkees who would like to donate Brene's books. I can't organize that- but please, please go for it! Find a copy of your favorite book, post it on facebook and send it to a responding friend or a stranger.  Someone very smart once said that the most revolutionary thing one can do is introduce people to each other.  Passing delicious books on is a wonderful way to make important introductions. So much and hope and the sun will come out tomorrows to you.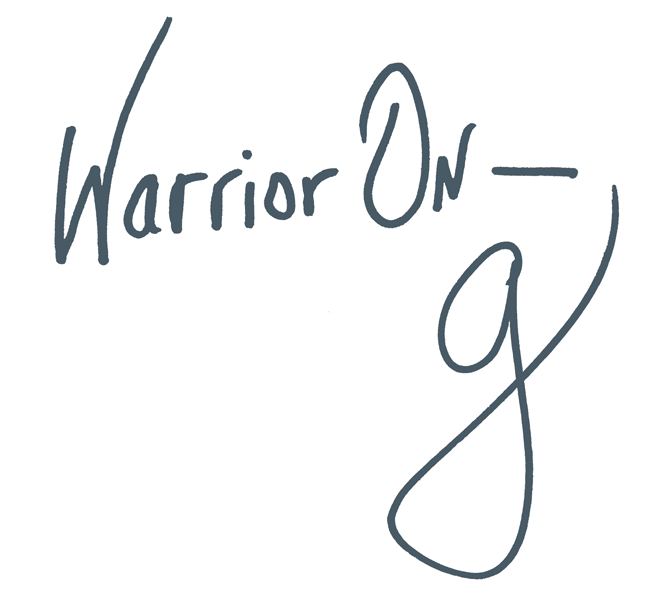 Author of the #1 New York Times Bestseller LOVE WARRIOR — ORDER HERE
Join the Momastery community on Facebook, Twitter, Instagram & Pinterest