We got our Christmas tree yesterday.
Actually, Craig got our tree. He was up late with a sick Tish so I let him sleep in. By the time he woke up I was annoyed about my gracious offer to let him sleep in, annoyed that he accepted my gracious offer, and annoyed at my kids for being so awake for so long. When Craig's sleepy, unsuspecting head walked out into the living room, I shoved the keys into his hands and said, GO. Tree time. Go get our tree.
Craig, Amma, and Chase came back two hours later with Our Tree. I tried to smile but it was hard because I hated it.
I hated it. The tree was half dead. I turned to ice. I avoided eye contact. I stopped smiling. Craig fell silent.
I grabbed at the branches and tried to cover the dead spots and said again and again with my best martyr voice:
"It's fine. I'll make it work."
Strings of unspoken words flew from me to Craig and back again. We argued silently, while the Christmas music played in the background and the kids broke every fifth ornament.
Me to Craig: Why can't you do anything right? Every decision you make screws this family up.
Craig to Me:  Why is nothing I do ever good enough for you?  Every judgment you make screws this family up.
In retrospect, I know that this argument started early Saturday morning, before my family even woke up. After my coffee, I went online and scrolled through my friends' Christmas pictures on Facebook. I looked at the pretty lights, the carefree smiles, the loving embraces and I thought: why does this look so easy for everyone else? All of these families. They are perfect. I will never have this again. My family is – publicly and privately –  screwed up. We are broken. All messed up.
Why doesn't anyone else look tired and messed up?
I should know better. I do know better. I know that there is Facebook life and there is real life. There is Christmas card family and Christmas tree family. One is not a lie and the other truth – they are both true. It's just that you need both to get the whole story.  And we get a lot of "half stories" nowadays. Now that we spend more time with social media and less time with each other.  Now that we spend more time with our hundreds of Facebook friends and less time with our handful of real friends. Our real friends might tell us the whole story. But we don't have time for all of that, so we only see the shiny stuff.  And whether we know better or not, we compare our family's imperfect insides to other families' shiny outsides. Even thought we KNOW (thank you Brene!) that comparison is a recipe for pain and panic.
Last week my internet was acting screwy and I couldn't get directly to the Momastery page, so I wrote Momastery into my Google browser and hit the first link that popped up. What came up was forum after forum of people trashing me and my family. As I read the first page I thought– I can't believe that people are talking about another human being like this. Oh my GOD.  It wasn't until I got to the second page that I realized- OH MY GOD. They are talking about ME.
They said that I am a neurotic nightmare. They said that my family is a fraud. They said that Craig only married me because I was pregnant and that our marriage was doomed from the start.  They said that I made up the The News for publicity. They said –  over and over again  –  that I am a terrible wife. That I am a bad mom. An awful mom. That I don't deserve my kids and that they deserve better than me. They said that my family was totally screwed. They did not use the word screwed. I read page after page, link after link of the same. I'd never seen any of it before. I'd really believed, as I later told Sister, that the internets were just being really, really nice to me.
I sunk that night. Really, really deep. I sunk until I hit a place deep down in my soul that said:
Glennon – The jig is up. They have found you out. They are right. You are a fraud as a mother and a disaster of a wife and you are completely unworthy of love.
I'm okay now. I know that I chose this life. I chose to live out loud and I know that if I am going to live here –  in this amazing, vulnerable place where I get to see the best that humanity has to offer every single day –  I also have to accept the worst.  That's the way of life. You either accept the beautiful and the brutal or you accept neither.
If you choose a life of compassion, you cannot only choose it for yourself and your friends. You must also choose it for those who would set themselves up as your enemies. It's the only way to peace.
I choose everyone. I choose all of humanity.
Humanity is at its best and most brutiful within the family. And so I think that this holiday season we should honor all different kinds of families. Not because they are perfect, but because they are sacred. Every family is sacred because in a family, God is there. God is love, and so where there is love between people, any people – especially broken, messed up, weak ones – there is God. And THAT is what makes a family beautiful. It's not the clothes and the smiles and the decorations. It's the struggles and the miracles that happen when we love each other through those struggles.  It's God in there.
It's the pain and the loss – the half dead trees that life hands us and it's how we say – FINE. I am going to make something beautiful out of this. Because it may be half dead, but that means it's also half aLIVE. And if you are breathing and have someone, anyone to love today, than your tree is half alive too. If you have someone to love, then you have a family. Even if the love is messy and broken and the person you love seems far and beyond. Where there is love, there is God. And so whatever it looks like and feels like this year- your family is sacred. I honor your family this year. Family is hard, but we can do hard things.
I am proud to say that this year, I represent the broken families. The divorced ones and the together by a string ones and the recovering ones and the ones who have suffered great, great loss this year. I represent the moms who didn't whistle while they handed ornaments to their children this year…but instead gritted their teeth and smiled fake smiles because DAMNIT THIS HOUSE WILL HAVE SOME MOTHER FREAKING CHEER. I represent the parents who have never been so grateful for Christmas specials and movies because: I can rest. I can rest and still celebrate. I represent the Love Warriors. The warriors who know that family is not the people you see on the Christmas cards. It's the sacred space between them.
Look for the holes in those pictures this year.The spaces between arms and curls and precious little knees. GOD IS THERE. Say a little prayer for every family you see.
God- stay close to the family in this picture. And that one and that one and that one. Snuggle in between them and stay all year. Remind them , constantly, that their mess is holy.
Me too. Remind me, too.
Love,
G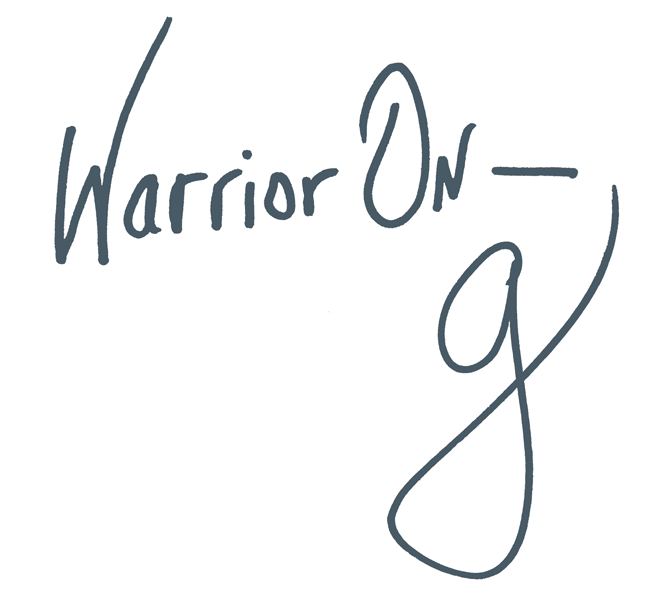 Author of the #1 New York Times Bestseller LOVE WARRIOR — ORDER HERE
Join the Momastery community on Facebook, Twitter, Instagram & Pinterest