It's just another awakening. That's what it is. I know that.
I was awakened when I got sober, then again when I got Lyme, and once more when I got The News. Every five years, I seem to get lulled back to sleep. Then comes the cold water to the face. I wish the Universe would use something more like those gentle alarms that mimic the sunrise.
 "Glennon, Deeper Inhales. You want to focus on the inhale. Your inhalation should be longer and deeper than your exhale. It's a metaphor for life, breathing. Receive, Glennon. You need to receive as freely as you give. Receive. It's safe."
 This is what my breathing teacher said to me last week, while she sat by my side and coached me. About how to breathe. I don't breathe right. Yet. But I'm learning.
Let's start at the very beginning, a very good place to start.
When you've had a year like mine, one is very tempted to start over. Riiiiight at the very beginning. One is tempted to look at one's family and one's career and one's everything else and say to all of those lovely things:
"I am going to need you all to back off a bit while I figure out what the hell is going on. I am going to excuse myself for a moment, life. Godspeed."
After I mentally backed away from my "life"….slowly, very slowly… the first thing I noticed was that my body didn't work. I couldn't eat. I couldn't sleep, I couldn't really wake. I spent far too much time in bed, staring at the walls. Wishing someone would paint them. Trying to take deep breaths.
I pondered those sad things for about three weeks until one day this thought popped into my head:
"We should go to the doctor."
At times like this, it is important to consider one's self a WE.
One is herself, and one has a guide. That guide might be God or her best-self or her conscience or Jesus or Pokemon – whomever. Every one gets to choose and name (or not) her own guide. It's just best to decide upon the voice of the wisest soul one knows and carry that voice around as a consultant. My guide, whom I call God, suggested we make an appointment with a very, very special doctor.
During that appointment, my doctor said this:
"None of your organs is functioning correctly. Not one. I don't know where to start with you, honey. But we'll get there. I can help you. Slowly. This is going to be a slow process."
Help is so slow. Hate that. Tennie Mccarty says to her readers and patients: time takes time. That is the really annoying thing about time. How much time it takes.
My doctor made some suggestions and told me to come back in a week.
Next I (we) went to a therapist. I went even though I knew deep down I wouldn't be sitting down to talk. Not right away at least. I was all talked, all worded out. And I was convinced that my problems were not going to be solved by my brain or anyone else's. I was having body and soul problems. I needed someone to help me with those things. Body and soul.
When I got to the therapist's office, I saw a flyer on the wall for Breathing Classes. I recognized it right away as a bread crumb meant for me. Follow the bread crumbs. This year I learned:
 Listen to your instincts. Your inner guide is more sensible than any outside voice. You know more than you think you do. So when you see, smell, or hear a bread crumb from God, a little "voice" or feeling that suggests:  Next – this. Do it. Don't let your critical and uninspired mind talk you out of doing what you need to do. Your body knows. Your soul knows. Listen and Do.
I registered immediately for breathing classes. With an open mind, rapidly shutting-down body and hole-y pajamas, I went to class.  During the ninety minute session, I fell into a meditative state for the first time in my life and heard my next bread crumb.
I heard this, clear as day: Eat.
I left the breathing class in a rush, no time for good byes. I felt hungry, ravenous even, for the first time in five years. For the first time since my Lyme diagnosis. I got home and ate. I didn't eat Kind bars or protein shakes or gluten free oatmeal. I mean, I ATE. Potatoes and chicken and burritos and fruit. I've been eating, almost non-stop, for two weeks. I've put back on seven pounds or so. It's good. I can tell it's really good.
I went back to my breathing class the following week. Again, I fell into a deep meditative state. This time I heard: let it go, it's not yours. And I heard: I am with you. I am you.
I am not certain of what either of those things means.  I don't really care. I am just soaking them in, still. Weeks later. I am soaking in the fact that I heard something. Felt something. Which means that I am NOT ALONE. Which means that this "guide" I am so sure is always there but really I'm not at ALL SURE really IS THERE.
I know, it's all crazy. And I just don't care. It's all unbelievable- the (seemingly) bad life stuff is so unbelievable that sometimes we have to share the good unbelievable stuff, too.
After my second breathing class I sat in my van and cried and cried and cried some more. At first I cried confused tears and then weak ones and then mad ones and then, by the end, I cried warrior tears. I was all wet from so many tears. And red. A little swollen. And fresh. Maybe even a smidge happy and new.
Because I thought: This is what is happening since I decided to say goodbye to self-doubt. To follow my own personal bread crumbs even if the path looked un-blazed and I couldn't see past the next crumb and most folks seemed to be following a different trail of crumbs completely. This is what is happening ever since I decided to trust and take care of my self. Since I decided to quit trying to explain myself TO myself or to anybody else.
I am learning how to breathe, cry, and eat.
Like a brand new person. First things first. Then maybe other, more complicated things. Later. Time takes time.
Talitha Kuom. Get up, breathe, walk around, eat. Then sleep again. Repeat.
Life, healing, recovery. They are, perhaps, simpler than we think.
Don't think. Just listen and do.
"After he put them all out, he took the child's father and mother and the disciples who were with him, and went in where the child was. He took her by the hand and said to her, "Talitha koum!" (which means "Little girl, I say to you, get up!"). Immediately the girl stood up and began to walk around. At this they were completely astonished. He gave strict orders not to let anyone know about this, and told them to give her something to eat." – Mark 5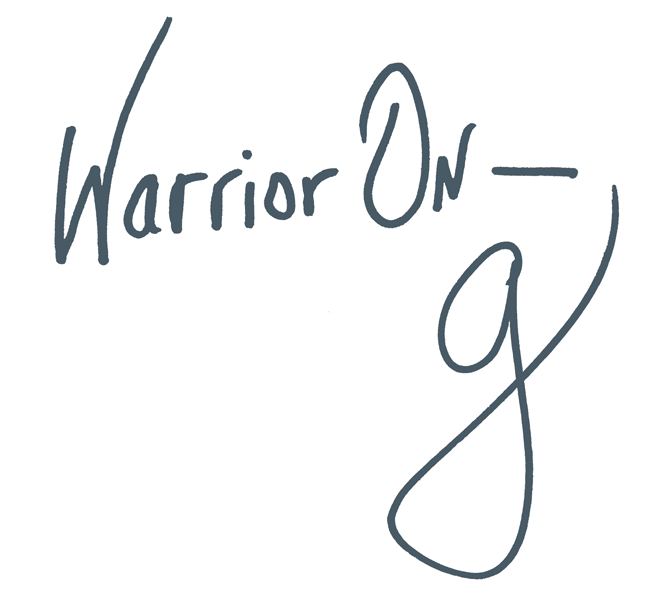 Author of the #1 New York Times Bestseller LOVE WARRIOR — ORDER HERE
Join the Momastery community on Facebook, Twitter, Instagram & Pinterest