Hello Friends. It's me again –  Glennon.
My brain is quite slow and foggy this morning, so I probably shouldn't be writing. But, the rule here (and maybe everywhere) is just show up and believe that whatever condition you are in, you are enough. So here I am.
Things at our home are beautiful, devastating, hopeful, hopeless, warm, and ice cold, depending on – I don't know what. Things seem to be going along fine and then all of a sudden they're not. Craig says something that reminds me of something else that sends me straight back to The News and I start feeling excruciatingly uncomfortable. In the past, this uncomfortable moment is when I would typically announce that I was very tired, and scurry off to hide in bed. But I am starting to learn that "tired" is not really a feeling. For me, it's a shield that protects me from feeling other things. It's too much to sort out- hurts too much – I'll just sleep through it. It's like when I was younger and someone would ask me how I felt and I would say, "I feel fat." Well.  Fat is not really a feeling is it? Perhaps I meant lonely, angry, empty, excluded, out of control or unworthy. Probably. But I recognize "tired" as the same sort of misdiagnosis. So I'm trying to stay awake long enough to recognize the feeling that is making me so damn tired. It's working a little. I've been able to recognize, acknowledge, and express anger, fear, and pain to Craig. Then I'm REALLY tired, so sleep it is. Progress, though. Good progress.
I've been fielding some criticism and advice about the way I'm handling The News. Some folks think I shouldn't be talking about this at all. Kay. Here's how this is gonna play out, Concerned Lovies.
I spent the first half of my life in the dark. Hiding parts of my self that I thought were too horrible to let anyone see. Hiding and pretending. This hiding and pretending made me very, very sick. Almost dead- sick.
Then I decided that there is nothing shameful about being human. That we are each broken and each beautiful, and that we really do have similar longings, feelings, traumas, flaws, gifts, fears and secrets. And I learned that we stay as sick as our secrets. So I turned my insides out and I started writing. And my truth started setting others free to share their truths. And with that, I did my little part to help the world be free-er. That's what I do here. I do my part.
Now. If SHAME thinks that I can be scared back into my corner of hiding by trying to convince me that Craig, my marriage, or The Truth are too "bad" or scary to discuss publicly, ooooooh, Nelly.  Shame's got another think coming. Back off, shame. I feel you and I hear you trying to silence me again, but the thing is that I KNOW you too well, shame. Get behind me. You are dead to me.
There is no use living out loud if you only do it when things are going smooth as silk. Lord, who learns anything then? That's like being brave till things get scary.
Craig and I will handle our business with grace and truth and great respect for ourselves, our children, and the world. But there is nothing, BUT NOTHING, that will put me into hiding again. Just want to be crystal clear about that. I am a shameless truth teller and hope spreader. Nothing that happens around me or to me will change that. I am not a reflection of my circumstances or husband or children or home or job or friends or closet. I am just a soul trying to live IN THE LIGHT. Trying to follow the bread crumbs that God leaves for me. One crumb at a time. BELIEVING in myself. Believing in the truth to set captives free.
Although I've read everything Ekhart Tolle's ever written, I never really understood the appeal of living in the moment. Seems too hard. ALL moments seem hard to me so really the idea of staying present and living in each of them doesn't seem like much fun to me at all. But THE NEWS. It took the The News for me to finally get it. I get it now.
I have NO PLAN. I cannot tell you what my family will look like in five years or  two weeks. I cannot tell you what my career will be or where I will live or how I will live or who will be healthy or who my closest friends will be a year from now. I am forever finished with the "five year plan." I am making no decisions.  We make our little big decisions and we are so sure of ourselves and our convictions and our "I would nevers and I will always"es, and God giggles.
All I know is that this morning, I will do what I know how to do. I will write. Then I will probably sleep. Then I will try to choose love and forgiveness a million times today.  I will screw up. I will forgive myself. I will tell myself again and again that I am a warrior. That I am strong and healthy and full of grace and wisdom. I will invite God in to help me every moment of this long day. I will yell to Him: COME IN! COME IN! I will try to notice the little kairos moments. I will remember that those, just like the tough moments and feelings, will quickly pass.
Tomorrow is miles and miles away. Just today. I can do today. So can you.
Love,
G
*photo credit: http://openclipart.org/detail/65143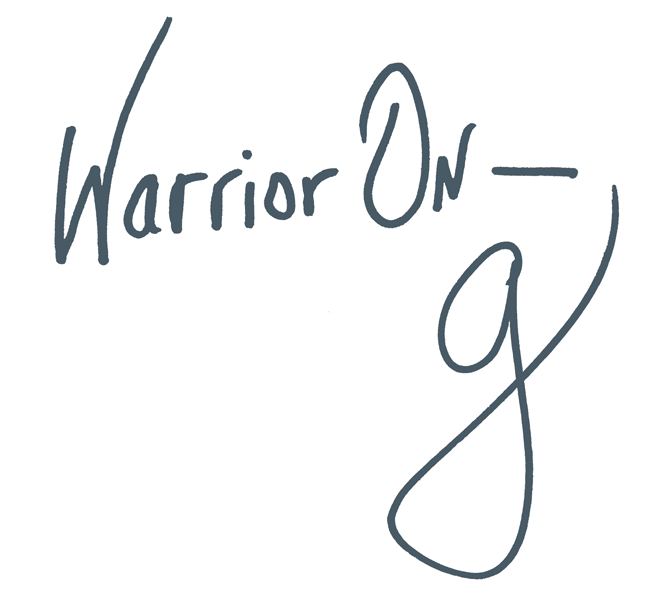 Author of the #1 New York Times Bestseller LOVE WARRIOR — ORDER HERE
Join the Momastery community on Facebook, Twitter, Instagram & Pinterest