Last night was my re-entrance to the world. Since The News  I've been disconnected, living in my head – suffering, really. Suffering takes up every bit of time and energy a warrior has.
Last night I took the kids to Tish's friend's birthday party. This little girl is a new friend from our new school. I haven't had time to make many grown up friends there yet, so I felt a little nervous walking in. What we stepped into was a beautiful celebration of kid-dom. There were twenty five children of all ages scampering around the backyard together while their parents talked in horseshoes. I prefer the horseshoe talking configuration to circle talking because horseshoes leave room for a wandering mama to step in.
Halfway through the party, the kids sat down to eat at an extra-long table set up under the stars. Their plates were filled with food that makes kids happy – hot dogs, apples, chips, too many Capri Suns. It was seventy degrees on a Florida night. The air was filled with smiles and giggles and I DROPPED MY HOT DOG!s and grateful, relaxed parents. I watched my girls, so thankful to be there in the moment with them, finally. So grateful to step away from my role as sufferer and figure-outer and back into my role as mama, if just for an evening. So grateful that my kids weren't watching me to monitor my feelings –grateful they could just be kids.
In the middle of dinner, there was a moment of complete quiet – mouths were full and bellies were happy, I guess. Tish looked up from her plate and said, to no one and everyone, in her loud, helium, precious, precious voice:
MY DADDY MADE SOME BAAAAD CHOICES. THEN HE WENT AWAY TO SOMEPLACE THAT'S TEACHING HIM TO MAKE SOME BETTER CHOICES. THEN WE ALMOST GOT DIVORCED. THEN MY MOMMY WENT TO VISIT HIM FOR A WHOLE WEEK AND SHE LEARNED SOME STUFF AND FORGIVED HIM. NOW DADDY'S COMING HOME TO LIVE WITH US AGAIN.
Then she ate another bite of her hot dog. I froze. Every adult froze. We all avoided eye contact for one looooooong moment.
The kids didn't though. All the kids were smiling at Tish. They were reacting to her relief, to her truth, to her joy. They were happy for her. Their faces seemed to say: WHOA that was almost bad! That must've been scary! This is GREAT, TISH! The little girl next to her tapped her on her shoulder and said, "That's good, Tish."
Tish smiled and said, "Yeah. It's good."
Chase looked like he might crawl under the table. I winked at him. Thankfully, he winked back. Amma looked confused. Her reality is that Craig is on a business trip. I winked at her. She seemed over it already. Face full of marshmallows. I nodded and squared my shoulders and smiled proudly at Tish. Then I turned to walk back into the house, suddenly quite thirsty.
On my way back inside,  I looked down at my expensive scarf, manicure, and jewelry. I've learned that one of my defenses is over-accessorizing. I wear necklaces and makeup like they make me bulletproof. I giggled. All this STUFF. All this stuff that I hope says, "I'm together! I'm shiny and NOT AT ALL A MESS. SO not confused!!  Look at how well this scarf matches these earrings?? I mean, not too matchy-matchy. I'm so together that I can be matchy without being TOO MATCHY MATCHY!! Obviously no problems here!"
And then I looked back at my girl and her friends. All truth. All joy. No shame in Tish's game. No hiding.
"Let the little children come to me, for theirs is the kingdom of God."
"If anyone wants to come to me, she must first make herself like a little child."
I just want to be like Tish. I want to live in the Kingdom of God. Of truth, of love. I want to tap into my inner child and invite her forward to tell the truth with joy. So other folks' inner children can come forward and react to my truth, to my joy, to my sadness, and hope. So we can really SEE each other.
No hiding behind scary grown up things we INVENT like shame and perfection.
So anyway, Monks. Here's the thing.
LIKE WE ALL DO, MY HUBBY MADE SOME BAAAAAD CHOICES. BECAUSE HE'S BRAVE, HE TOLD ME ABOUT THEM AND THEN HE WENT AWAY TO A PLACE THAT IS TEACHING HIM SO MUCH. I DIDN'T WANT TO GO VISIT, BUT I WENT ANYWAY. I LEARNED A LOT, TOO. AND MY STILL, SMALL VOICE TOLD ME TO FORGIVE AND FIGHT. WE HAVE A WHOLE NEW LIFE TO START, BECAUSE I JUST MET MY HUSBAND. I JUST MET HIM, ALL OF HIM, FOR THE FIRST TIME LAST WEEK. WE ARE ALL OUT IN THE LIGHT NOW. AND THAT IS A GOOD PLACE TO START.
*Don't worry. My still, small voice also suggested that I put a bad ass lawyer on speed dial juuuuuuust in case. Husband understands completely. Gentle as doves and shrewd as foxes, Warriors.
I love you, Monkees. That's all for today.
G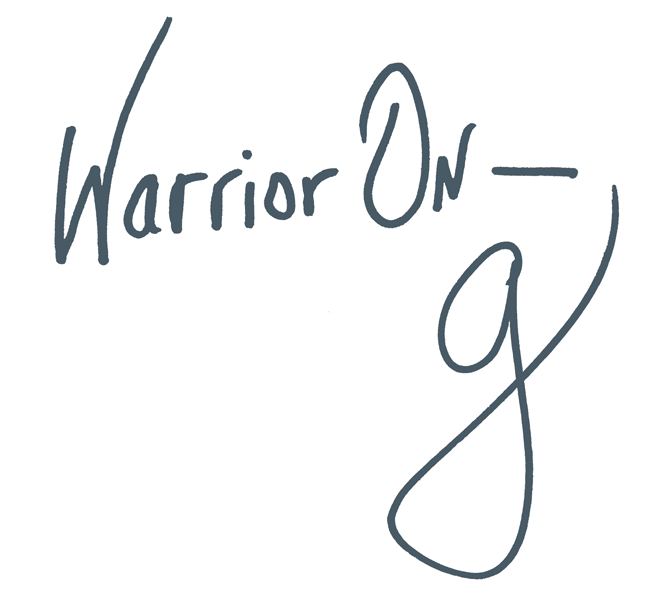 Author of the #1 New York Times Bestseller LOVE WARRIOR — ORDER HERE
Join the Momastery community on Facebook, Twitter, Instagram & Pinterest