**Guest Post by Sister and ** Liz, ** Monkee See — Monkee Do Board member and Ringleader of the Microsoft – Battle Monument Love Circus**
We Take Care of Our Own
 My sister, Glennon started this blog with an audacious dream: if she told women her truth shamelessly, they would feel freer and more connected to their own truth and to the women who shared it. They would fill themselves and each other up with real things. And all that filling up would spill over.   We would take care of our Own.  And the world would be the better for it.
In the four years since Glennon began this wild Momastery experiment, you have built –through love and honesty and respect and restraint – a community of women taking care of ourselves and each other.  We take care of our own.
Two nights ago, Glennon shared with you her scariest, most intimate struggle yet and you responded to her bravery and brokenness with a wave of strength that will carry her through to the rising tide. I am deeply grateful to you for the way you are taking care of my sister.  You are proving, every day, that wherever the Momastery flag is flown, we take care of our Own.
One of the most important things my Sister has taught us is that our Own is everywhere. Our Own has been an embattled mother fighting for her life whom we've never met but whose desperation we share.  Our Own has been hundreds of neighbors throughout the country whose fears we eased through Holiday Hands serving their children, their health and their futures with whatever they needed.
Here, we take care of our Own even when she is a Stranger, because we know that when we see another through eyes of a sister, a daughter, or a mother, there is no such thing.  And we take care with small, persistent acts of love, because we know that is the only way to make a good thing.  No heroic cavalry to the rescue, but hundreds of broken, overflowing hearts rushing in.
A couple of weeks ago, Glennon introduced us to Battle Monument School in Baltimore County and the amazing staff and students there.
Battle Monument is an under-funded public school for students between the ages of 3 and 21 with severe and profound mental and physical disabilities.  Many of the children have cerebral palsy, Down Syndrome, Autism, and other severe medical complications. Many of the students are in wheelchairs, the majority of them are non-verbal, and a good number of them have visual impairments as well.
Remember that it was a Monkee named Natalie who introduced us to this wonderful school where she worked as a physical therapist. We introduced Battle Monument to Microsoft. And all three of us have been falling in love and making each other our Own ever since.
Monkee Natalie with sweetheart Victoria.  Last year Victoria's walking was slow and deliberate. This year?   You better move fast if you want to catch her!
The reality is that it is impossible to be around these courageous, joyful students and this selfless, devoted staff and not recognize them as our Own.  The students smile as they endure daunting tasks. They are learning how to talk.  Learning how to walk.   Learning how to live. They are doing and teaching hard things over there at Battle Monument, and they are doing it with great love and joy.
This is lovey Josh – PURE joy.  He was the Student of the Month last month, and with that smile, how could he NOT be?
Dedicated Microsoft employees are giving countless hours and thousands of dollars to this project.  We at Monkee See – Monkee Do are working every day with the school to identify the specific needs of these brave kids, and to see how we can help take care of them.  And monkees have come forward too to give their time, talent and resources to these students and staff.
Monkees Lauren and Chris at kodokids.com donated thousands of dollars of educational materials customized to these particular kids.  Sensory materials, adaptive materials; materials these children need and would not have had if Melissa and Chris were not moved to take care of their Own.
Monkee Jane, from Jane Interiors NYC, is working with Microsoft to help revamp the school's Apartment 108 – a place where the students learn life skills such as making a meal, making a bed and turning a lock.   Jane is donating her time and talent in honor of her sister Emily who lived a beautiful life with Down Syndrome and who died two years ago.  Jane takes care of her Own.
So many more monkees have come forward with help and with desires to help.  We have some good news.  It's time.  And we need you.
First, the school staff has created "Dream Lists" of things that they need to make a big difference in the students' lives.  We've put them in an Amazon.com registry.   All items will go directly to the school so they can start using these tools right away.  We need art supplies, music supplies, adaptive toys, and much more.  These vital treasures start at $5.   Here is the registry. If you can provide any of these little dreams to the school, it would be a miracle.
We can do no big things. We can only do little things, with great love. That one's Mama T's but we've adopted it. We were allowed to because there were no background checks.
Meet Michael – making his masterpieces with washable paint! Artists need supplies!
Second, we're heading to the school on Sunday, October 28th, to donate our time working side-by-side with Microsoft volunteers for the day.  The Microsoft employees are going to install the donated technology and teach the staff and students how to use it.   Monkees will be working on projects identified by the school.  We Monkees may not be skilled labor, but we are laborers of love, and that will make all the difference.   If you are local and want to join us in volunteering at the school on that day, please sign up here.  We need about 50 local volunteers, and we're making teams to do painting, gardening, and cleaning/organizing.  If you have a preference for one, please sign up in the desired time slot for that activity.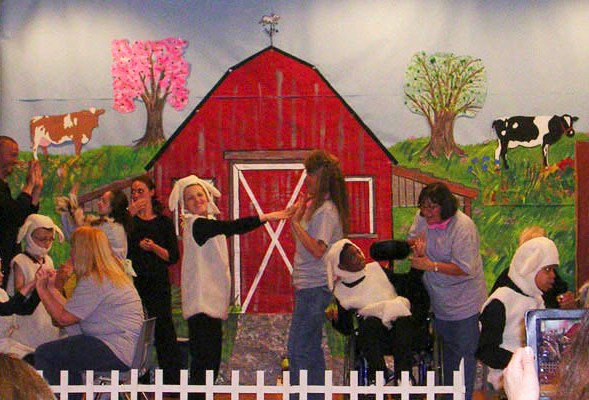 Students at the School Play.  Parents come twice a year and watch their child be the star of the show.  We're giving them another chance to be the star of the show.  This show is all about you, lovies.
Monkees, let's fly our flag.  Let's take this chance to make the big world smaller and the circle of our Own bigger.  These kids need our little acts of love for their own.
Love,
Sister and Liz and TWMF and Microsoft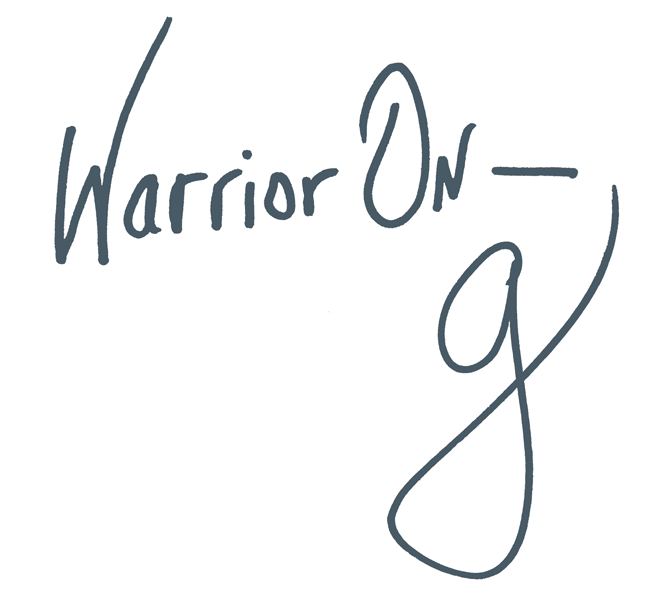 Author of the #1 New York Times Bestseller LOVE WARRIOR — ORDER HERE
Join the Momastery community on Facebook, Twitter, Instagram & Pinterest