"The world breaks everyone and afterward many are strong in the broken places."
   –Ernest Hemingway
This is not a beautiful story-not one of those shiny, wrapped up in a bow with a hidden take away to start your day – kind of stories. It's hard and messy. Hard for me to write and hard for you to read. For the last two weeks I've been living a different inside life than outside life and that is not me. It's making me a little sick. A lot sick. I've worked so hard to believe that a life well lived is one lived in the light. And I've worked too hard to show you all of me, to refuse to hide anything from you. This is my safe place, and I'm running out of those lately. So here goes. I am going to try to write with as much love and grace as I can muster, so that when I re-read this ten years from now- wherever I am, whoever I am, I won't be ashamed.
Very recently in therapy, I got The News from my husband. In order to protect him and my children, I'd like to keep this News vague. But The News, I learned, has been part of our marriage from its beginning. When my friends have gotten The News from their spouses in the past, I always had a hard time believing that they never saw it, that they never even felt it coming. I will tell you that I never saw it or felt it coming. One moment I was sitting on a couch enjoying what I thought was my life, and the next moment, after a paragraph of words from Craig, it was all GONE. Just Gone.  Everything became different, and will forevermore be.
After The News, Craig and I decided we needed to take some time apart. I went home to be a single mom, and have been doing that job for three weeks now. Craig went to do what he needs to do. I won't tell any more of his story. Everyone's story is his or her own to share or not.
I have not handled this situation the way that I always thought I would: Warrior Like, you know. I have spent most afternoons in bed – twice I had to stand up and remind myself to breathe. In and out, sweetheart, in and out.
I have no idea what I will do. The big questions paralyze me with terror: Will we divorce? If we divorce, will I miss Christmases and weekends? Will my children ever be the same again? Will I lose part of them?  Impossible. But how can we stay together? How? Now, knowing what I know. Post News. Impossible. Do I have to choose between my own life and peace and my children's lives and peace?  How is it possible that there is no road out of this disaster that isn't hell on earth?
Bubba told me that concentrating on the big questions right now will continue to paralyze me and keep me from answering the small ones that are more important at this moment. Like: What will the kids have for lunch today? What time is Chase's soccer game? Where is a hammer? How does this mother F-ING REMOTE CONTROL WORK?? I swear to Christ, if we could JUST FIGURE OUT HOW TO USE THESE REMOTES we might not have to deal with this husband crap at all. That's why they make them so damn complicated. So we'll have to stay.
I walk through each day numb, until a tidal wave of hope or rage or fear hits and sends me to my bed, shivering, crying, staring at the ceiling in terror. That's how it goes. That's the best way to describe my days right now. My friend Trena said, "You have to bear it. That's what you have to do and all you have to do."  Bearing the unbearable is impossible. But that's what I have to do. That's what so many of us have to do. My brain is desperately scheming, trying to find some way out or around or BACKWARDS to make this NOT TRUE – but that ain't gonna happen. There is no escape from this. It is real. It is happening. So I'll bear it until it becomes a little more bearable. That's what I'm hoping for. Not praying for.  Prayer is lost on me for now. No prayer. Deciding to breathe in and out is enough of a prayer for me, and I know that my God, whoever She is, understands.
This is such an incomplete, shitty description of what our family is going through. But it's just the best I can do today. The best I can do today is going to have to be okay for a long while. I just needed you to know. I learned long ago that living a secret life doesn't work for me. To be healthy and sane —to feel safe—I have to live out loud. There is a saying in recovery: we are sick as our secrets. I refuse to be sick again. So I have to share my truth with you. It is amazing that I can feel safer with you Monkees than I do in my own home right now. But I do. I need you. And US. And we are Shameless Truth Tellers and Hope Spreaders. That's who we ARE. That's who I STILL AM.
For four years now, I've been dreaming of the day when MY BOOK arrived in the mail. I imagined jumping and dancing and celebrating and lots and lots of squealing. When my package of books arrived two weeks ago, the day after I got The News, I didn't even open it. It sat on my foyer floor for a week. I didn't open it because there was no one to show it to.
But then, yesterday, I showed it to you. And for the first time in weeks –  I felt hope. I felt loved. I felt appreciated and understood and cared for. Your encouragement, your support, your love helped me to see that I am still part of a solid family: The Monkee family.
I know that you will be so sad when you read this. You love Craig and our children. And me. I know you do. I know you don't want this for us. I don't want this for YOU. And it will be so hard for you to know how to respond.
It's so hard to know how to handle our friends' grief.
My therapist suggested that when someone is in deep grief, at first, all a friend can do is "hold space" for them. And you, Monkees, can "hold space" for me. We can create and hold space for each other. You can listen to my pain without trying to fuel it or fix it. You can avoid offering me advice, for now. You can please not bash Craig. You can also avoid offering excuses for him. You can just love us simply, without judgment. Right now, I just need a safe place to be me. You are my safe place.
I am learning that sometimes things are not what they appear- and that is a very hopeful thought to me right now. Because right now things appear so completely hopeless. But that can't be the truth. Maybe the truth is a moment by moment thing. I know that The News has not made invalid my family's past. The love I have felt, the love we have poured into our children, that was all real and true. I felt it. I wrote about it—here and in my book—and I know in my mind that The News doesn't make any of that untrue. But the News is true too. And that is what's breaking my heart.
But I have been broken before. And Sister has been broken before. And so have many of you. You have written to me about your broken marriages, and your broken families, your children and your parents, and your hearts. Together, we have learned that there is beauty to be found in the broken.
I know that one day this will be a redemption story. I don't know how in the HELL it will become that, but it will. It will. One breath at a time. With space, with love, we pick up the broken pieces of our shattered selves and we Carry On.
And eventually, in the places where we have broken, we are made strong.
I love you.
Oh, one more thing . . . I am the Warrior.  PLAY IT Looouuuuud Please. For me.
Love,
G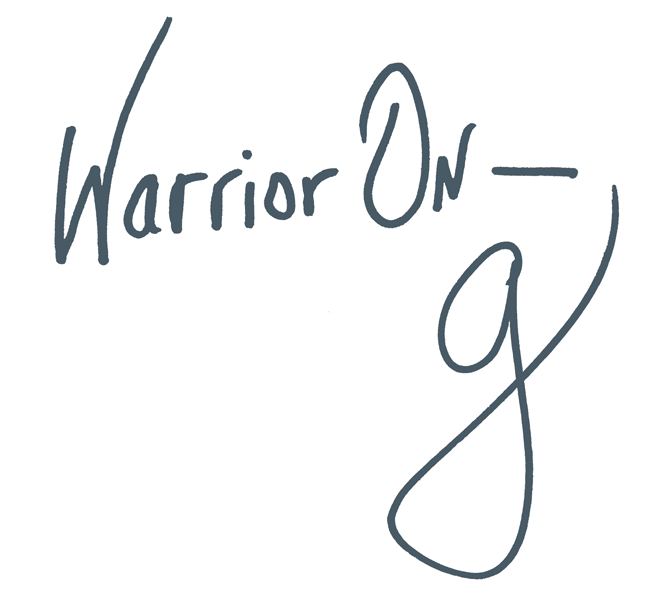 Author of the #1 New York Times Bestseller LOVE WARRIOR — ORDER HERE
Join the Momastery community on Facebook, Twitter, Instagram & Pinterest