On our family therapist's wall:
Sweet, Sweet, Monkees. Please forgive the recent Momastery silence. A Monk wrote to me last night and said, "What's going on, G? Are you too busy saving the world to write to us?"
I smiled – but just a little. Actually, I'm in Warrior Mode over here. I'm dealing with some marriage stuff. Saving the world is easy, but loving one person – one person who's as broken and imperfect as you are- THAT is the hard stuff. I can't get into the details about our "stuff"  like I could if I had that superpower I want so badly- the one that would let me PUULLLLLL you through the computer and onto my couch for some tea followed by a 45,000-women-strong drum circle and then a little breathing and scream therapy – but I did want to let you know that I'm going through some stuff. I'm not too busy for you –  quite the opposite. Whenever I hit a bump in life's twisty road it makes me feel SO STRONGLY connected to all of you. So GRATEFUL for you. For this community of women, because even though I can't have you on my couch, I have you. I can feel it.  I know that you face the same things I do, so I don't feel alone. I love you so MUCH for that. I love women. What is more powerful than a group of women who really love each other? I can't think of anything.
Except maybe Bobby's bottom. This happened to us at Target last night. Sorry it's sideways. Life is sideways.
When I called Sister and told her I was feeling sad, she hopped on a flight the next morning. We stayed home for a few days and gathered ourselves. Then we went to Target. Target is where I go when I don't know where else to go. Someone once said that money can't buy happiness, but I don't think that person got it completely right. I agree that money can't buy LASTING happiness- but jeez, whatever. My expectations aren't that high. I'll take some FLEETING HAPPINESS anytime. And Target can handle that.
So we bought a bunch of new stuff that I can't really afford.  When one is sad, one shouldn't worry too much about the budget. (SHUT UP, SUZE ORMAN, GOD! YOU CAN'T UNDERSTAND THE NEED FOR RETAIL THERAPY BECAUSE YOU ARE NOT MARRIED!!) **
It was COLOR that I needed from Target. I felt like I needed some color.
And Halloween cheer. If one can't FEEL cheer, one can BUY cheer. One can buy cheer for, like, $4. See? Or, as is proven by new BFF Kelle Hampton,  one can MAKE cheer in crafty ways. I am the BUYING CHEER type.
After the cheer buying and the poop heard round the world-  Sister and I were on our way out. And THEN SOMETHING AMAZING HAPPENED. THIS.  I saw this. It's a BIKE. And there was a tag on it that said "ROLL ME TO THE REGISTER." And I felt like Alice in Wonderland reading the DRINK ME bottle and I said to myself- "SELF- WE ARE GOING TO FOLLOW THAT BIKE'S DIRECTIONS.  THAT IS EXACTLY WHAT WE'RE GOING TO DO!! WE'RE GOING TO ROLL."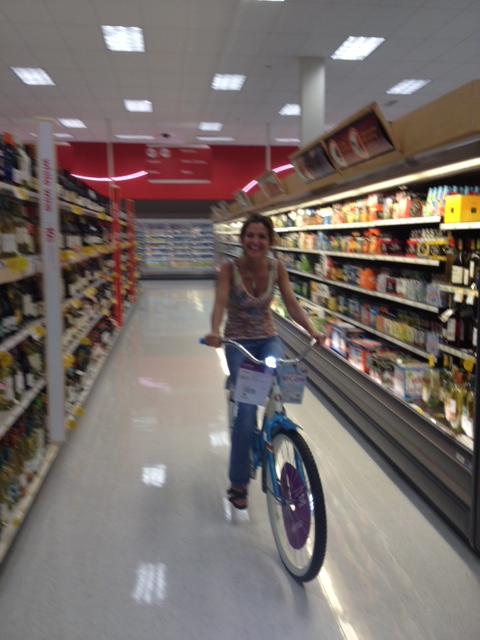 So I wrangled that bike off its rack and I hopped on. I rode that bike through the entire Target store, down the toy aisles and then through the furniture section and finally I hit the food aisles. Folks were jumping out of my way and kids were pointing and I was laughing so hard that I couldn't breathe. I was really shaky on that thing at first because I haven't been on a bike for YEARS, but after a while, it came back to me. It was kind of like riding a bike. Still, I thought for sure I was going to crash and maybe have to pay for an entire AISLE of wine. Didn't care. Sorry the pics are so blurry. I was FLYING. And life is blurry. Whatevs.
Sister (while wearing Bobby) was trying to chase me down and yelling Get off! and DANGER, SISTER! DANGER! at me but I was a runaway bike and she couldn't control me, so finally she gave up and started taking pictures. And then she got really, really happy – I could see it in her face as I whizzed by her. Because I was having FUN!!!! Real live FUN!
Look how fast I'm going here! She can't even CATCH me with her CAMERA! VROOOOOOOOOOOOOOOOOOOOOOOOOOOOOM!!!!!!!
How often do we, as mamas – as grown-ups – find something, something relatively healthy- that is REALLY FUN? That makes us laugh and makes our bodies feel like we're soaring and makes us feel FREE? I felt free on that bike in Target. Like a child before she learns how hard life is. So I bought that bike. It's in my garage right now, waiting to take me for a ride when I feel sad. It's not waiting for my husband, or my daughters, or my son. There are no seats for them on that bike. It's a bicycle built for ONE. Just me. All mine. Waiting to take me away for a little while.
I love you, Monkees. Life is tricky. Unpredictable. Soooooo bumpy. But we are CREATIVE. We are creative enough to handle anything and everything that comes our way. That's what women do. We create. And then we re-create. Then often we have to re-re-create what we thought we were done creating. Life is not about the cards we're dealt, but how we play them. We are going to be okay. We are already okay.
Find something just for you today. Something with just one seat.
I love you so. And I love this woman, even though I feel like she should have used just ONE MORE period. But I forgive her. Life is hard and sometimes punctuation is just really not as important as we once thought it was. Maybe we've just had enough periods already.
I LOVE YOU. I LOVE US.
Love, G
*and no, Target doesn't sponsor or pay me, we don't do that at Momastery. But they really SHOULD, shouldn't they? They could kick in a little something to help cover my retail therapy bills, at LEAST.
Love.
**BACKPEDALING ON MY BIKE!!!!! Sorry, lovies! Turns out Suze is gay and has had a lovely partner for seven years but our stupid laws wont LET her get married. I didn't KNOW! SO sorry about making the assumption that she wasn't married. Assumptions make an ass out of Uma Thurman. I heard that somewhere. Please don't yell at me about Uma Thurman. I don't know whether she's gay or not.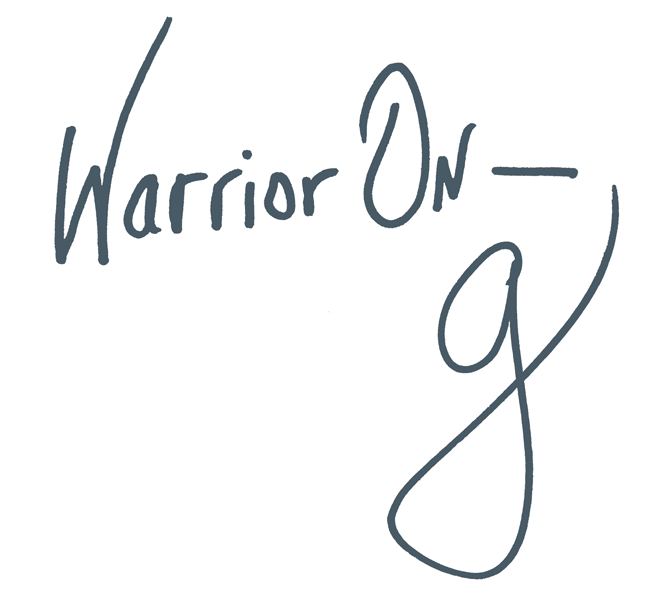 Author of the #1 New York Times Bestseller LOVE WARRIOR — ORDER HERE
Join the Momastery community on Facebook, Twitter, Instagram & Pinterest