It's way too early but I'm up because I'm so excited to write about the FACEBOOK FLUB HEARD 'ROUND THE WORLD.
In my little heart I've been flirting (obsessing) with the idea of getting another dog. I feel like Theo needs a lobster of his own species. (Can you imagine how confusing that sentence is for non-Monkeees? We need a Momastery glossary! Yes! Creating that today.) Theo is part of the reason we need another dog, but here is the real reason.
Oh my God – I love having a dog. I love my dog.
I work really hard on love. I study it and dissect it and try to understand all its complexity and beauty and pain. Love, however it's done, is serious business. It's hard work and can be completely confounding because people are involved. And people are beautiful and mysterious and broken and unpredictable and demanding.  But Theo is simple. And so loving him is simple.
I have so much love to give, but sometimes it's hard to love my husband, because he's a person and has needs and expectations. And often it's hard to love on my kids because they, especially right now, are kind of rough. The girls are fighting constantly, nasty to each other, really, and Chase is starting to duck my affection. All is unfolding as it does and should, I know, but it's sure as heck not a snuggle-fest over here these days.
But Theo. I can always love him. He is there waiting to receive my love and accept it and appreciate it. He doesn't want anything complicated from me. I do not need to figure him out. I don't have to be great or funny or particularly patient or even smile. Someone who loves you even if you won't smile is a keeper. At night in bed, I curl up on my side and he makes his body into a perfect circle in the crook of my leg, right behind my knee. So there's just this little bit of pressure on the back of my legs that is his presence. That pressure in the night and my morning coffee are two of my most sacred daily joys.
I've been traveling a lot to do speaking engagements (so terrifying and brutiful), and when the book comes out I'll be traveling A LOT more. I'll be MEETING and hugging you. I can't stand it. Can we talk about that? How are we going to do book signings? I mean, we KNOW I can't just sit behind a table and make small talk and sign my name and say NEXT. Should we have no table? Should we not sign and just hug and laugh and cry? I know I'm going to have something for YOU to sign because I want to hang all of your names, handwritten by you, on my wall. Gotta figure all that out.
Anyway, so far my Sister has come with me to everything. Lugging her precious cargo, Bobby. But I know that she's not ALWAYS going to be able to come. And I want a Melton to bring with me. But none of the current Meltons, because, well, just NO. It needs to be a Melton dog. Because when I go do these nerve wracking things, no matter how hard I try not to, I'm always worried about being good enough and wondering if people like me enough. So I need the simple love of a dog to return to each evening. I think I'm going to need that grounding during the tornado I'm about to get picked up into- like Dorothy into Oz. LIKE DOROTHY!! SHE HAD TOTO!! SEEEEE!!!! I just thought of that. So it's not ridiculous!! Anyway, the folks who live with me won't let me take Theo, not in a million years. So I want my own little monkee. One who will travel this scary sacred upcoming road with me. One who will greet me with the same love whether I knock a speech out of the park or blow it big. If I have to go out into the big, brutiful world, I'm taking a dog.
I found the Naples Humane Society yesterday. I convinced Craig that we should just "go look." Right. But to be fair, sometimes we do just go love on the shelter doggies without planning to bring one home. It's one of my favorite things to do with the kids – fun for them and good for the dogs to get some loving. So we went and looked and played with several gorgeous mutts. But there was one, one lovie I kept coming back to because she was so little, and so terrified. She wasn't barking, she was crying, whimpering, with her tail between her legs, looking up at us with huge brown eyes.  Amma cried because she was crying. So I asked the kind shelter volunteers if we could play with her. We took her in a room and she didn't play. She didn't know how. She was terrified. She kept running to the door, trying to get away from us. But then when she'd realize there was no escape, she'd run back to me, look directly into my eyes and sit still for a moment. Just a moment. And in the height of her fear, in that moment, she'd let the kids circle around close and touch her and she didn't snap at them. She let them touch her. I think she's a gentle soul.
We left. Amma bawled, like she does every time we leave a shelter. Craig said absolutely not, to bringing home little monkee. The shelter folks said she'd just arrived several hours prior from Puerto Rico and they knew nothing about her. Craig thought she was too much of a wild card. I'm not so sure.
I kinda dig Puerto Rican Wild Cards.
When I got home I posted her picture on facebook with this update:
"This is the one I want. She just came from Puerto Rico TODAY. She was so scared, she was shaking. Can you imagine? I mean she doesn't even speak ENGLISH. Poor baby. I'm working on Craig."
And then. All hell broke loose.
Immediately, my inboxes become FLOODED. Flooded with – I started realizing with mounting horror – emails from adoptive mamas who could NOT BELIEVE I'd posted a picture of a terrified orphan girl and used such insensitive language to describe her. One email said – you talked about her like she was a dog!
And then I looked at the picture again. And I read my post again. And all of a sudden I didn't know whether to laugh or cry because I realized they thought I was TALKING ABOUT AMMA. THEY THOUGHT AMMA WAS THE TERRIFIED NON ENGLISH SPEAKING PUERTO RICAN ORPHAN (LOOK AT HER DRESS!) AND THAT I WAS TRYING TO ADOPT HER!
They were rightfully SHOCKED, the adoption community. After all we'd been through together!!! They thought I understood how one talks about and how one DOES NOT talk about adoption!! Like the t-shirt says, irony is not just the opposite of wrinkly. For the record, I don't think they were being overly sensitive. I am not one who is in a position to call anyone overly sensitive. Pot/kettle/black.
I think it might have been the "She doesn't even speak English" part that threw people. It was sort of a joke about the immigrant doggy, but not totally a joke. I think it must be terrifying, to be a pup and be transported to such a different place, smelling such different smells and hearing such different languages. I mean, Theo speaks English. Whatever. You know what I mean, right?
You guys. What unfolded next on facebook was nothing short of completely hysterical. Just go read the aftermath – some of the hundreds of posts from confused/mad/peeing in their pants monkees trying to make sense of the beautiful mess I'd made. Samples:
Katherine Ray – I can't decide if it's funnier that you got pounded for "insensitivity" or that people think that Puerto Rican orphans get shipped to Florida for the local population to visit at will.
AND
Holly Forseth – What's funny to me is that I'm sitting here refreshing every second just so I can follow this conversation. I just can't quit! I have to know. Does Amma get to stay? Will the little Puerto Rican pup be living in high-condo style? Do I have to wait a whole week for the next episode?
For a couple hours last night, it was like being at a high school sleepover in our jammies with everyone laughing so hard they couldn't speak and everybody holding hands to steady each other. It was phenomenal. And I kept thinking about how cool it is that when we let ourselves get heavy, to feel the weight of it all, God quickly follows behind us and, at least for a long glorious moment,  blows the heaviness right off our backs.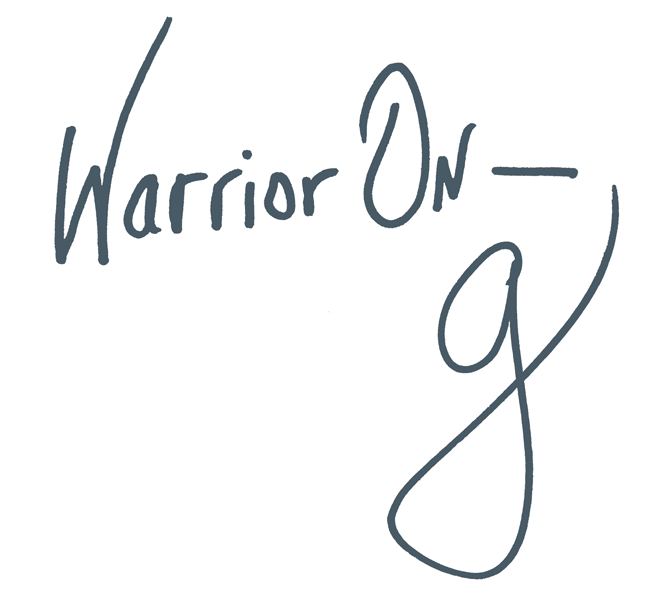 Author of the #1 New York Times Bestseller LOVE WARRIOR — ORDER HERE
Join the Momastery community on Facebook, Twitter, Instagram & Pinterest