Monkees, I'm okay.
I know things are a little heavy around here. I think sometimes we gotta let it get heavy before we can lighten up. We have to look things in the eye before they'll back down. Grief and sadness are like that.
I know that there are lots of you who relate to the way I wrote yesterday, and lots who don't. And that's okay. I hope I don't scare you too much when I get like that. That voice. It's a little scary in its desperation and drama, I know. Maggie's letter about losing her Sister, well, it did me in for a good twenty-four hours. It took me back and up and inside out and upside down and I cried hours worth of holy, cleansing, thank you-jesus tears. Release. I cried for Maggie and her big Sister Emily (Maggie has a lobster left on this side!) and for myself and for my Sister and my parents and for Katie and for me. When I hear those stories, I can't help but feel: we lost another one of us. It takes me down. But I'm coming up for air now. I know many of you really want me to lighten up. Thanks for not saying it. Thank you for letting me be me. My whole life I've felt like maybe I'm just TOO MUCH. All my feeling and thoughts and sadness and ecstasy. Thank you for helping me let go of that. I can be my too much self and still be loved. Craig taught me that first, and you've confirmed it.
Listen. Maggie's coming to visit me in Naples. We are going to spend two days together, sitting in beach chairs, looking at the ocean, talking about Aunt KK or not, healing together. Maggie will be my first visitor in Naples. Strange, right? Strange and so, so perfect and awesome. Maggie and I both feel like Katie MUST have a hand in this.
Yesterday while we were planning, Maggie said, "I can't believe you're having me visit. How do you know I'm not crazy?"
And I said, "Well for God's sake, I hope you're a little crazy or this visit is going to be a total BUST."
I love Maggie already. And I'm so grateful that she still has a lobster on this side. I plan to become her crawfish.
I'm here to tell you. The Love Revolution is REAL. Life is short, as Aunt KK's family's learned the brutally hard way. It's time to take some chances with each other and LOVE BIG and OPEN WIDE and expect miracles.
I invited Maggie to write about her Katie, and she did. Monkees- meet Maggie and Aunt KK.
Dear Glennon,
Hello friend. I know in your post you told me to write to you about Katie, my sister, my lobster, and you would share it with your readers. Honestly, at first I thought-no way! There is no way I could share these thoughts, these words the way that you do daily, but I have been so touched not only by your post but by all of the comments that continue to pour in from readers. I am amazed at the stories people have shared about their own struggles with addiction, or losing a loved one, or not having a lobster to lean on, and I have been uplifted by their stories. I could not let all of those words linger without a response to you. So here is our story, for only you, or for everyone- either way, I will have shared it and I can only pray that it helps you, or helps someone else. Like I have said before, I don't open up to many, if anyone, but you have bared your soul to me and to so many, and I feel that there has to be healing in sharing my thoughts, my feelings, our story.
Over the last 3 months, for the first time, in my ENTIRE life, I have walked this earth and lived this life without my Sister, my lobster, Katie in it. As the youngest of 3 girls, I have never been without a friend in this world. But our trio is down one, and we are finding it so difficult to march on without her. She was our spirit. She was loud and funny and commanded all of the energy in the room. She taught me how to laugh and how to make other people laugh. She was, without a doubt, the funniest person I know. I can still hear her laughter now- I pray that I won't forget that sound. She was a shining light- until she wasn't.
You spoke of feeling things more intensely, and that is exactly it. When she loved, it was all encompassing. She loved her friends immensly, and I thought they were the absolute coolest. I was every bit the annoying little sister that followed her around and hung on every word she said. I bawled when she went away to college. When she was gone, it felt like a piece of me was gone too. But she wrote me letters and my parents took us to visit her, and I wanted to be just like her. Beautiful, funny, smart- the person that everyone wanted to be around. As a teenager, she was obsessed with U2. I remember when she found out Bono got married, she locked herself in her room for days. She was so in love with him that she put a poster of him on the ceiling above her bed so that he was the first and last thing she saw EVERY day! (puke). But it was her love and it was intense.  And she loved her family. Our parents, her sisters, her brother-in laws, and my boys- her nephews. We talk about Aunt KK everyday. And my everyday prayer is that they will have some memory of her, some place in their heart that knows her spirit and how much she loved them. 
My words will not do her justice, just like now they cannot. But much the way Katie loved fiercely, she hurt with an intensity that I thought I would never understand. Until now. Now I think I have an idea- isn't that a shame? Now I get it but she is already gone. I couldn't understand why she couldn't get over the struggles she faced. So our parent's got a divorce, so she lost her job, so she got a divorce- bad things happen to good people all of the time right?? But she felt it all to her deepest core,  just like she loved us all in the deepest parts of her heart. She could not escape that pain. She could not get it out of her head or out of her heart.  Why was that HER struggle? Why did she have to live that way? I will never be able to reconcile why she was given that lot in life and not me. 
As much as she loved, she couldn't comprehend how much she was loved and cherished by so many.  And so . . . a  prescription for pain medication turned into that escape she needed, and that escape turned into an addiction, and we lost her. It happened slowly and in all honesty, we had no idea how bad things had become.  And then on May 6th, after struggling with an addiction to prescription pain medication, at 37 years old, my beautiful big sister Katie died from what we believe was a drug overdose. We have done unbearable things in the past few months. We picked out her burial site. We wrote her obituary. We buried her. At 37. We said good bye. And cruelly, we now have to try and move on without her.
I have no doubt in my mind that she is happy and safe and at peace in heaven. I know that I will see her beautiful smile again. I know all of this in my head, but my heart is broken. I feel broken. Selfishly I want her here with me, even though when she was here I was so frustrated with her.  I am so blessed with a wonderful family. My parents, my other Lobster Emily, my amazing husband and two sweet little boys. I am so lucky to have this life but I wonder if I will be able to pull myself out of this deep sadness. I don't even recognize myself. There is physical pain in my chest, on my heart, that I have never experienced before and wonder if it will ever go away. Was this what life felt like for her?? I cannot bear that thought. And now I miss her so much it hurts.  How can I be so sad that she did not have this life I have but feel so mad that I have to keep living it, without her, and with this grief? I want to tell her how sorry I am. I want to be there for her in a way that I never was. I want to go to her house and scream and stomp my feet and lock the door and make her better. I want to talk to her just ONE more time.
 Even after three months, each day Emily and I say to each other, "I can't believe this is real, I can't believe she is gone". I am repeating your words in my head, Live your life. Lay hers down. Live your life. Lay hers down. MY life has always had her in it. But this is our new normal. I am so grateful for the insight you have given to me and so many. I feel like I know Katie even better now. She spoke to us through you and now I understand. So I will say to you what I wish I could say to her one more time.I am here for you. Always. And I love you so much.
Thank you, again, for listening. You have given me an opportunity to release my thoughts and my pain and I am forever grateful.
Maggie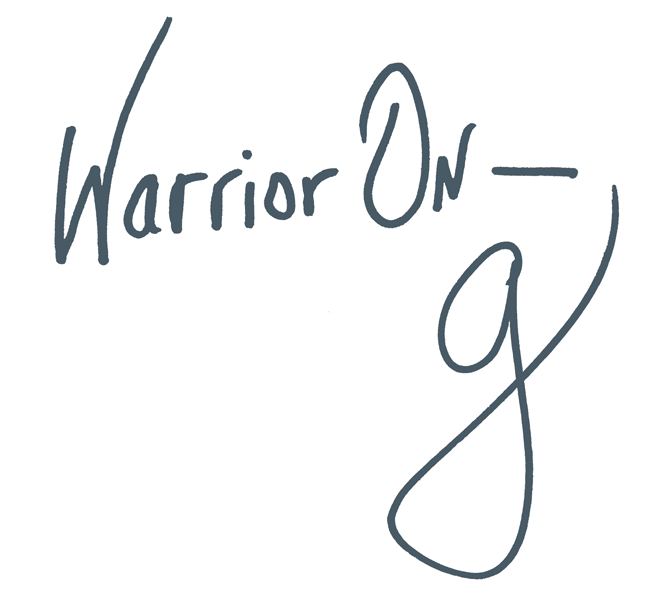 Author of the #1 New York Times Bestseller LOVE WARRIOR — ORDER HERE
Join the Momastery community on Facebook, Twitter, Instagram & Pinterest