It's gonna be a long one, Lovies, feel free to take coffee and pee breaks.
First, WELCOME HOME to all of the Monkees (3,000 of you) who found us during the past few days. As I told Craig last night, we love you so much already. We would have anyway, 'cause that's our rule, but I especially love that you found us because you were moved in some way by our Adam letter. That Adam. He's doing a heck of a lot of good. Please, put your feet up and make yourselves at home. Here, We Belong to Each Other, so introduce yourself or stay quiet –  just be yourself in the truest way. We'd like you to stay forever.
I'm going to break this post into two parts:
What's going on in my (our) OUTSIDE WORLD and
What's going on my (our) INSIDE WORLD
Sometimes I forget to tell you about OUTSIDE world happenings because they seem so much less significant than INSIDE world happenings. And then all of a sudden you see me in Hollywood with Mark Burnett and Roma Downey and 30,000 of you are like – "G, WHAT ON THE HECK?"  Newbies- that's a Tish-ism we've adopted.
So here's a brief version of the Hollywood story. Several producers in Hollywood have been following the Monkee Revolution carefully. They contacted our agent. They requested meetings with Sister and me. We said, "Um. Okay." They flew us to LA. My mama and Bobby (5 weeks old!) came, too. I was super excited, mostly to write the following status update. I bought the cardigan two months ahead of time, for just such a time as this.
Hopped Off the Plane at LAX, With a Dream and My Cardigan….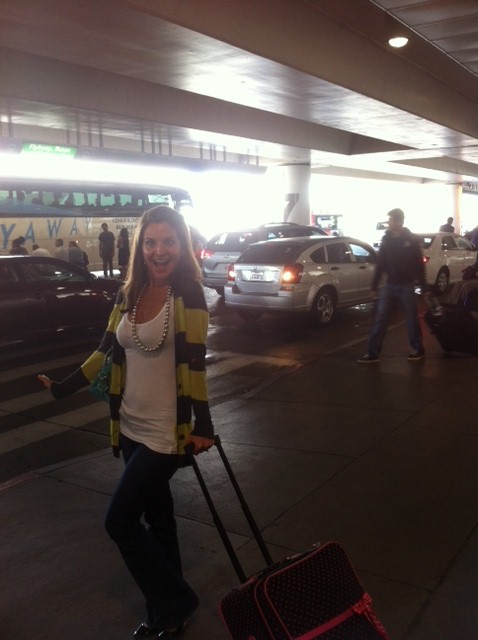 It is a very confusing thing- to be headed to Hollwood to meet with fancy, fancy folks. At first, I wasn't sure how to approach the trip in the Monkee-ist way. But it hit me three days prior that all I had to do was be myself and treat every person whom I was blessed enough to meet – from taxi drivers to waitresses to producers – with the same measure of reverence. I wanted to LEARN from each person.  That would be success. I went with NO OTHER agenda than this. So really, when I hopped off the plane at LAX, all I had was a cardigan. No big Hollywood dream. In my heart there is NO DREAM bigger or better than this place, than our Momastery. The miracles that happen here in hearts and between hearts is, for me, as good as it gets. My dream is done, which is So Relaxing. So I went to LA with nothing to lose and no angle and just a big HERE I AM AND THERE YOU ARE!  Still, I know that many of you are wary of trusting Monkeedom with Hollywood- and I am, too. I am being more careful than you can imagine.
Let me just tell you this- Sister and I had three meetings with BIG SHOTS. Each meeting lasted about an hour and a half. Mostly, we forgot to talk about business. During all three, we talked about life and grief and joy and parenting and marriage and recovery and  how brutiful it all is. It was exactly, EXACTLY, like taking to you. We got so swept away by connecting that every meeting ran waaaaay over the scheduled time and at some point someone would look at her watch and say "OH CRAP," and then she'd look at my agent and say, "can we talk soon?" And there would be huge hugs and once, tears, and always "thank yous!" and "NO, THANK YOUS," and Sister and I and our agent, Jill, would sit in silent awe for a spell after each meeting. People are just PEOPLE. And there is a whole lotta good in those Hollywood hearts. There's greed and cynicism in places, too – they told me as much. But we, as a group of Monkees, will not prejudge. We will take Hollywood just like we take the rest of the world, one person at a time.
So that's it. I know nothing, except that I met some fascinating and loving people and I had a blast with my Sister and Bobby and Mama and if nothing else comes of it than that was more than enough. Also, we stayed on GLENNON STREET. Sort of. Obviously, all of it was pre-destined. We were just along for the ride. As always.
Kay, next. We moved. We live in Naples, Florida now. We decided to go for it. We sold our house in Virginia and downsized our home and our mortgage and we live in a condo on a lake. We are three miles from the most gorgeous sand and water you can imagine sticking your little toesies into. I feel better. A LOT better. My Lyme arthritis is clearing up. I'm re-energized. There is something about all the trapping and responsibilities that accumulate around a life that make it irresistible for me to say BURN BABY, BURN every few years. So we leave everything. Because we are addicted to change, but also because when you step away from all the extra stuff you're left with the really important stuff. Your partner and your kids and yourself. It's been good. It wasn't super easy for the kids. It never is. But I do not believe in sacrificing all my dreams for my kids. If every generation does that, than who ever actually gets to follow her dreams? Nobody, except for the one who decodes the system and decides that to stay childless is the only way to stay true to herself. No, Craig and I follow our dreams and then we provide everything our kids need to adjust, and they do. I hope from this they learn that parenthood does not mean martyrdom, necessarily. And if they don't learn anything, well….who cares? PALM TREES!!!!
Our Pool!
You guys, I've gotta stop. This is getting too long. So tomorrow we'll talk about the inside stuff. We'll talk about the dozens of emails I've received from women who feel like Adams in their own neighborhoods. We'll talk about how I finally found the courage to watch The Help last night and how all of my recent experiences have made me desperate to write something that will encourage us ALL to do what we ask our children to do – to include those on the sidelines.
There are so many women who feel sidelined. Whether they were put there by a grown up bully or their own fear of rejection or some set of absurd circumstances and grudges that need to be forgotten, already. Oh my goodness, it's the same. It's the SAME middle school cycle. We are afraid to put in jeopardy our own place in the social circles by stepping outside to invite someone else in.
One million Adam letters will make NO DIFFERENCE to our children if we are not practicing what we preach. They will do what we do, not what we tell them to do. This BLOWS. But it's true.
I received an email last week from a neighbor in my old 'hood, the one I just left. She just found our blog. She loves it, and she loves us. The thing is that I lived in that neighborhood for two years, and she lived directly across the street from me, and I never knocked on her door. She was an Indian woman, with a big, huge family and there was a bit of a language barrier and I couldn't fit their family nicely into my brain, so I didn't try too hard. There were neighborhood parties and her family was never there. And I felt the urge to GO to her and say HERE I AM and THERE YOU ARE and let the chips fall wherever the hell they were supposed to fall, but I didn't. I was trying to find my own place in the social circle of my neighborhood and I didn't have the time or energy (or desire, if I'm being honest) to figure this lady out. So I just smiled and waved and hurried from the van to the door . . . bare minimum, you know. I'm smiling and waving, so obviously I'm not a jerk.
And then she emailed me last week. She's a mother-freaking Monkee at heart. Damnit. What a missed opportunity for me. For her. For the whole neighborhood.
I think we need to talk about these things. So many people are lonely.
I watched The Help last night through lots of tears and laughter and confusion and Craig and I asked ourselves- which one are we? We all want to think we're Skeeter, right? But are we? I think we're all of them. I think we've got terrified bully parts like Hilly and terrified bystander parts like Elizabeth and deep, deep wells of strength and love like Abilene and terrified, trailblazing, bad-ass parts like Skeeter. Good news is, we're all terrified. So we might as well play the role of the terrified, trailblazing, bad ass, right?  We each get to decide which part of us we're gonna invite front and center each morning.
We are all of them. We get to choose, though, who we're going to introduce to people.
Please, God, let me introduce Minnie and Abilene and Skeeter and Constantine and Celia to the world.
I love you.
You is smart. You is kind. You is important.
Love, G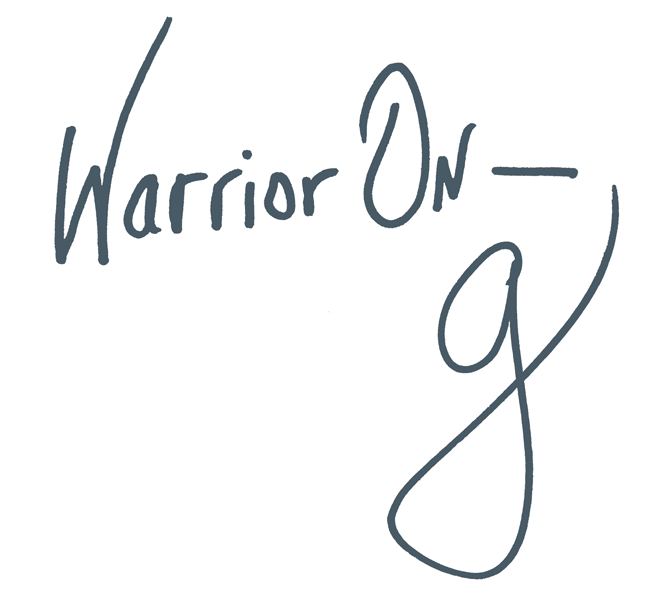 Author of the #1 New York Times Bestseller LOVE WARRIOR — ORDER HERE
Join the Momastery community on Facebook, Twitter, Instagram & Pinterest