During my first ultrasound with Chase, the whole family surrounded me on the exam table. Craig held my sweaty hand and Bubba and Tisha stood at my head. The dark room was very, very quiet. The ultrasound technician, who had been bubbly upon our arrival, turned stoic and rigid while she took pictures of my baby. What's wrong? What's wrong? WHAT'S WRONG? I repeated.
There are a few issues, she said. Sit tight. I'll be back with the doctor in a moment.
We all stood silently. Helpless. Waiting for The News.
I thought the doctor would come back and tell me my baby was going to die. I looked at no one, not Craig, not my mom, not Bubba. I stared and willed the little thing on the screen to LIVE.
The doctor came in, brows furrowed and silent. I felt like he was mad at me. Or my baby. Or both of us, for causing whatever sort of trouble we were already causing.  Right away, I wanted to tell him to kiss both of our asses.
He began: The problems here are his brain and his heart. He's a boy. You have a boy.
A boy. I have a boy.
And Oh! Just his brain and his HEART, you say? Thank God. How's his left toe? That look okay, doc?
He has a large cyst on his brain, and a bright spot, called an echogenic focus, on his heart. His neck is also measuring thicker than is typical.
Bubba left the room. We all thought that next, the doctor would tell us it was over. His neck. His brain. His heart.
The doctor spent another ten silent minutes scrutinizing my boy. I spent those minutes scrutinizing the doctor. I really didn't like the looks of him.
He asked me to get dressed and told me he'd be back in few minutes.
Please make it one minute, I said. I dress fast.
He came back in a few minutes. I steeled my heart.
He said, "Any of these three – the cyst, the bright spot, the neck measurements –  any of them on their own are markers for Down syndrome. Together, they lead us to believe that your child very likely has Down syndrome.  Since you decided against the triple screen test, we won't know for sure without an amnio. You'll have ultrasounds every two weeks from now on so we can watch his progress."
My family – we smiled at each other. We breathed one collective, THANK YOU, JESUS breath. Our baby was not going to die. Our baby was going to have Down syndrome.
Down syndrome. Of course, I thought. Of course.
I am love-struck by babies and children with Down syndrome. Always have been – since my sister and I volunteered with Bubba at the Special Olympics in elementary school and I witnessed their ridiculous determination, joy, and kindness. Other worldly, I always thought. Other worldly. Then when I started teaching, I met a little one named Kerry who made all of her teachers wonder what the hell was wrong with everyone else.  Her determination and joy inspired me to try harder and look harder. I became confused about why I wasn't more joyful when there was clearly so much to be joyful about.
The first time we went to our new church here in Ashburn, we felt nervous. But as soon as we walked in the door, a twelve year old lovie in a hot pink/animal print dress with black ballet shoes walked right up to me, held out her hand, looked me directly in the eye and said, "Are you new? Welcome to my church. I'm Lucy. You will love it here." Then she took me by my hand and didn't let go until we were comfortable and seated, right up front.
There is a lot to DO at a church, and folks are busy. Not Lucy. Lucy of the hot pink dress and ballet slippers and Down syndrome. Lucy was looking. Lucy noticed the folks who needed noticing. Lucy knows what church is about.
Lucy stands right up front during church and when the band plays, Lucy dances and sings. Not like you or I dance and sing, a little wiggle, not enough movement to cause a stir. Lucy dances like one who is actually WORSHIPPING an all loving God and father might dance for him. Without inhibition, without fear, without insecurity. With joy and passion and abandon that makes me wonder what she knows that I don't know. Instead of watching the band, I watch Lucy, and that has become one of the most inspirational parts of church for me. Watching Lucy dance.
When they told us our boy had Down syndrome, relief rained down on me like a summer shower that arrives out of nowhere and breaks the heat.
Of course my baby has Down syndrome, I thought to myself. It makes sense.
Because I'm special.
Now here's the truth- and it's funny because I'd NEVER say this out loud to anyone, but I'll write it to thousands of people. No matter what happens to me- secretly I believe it's because I'm special. Special needs baby- YEP- I'm special! Lyme Disease? Well, sure. I'm special. Book deal? Well – duh- special. More diseases?? Is there no end to my special-ness?
CLEARLY- this is a ridiculous, ego-maniacal way to live but I can't imagine making it through life any other way. I stand by my approach.
And so Craig and I prepared for a baby with Down syndrome. We rejected the amniocentesis because we were scared it might hurt our boy. We read and read and read. Well, I read and read and read and told Craig the important parts. We interviewed pediatricians that we knew were good with babies who had Down syndrome and chose the one who stopped us during our interview and said, "You know, I don't have a single family who wouldn't tell you that their child with Down syndrome changed their family in the best possible ways. These children, they turn your life upside down in all the most important ways. And most of us don't get life-changing opportunities like that. There are challenges -yes- but those challenges will shrink compared to the enormity of the new life you'll have. The new perspective you'll have. You are a lucky couple."
Lucky is one word to use. SPECIAL is another.
I went into labor one night at ten and started screaming for drugs upon the first contraction. Then I took a shower, applied my makeup and blew my hair dry. Then I straightened it and curled it. I wanted to be pretty when Chase saw me for the first time. I continued to scream for drugs while primping and throughout the entire car ride to the hospital. When we walked through the doors of the hospital I lied down on the filthy floor and said I wasn't moving until they brought a wheelchair and an epidural. Craig looked at the receptionist and shrugged his shoulders. "She's been like this the whole time," he said. "The whole night?" The lady asked. "No, the whole pregnancy," Craig said.
I don't believe in suffering silently.
They wheeled me away and gave me the epidural. I was lovely after that, just a lovely patient really.
Quickly, everything became a blur. My mom and dad slipped in and out of the room. Sister ran in with my black boots with red laces. There was pushing.  Lots of extra nurses around. Then a whole bunch of pressure and a whooooosh and my doctor was holding a chubby bluish man. The nurses swept him away. I was terrified. Why isn't he crying? WHY ISNT HE CRYING? He started to cry. I did, too. They put him in my arms.  My baby was alive. I was holding my baby. I looked at him and I loved him.  I understood him to have Down syndrome. I knew to look for slanted eyes, pinned down ears and an extra thick neck. Chase had all three. He was beautiful.  I held him and nursed him and cried and laughed and couldn't believe any of it was really happening.
My mother in law, a nurse, came into the room and I passed him to her. She looked at him carefully and I watched her flip him over to look at his neck. "He has Down syndrome, right?" I asked. "I don't know," she said.
An hour later the pediatrician arrived. It wasn't OUR pediatrician, who knew everything about us, it was the on-call doctor from the practice and it was clear that he hadn't read our file. He swept Chase away and told us he'd check him over and be right back.
I didn't like that he took my baby away. Not at all. I told Craig to go with him. Go with him, I said. I was advocating. Right away. I'd read all about it.
Craig and the doctor came back. The doctor placed Chase in my arms and said something about good hearing and eyes and then said, "He's perfectly healthy. Congratulations, mom. We'll see you in the office in a few days."
I was confused. As the doctor was leaving the room, I called after him. "Excuse me," I said.  "Does Chase have Down syndrome?"
The doctor turned around and looked at me quizzically. "No, ma'am. He does not have Down syndrome. I usually lead with that."
I felt that summer rain of relief and also that pit in my stomach that signifies loss. I did not get the baby I was expecting. It's strange to mentally and emotionally replace the baby you expected for the one you are holding.
Ten years later, I still wonder, what was all that about? 
I felt like telling this story today because children with Down syndrome have been on my mind and in my heart for a long, long while.  When we are out and we see a family with a child with Down syndrome I stare a little, and Craig gets annoyed. I can't help it.  I know that these kiddos have something important to teach the rest of us. We who are so busy getting important things done and they who seem to know for certain what really is important and what is not.  I think they are Little Teachers, if we have eyes to see and time to wait.
Anyway- what do I know?  Not much.
But if there are any Monkees out there who have children with Down syndrome –  I just wanted to tell you this morning that I am LOVE – STRUCK by your children.
I think they offer something to the world that the world needs more than anything else. Attention to detail.  Senseless joy. Acceptance and love for all. I think that they, and you, are special.
If you haven't yet…please check out Kelle Hampton's blog and meet little Nella. I don't know Kelle, but I just finished her book, Bloom. Kelle takes the brutal out of brutiful.  She just leaves beauty. Sometimes I need that.
Love,
G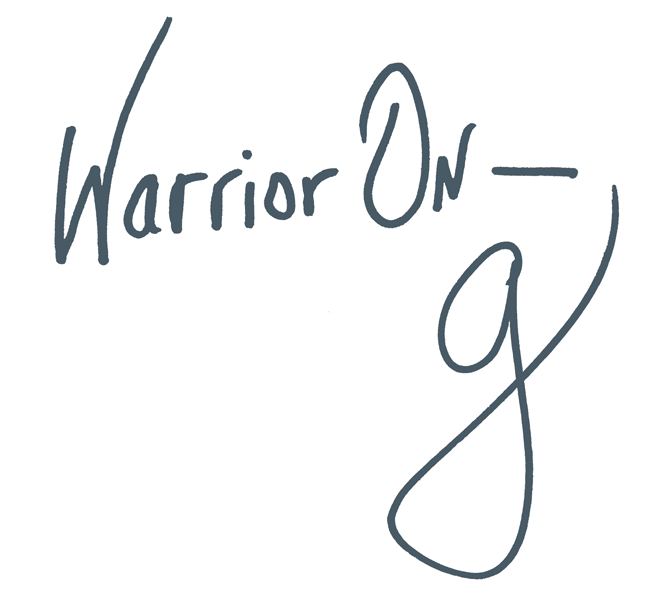 Author of the #1 New York Times Bestseller LOVE WARRIOR — ORDER HERE
Join Glennon on Facebook, Twitter, & Instagram