After Megan wrote to me . . . I responded like this:
Dearest Megan.   What a thing to receive on a sick day. WHAT a thing. JUST the thing. You have offered me such a gift.  When you were really sick, did you get that panicky feeling, that JUST at the time you should be making the most of every moment (because what if your moments were more limited than most) you couldn't at all? All you could do was hate all the moments really really much tons? And that made you even more panicky and guilty and sad?   That's how I felt today, and then you offered me this beautiful gift . . . and I feel like maybe I AM making the most of my moments. Even from bed. And THAT, MEGAN, IS AMAZING TO ME.  Thank you. THANK YOU AND bless your beautiful strawberry blonde head. Keep writing to me about your brutiful life. And kiss Mindy for me.  We really can do hard things can't we?  LOVE.  G
Later that afternoon, I received this letter, from THE Mindy, of Mindy Monday.
Dear Glennon,  
My special friend and chemo-sabe Megan wrote you 2 days ago, and I gather it was a needed encouragement to your heart. 
Oh sister- friend, I have been there.  I am still there.  
There is a memoir book Megan and I both read through chemotherapy-  He Leadeth Me- by Walter Ciszek.  He was a Jesuit priest who felt called to go into Russia during WWII.  He was discovered, captured, and spent the next 23 years in prison or work camps.  He writes extensively about knowing God's will, and he comes to the simple truth that God's will for our life is exactly what he has given to us for that day.  He also speaks plenty about suffering.  It is a good book to read when one finds herself suddenly getting injected by poison every week which is why Megan gave it to me.  
"We come to expect God to accept our understanding of what his will ought to be and to help us fulfill that, instead of learning to see and accept his will in the real situations in which he places us daily. …The plain and simple truth is that his will is that he actually wills to send us each day, in the way of circumstances, places, people and problems. The trick is to learn to see that- not just in theory, or not just occasionally in a flash of insight granted by God's grace, but every day.  Each of us has no need to wonder about what God's will must be for us; his will for us is clearly revealed in every situation of every day….The temptation is to overlook these things as God's will. The temptation is to look beyond these things, precisely because they are so constant, so petty, so humdrum and routine, and to seek to discover instead some other and nobler "will of God" in the abstract that better fits our notion of what his will should be.[It is] the temptation faced by everyone who suddenly discovers that life is not what he expected it to be. The answer lies in understanding that it is these things- and these things alone, here and now, at this moment- that truly constitutes the will of God. The challenge lies in learning to accept this truth and act upon it, every moment of every day."
I do not want to be preachy, at all, but I do want you to know that you are PRECISELY where God wants you to be at this moment. NONE of your moments are in vain.  All are for his purpose.  "For just as surely as man begins to trust his abilities, so surely has he taken the first step on the road to ultimate failure. And the greatest grace God can give such a man is to send him a trial he cannot bear with his own powers–and thus sustain him with his grace so he may endure to the end and be saved."
Being sick, having cancer, dealing with my mortality, the limitations of my body, and even feeling betrayed by my body were not things I thought I would deal with when I was 34.  However, we don't get to choose our path, we just get to choose how we walk our path.  I choose God.  I choose walking his path with obedience every time, because I know how faithful he is.    
My mantra when I started to doubt or have fear was:
Either God is love…or he isn't.
Either God is in control….or he isn't.
Either God is trustworthy….or he isn't.
Either God redeems….or he doesn't.  
The scary thing about breast cancer is if you are stage 4, ie cancer has spread to any place outside your breast, you are no longer curable. The survival rates plummet.  So, the night before my PET scan I was trying to be ok with whatever God gave me, but I couldn't pray "I am OK with metastatic cancer."  I could pray, with total sincerity, "not my will, but yours be done." 
Glennon, never doubt, please, that you are not precisely where God wants you to be.  I don't have any good answer for why you have Lyme disease and Alejandro, and why you feel SO bad.  But, I do know that the revolution, the movement you have started is real and true and speaks to all different types of people about God, and his love, and healing our world by demonstrating the love God first gave to us.  And if nothing else, this love revolution is straight from the heart of God.  And, for some reason, there are times that he allows you to feel bad and to take to your bed. Perhaps it is just that you are so honest and that you share your struggles and physical difficulties and one other Monkee out there feels heard and less alone? How amazing is it that we have a God that can take our horrible, broken, suffering, and transform and redeem those moments into beautiful stories?
Sister, you gave Megan and I such hope in such a difficult time of our lives.  When I wrote you the first time I was DESPERATE for a connection to someone to tell me "YOU ARE OK.  GOD HAS THIS."  And YOU, Glennon did that.  I cannot thank you or love you enough for being God's instrument of love and blessing in my life during that time.  Truly, I am crying thinking of that point in my life and how you reached out to me.  Bless you! Love, Mindy
I remember the day Mindy wrote to me. I was in bed. Craig had taken the girls to the library. I was too weak and tired to go. I got Mindy's email about entering chemo and needing some love. And I wrote back and went to sleep. And at the time, on that day- all I could think was –what a wasted day.  I am a waste of space. I am wasting my days.
Hah.
Let His will be done, today, through us, in whatever pathetic physical, mental, emotional, financial state we find ourselves this morning. Amen.
And for my Non Goddy Lovies whom I love so very, very much and whom I NEVER want to feel excluded from the party because of the Goddy talk….as I read Mindy's letter, one of my favorite poems came to mind. I think it's a decent translation of Mindy's message.
Desiderata
Go placidly amidst the noise and haste, and remember what peace there may be in silence. As far as possible without surrender be on good terms with all persons. Speak your truth quietly and clearly; and listen to others, even the dull and the ignorant; they too have their story.
Avoid loud and aggressive persons, they are vexatious to the spirit. If you compare yourself with others, you may become vain or bitter; for always there will be greater and lesser persons than yourself.
Enjoy your achievements as well as your plans. Keep interested in your own career, however humble; it is a real possession in the changing fortunes of time.
Exercise caution in your business affairs; for the world is full of trickery. But let this not blind you to what virtue there is; many persons strive for high ideals; and everywhere life is full of heroism.
Be yourself. Especially, do not feign affection. Neither be cynical about love; for in the face of all aridity and disenchantment it is as perennial as the grass.
Take kindly the counsel of the years, gracefully surrendering the things of youth. Nurture strength of spirit to shield you in sudden misfortune. But do not distress yourself with dark imaginings. Many fears are born of fatigue and loneliness.
Beyond a wholesome discipline, be gentle with yourself. You are a child of the universe, no less than the trees and the stars; you have a right to be here.
And whether or not it is clear to you, no doubt the universe is unfolding as it should. Therefore be at peace with God, whatever you conceive Him to be, and whatever your labours and aspirations, in the noisy confusion of life keep peace with your soul. With all its shams, drudgery, and broken dreams, it is still a beautiful world. Be cheerful.
Strive to be happy.
-Max Ehrmann
We are in this together, sisters and brothers. Love Wins. THIS IS THE DAY. START FROM WHERE YOU STAND. OR KNEEL. OR LIE.
LOVE AND HOPE AND SUCCESS IN THE LITTLE ITTY BITTY THINGS WE CAN DO ARE THE TRUTH. YOURS FOREVER- G
My kitchen.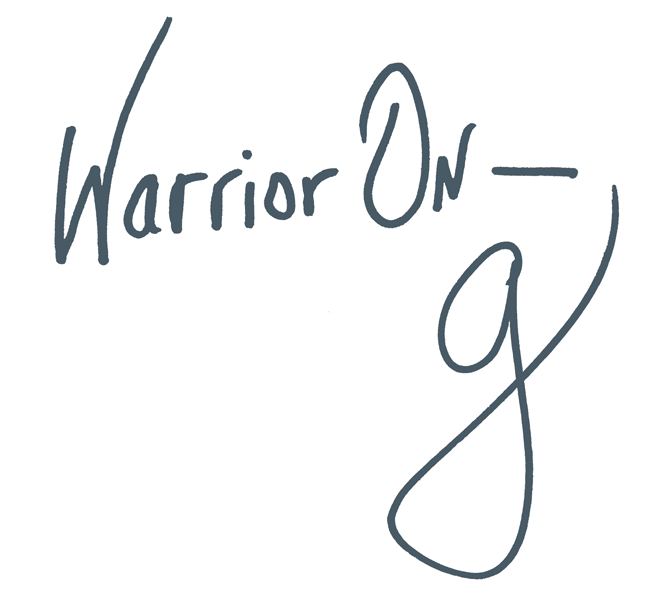 Author of the #1 New York Times Bestseller LOVE WARRIOR — ORDER HERE
Join the Momastery community on Facebook, Twitter, Instagram & Pinterest