Well. That certainly turned out to be the right thing to do- telling you guys about my struggles with Lyme and parasites and indecision.
I don't know how prayer works. To tell you the REAL truthiest truth, I only believe a teeny part of the time that it works at all. Usually I think, WHILE I AM PRAYING- what the hell good is this going to do??? Which I'm sure God can't hear. He can only hear my silent voice that is praying, not my OTHER silent voice that is mocking my own prayers. Thank God, he can't hear that second voice. That would be awkward.
There is this scripture that says if you BELIEVE while you pray, your prayer will be answered. If you don't, it won't. Not a fan of that scripture. Still, I pray sometimes, and I know that with God, a teeny tiny iota of belief is enough. Faith as tiny as a mustard seed, He says, can move mountains. Last year I bought a bottle of Mustard Seed (now the ONLY spice in this house besides ketchup, which Craig says definitely doesn't count because apparently he has joined some sort of Spice Verification Committee.) You should see how small these mustard seeds are. Like grains of sand. I Googled mustard seeds and found out first that mustard seeds are mentioned not only in the New Testament but also in Jewish, Hindu and Buddhist texts. And that when those teeny tiny mustard seeds are planted, they each grow six feet tall and tend to grow towards each other, creating a golden canopy. Comforting and protective, canopies.  Maybe faith is eventually a golden canopy? After it has plenty of time to grow?
Also comforting- the letters and emails and comments and silent prayers I've received from my monks during the past week. I can't tell you how much they help me. I read every single last one, from the Hi G! beginnings to the Love, Your Monkee endings. I soak them in, read them to Craig and Sister and each one makes me a little stronger and more hopeful and AMAZED at the way that we human beings, with God, are able to turn suffering into triumph, beauty and HOPE to pass on the next sufferer. Thank you. Thank you from my whole family.
Now. Do you remember Mindy? Not the Mindy to whom we just gave a van, but Mindy of "Mindy Monday?" Mindy who was going into chemo and so we all dedicated a day of acts of kindness to her?
Last week, I received letters from both Mindy and her angel chemo sister, Megan. I am going to share Megan's letter today and Mindy's on Wednesday. When Megan or Mindy write the word "you," they are referring to all of us who come here and believe in love and the power of the written, encouraging word. I hope they bring you as much hope and fire and awe that they brought me. I hope they encourage you to keep showing up for yourself, your family, your friends and fellow Monkees. That's all we can do, and that's ENOUGH. Miracles happen every day. They will happen TODAY. THIS is the day. Let us be glad and have eyes to see the tiny miracles all around us.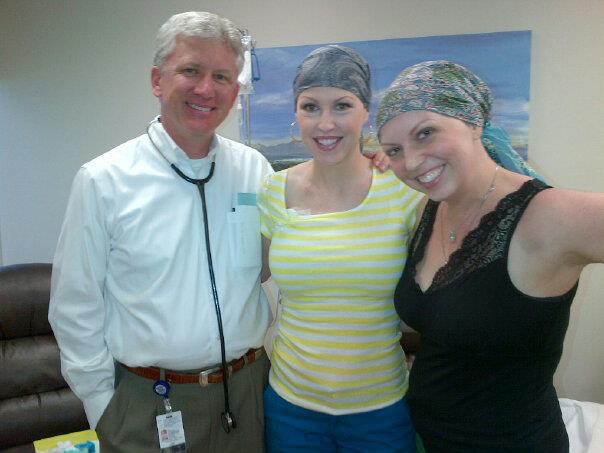 Dear Glennon –
My name is Megan and I'm 38 today. I'm a married mother of two and I live in Phoenix.
 I became a Monkee some months ago, thanks to Mindy (yes, Mindy Green, of your "Mindy Monday" movement some months back.) You see, Mindy and I met having chemo together last December. We share a wonderful oncologist in Phoenix. She was diagnosed with Breast Cancer and I was diagnosed with Hodgkin's Lymphoma just a few weeks apart, in November. She's 34 and I was 37. Most of our doctor's patients were far older than us. Most cancer patients in general are far older than us. He, being the amazing man that he is, knew how alone each of us young(ish) mothers would feel in that chemo infusion room. So he arranged for us to have chemo on the same day and time each week, and asked me on my second visit for chemo to sit in the room with Mindy, who was there for her first treatment. I happily obliged.
Mindy and I chatted every other Wednesday while we had chemo together. We talked about our hair loss (we are both fiesty redheads! She, of the auburn variety and me of the strawberry blond). We talked about our kids–hers, the incomparably adorable Lana, age 2, and my son Jonah, 11, and daughter Dyllan, 9. We talked about work (she's a pediatrician, I'm a writer and communications exec.) We found one another on Facebook so we could keep in touch between treatments, and she helped me tell all my Facebook friends about my situation, as I'd been hiding it for months. Opening up and letting others love me through this thing was enormously healing. I don't think I would have done that without Mindy's encouragement. I used to be so private about health information. Really, I was private about revealing anything that I considered a weakness. Mindy helped me change that.
We exchanged email addresses and phone numbers and over the course of our six-months of chemo, became as close as lifelong best friends. We confided everything in one another. We cried together. We laughed together. We emailed each other late at night, when cancer is the scariest and you believe the treatments may actually kill you, and that no one on this earth understands.
The truth is your husband and parents and kids and friends can do their very, very best to love you through cancer, and ours did. But you still feel terribly alone. Only YOU have it. Only YOU had to endure the horrific treatments. Only YOUR life hangs in the balance. Only YOU worry you won't get to see your babies grow up, that you may not get to fix your baby girl's veil on her wedding day or see your son become a father. And only a mother's heart can hurt that badly over those thoughts.
And when you get this horrible disease at an age when none of your peers has it, you feel even more alone. Isolated. Selected and punished. Forsaken.
So having someone your age to turn to, someone to fight the good fight with, someone who truly, totally gets every side of this bullshit situation, they become a lifeline. And that's what Mindy and I became for each other. We traded books and we had long talks. After Mindy's mastectomy in February, our chemo schedules were off. We no longer had it the same day. So we started showing up for one another's treatment, just to sit and talk and be there for each other.  
Mindy introduced me to Momastery about halfway through chemo. She told me all about Mindy Monday, how she poured her heart out to you and how all the Monkees did a random act of kindness that day in her honor. I logged on and read nearly all of your blog posts going back years. I laughed and cried and felt a kinship and a hopefulness that I had not felt in months when I read your words.  
Mindy and I talked about you and Momastery during chemo all the time. With our silk scarves tied on our bald heads, total lack of eyebrows and eyelashes and feeling robbed and exposed and sick and so tired, we talked about how the place you've created is a preview of heaven. That was Mindy's gem, that one. I totally agreed.
I mean it from the very bottom of my very full heart when I tell you Momastery helped us heal, Mindy and me. Your mantra, "We Can Do Hard Things," has sustained us through this mess. Your words, your belief that love wins, your acceptance of life as "brutiful," well it empowered us beyond belief. You just have no idea.
Mindy and I both gave to the Love Flash Mob for the vans. It felt amazing to do something small and watch the Love Revolution take over. It restored us both in ways that can't be told in words.
We both got clean PET scans in late May, praise God. That means we had a complete response to chemo. We both needed radiation, her for longer than me, to ensure every last teeny tiny cell gets killed and this monster doesn't come back for us one day. Radiation is cruel and harsh in entirely different ways than chemo, and we've exchange photos of our burned skin and stories of not being able to swallow solid food.
But we're still standing. We're still here. We did not lay down and let this thing take us. We have babies to raise. We decided early on that this is NOT how our stories end.
Yesterday, I finished my radiation. So today, my birthday, is a re-birthday. It's my first day of my post-cancer life. I survived this year, this shocking, maddening, surprising, painful, brutal, blessed year. At some points I just didn't think this day would ever come. I have you to thank, in part, for seeing me through it, even though you didn't know you were.
And Mindy, well she and her husband and baby girl moved to Portland a few weeks back. I miss her terribly, but we have phones and Facebook and so we are still tethered. We will always be tethered–by cancer, by healing, by Momastery.
Thank you for what you've done for us.
Sincerely,
Megan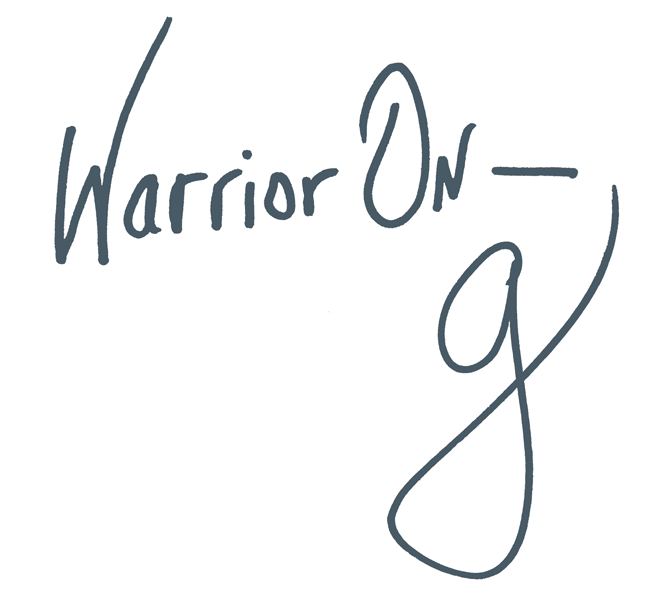 Author of the #1 New York Times Bestseller LOVE WARRIOR — ORDER HERE
Join the Momastery community on Facebook, Twitter, Instagram & Pinterest