So, it's 5am and I'm up after a looooong Lymie night. Leg pains and stomach pains and then tons of Alleve and then wicked heartburn from too much Alleve. I'm tired and confused and more than a little scared and lost.
But look, I'm here – I'm writing to you. I'm a little bleary eyed, but I'm here. Because we have to keep showing up for ourselves in the thick of things just to remind ourselves that we believe.  We don't have to worry about being any good when we're at our worst, we just have to keep trying. Because when people only show up at their best, it causes confusion and leads folks to believe that others are always strong, and sailing through life. That's just not true. We gotta show ourselves when we're all beat up and scarred, too. That's what people need to see, much more than our shiny selves.
Can you tell I watched Soul Surfer for the fourteenth time last night? NEVER GETS OLD. Never, ever. It's our family's favorite. If you need a little inspiration, please watch it. At the risk of being grandiose, I know pronounce myself SOUL WRITER, since my body has decided to stop working. You may call me SW for short. Also, you will be happy to know that I have chosen a name for my parasite. Thank you for all of your amazing suggestions. I have settled upon Alejandro. I have no explanation for that decision. It's just Alejandro. Thank you, Rebekah.
I need to give you some Monkee updates. First of all, this:
Claudia has her van. And I will cry as I write this but the first thing she did was get inside and have her friend and caregiver drive her to the airport to watch the planes land and take off. Why is that so brutiful? It just is.
Amy and Claudia logged 200 miles on the van the first weekend. She attended her son's first 4-H meeting. She wasn't able to be involved before –she had no way to make it there. And this might be the best news. She made it to her first doctor's appointment in a long while and here is what she had to say about that.
"Thanks, Amanda. We put over 200 miles on the van since Sunday…. trip to Indy for the air show and again yesterday to go to the neurologist. Thank you all…bless you all… for giving me a life again! My neurologist says that I'm doing really well for someone with ALS and that the type of ALS I have (upper motor neuron dominant) is typically much slower to progress. All that means is that I will have more time to enjoy and be thankful for this great blessing."
You did that. 5, 10, 15 dollars at a time- you changed Claudia's life. Just by showing up! And by BELIEVING that your little offerings might make a difference. Loaves and fishes people, I'm telling you. Mindy update coming soon. It's just as good.
Second update: I finished Carry On, Warrior.
You guys. I will cry again now. It was so hard. At first, I hated writing it. Because I was so used to writing to YOU that writing for the book felt different and strange. Like writing to no one. And I had to write about BIG BIG things in my life that I'd purposely never written about on the blog, because I didn't understand them yet. BUT, I forgot that we don't wait till we understand to write, we write so we can understand. I also remembered that I could just PRETEND to be writing directly to you- since I really was, anyway. And we finished it. We had twelve FINAL DRAFTS. The twelfth was the charm.
Now, when you are "done" with your book, what that really means in the publishing world is that you have one million more things to do and change and fix and create before you are really done. At which time you will receive your newest list of things to do to really be done. Like life.  But I'm done with Step One and we have to celebrate each Completed Step in life since we can't ever REALLY be totally done till we're dead. And we really shouldn't wait to celebrate until then. SO — DONE, STEP ONE! Manuscript complete!  Every essay is there, as perfectly imperfect as each was meant to be. I wrote about all the things I thought I couldn't write about. I just kept showing up and it GOT ITSELF DONE. I am starting to seriously believe that this is how it works. We don't really have to DO anything. We just have to keep showing up and Letting Things Get Done. Except on days when we can't show up because TOO HARD and that is just fine. Things will wait to get done. I had plenty of SORRY, TOO HARD days in there.
I really, really believe that you are going to love our book. It IS our book. I put every drop of myself in there and a whole lot of what I hope to one day be. I put all our love in it. I wrote the book I want my adult children to read and believe. I wrote the book I want YOUR children to read one day because I think it will help them breathe easier and LAUGH and open their eyes wider and be kinder to their beautiful selves and beautiful others. So that's that. That's something.
A few orders of business:
I'm getting more and more requests for Monkee See Monkee Do help in my inbox. We want to read every single one of your letters, but can't unless you send your requests for help to: [email protected]. If you'd like to OFFER help, please send your message to: [email protected]. We have a team of Monkees who monitor that account. Otherwise it's just me reading and reading and I tend to end up in the fetal position more often than is really acceptable as a grown woman. So if you've sent any requests to me during the past few months- please re-send to the above addresses.
What else? We don't know what we're going to do about moving yet. We're thinking about taking a year Melton sabbatical in Florida. That idea still makes me want to tear out my heart and shove it down the garbage disposal because I know how many little things I'll miss during Sister's baby's first year. But during the last 24 hours I have thought that there might be some blessings to that. I mean, I know you would NEVER believe this, but I tend to meddle. And maybe a first year without sister would help John and Sister rely upon each other more to keep this baby alive. That's all we can do the first year, right?  I don't know. I just don't know. But I'm starting to relax a little about the whole decision, probably due to your prayers.
Sometimes I get so scared about making THE WRONG LIFE DECISION. Like I'm on that game show- what was it? Where you can risk everything you've already won for WHAT'S BEHIND DOOR NUMBER TWO. And if you do risk it all, there might be a CAR behind door number Two. WOOOT! OR there might be nothing but a big sign that says LOSER! YOU HAVE CHOSEN UNWISELY! YOU HAVE LOST IT ALL! And you must hang your head and leave with nothing and spend the rest of your life wishing you had chosen door number ONE! ONE, dangit!!!! LACES OUT!
That's how I usually feel about big decisions. Like there is a bit RIGHT answer and a big WRONG answer.
But that's not right. That's not how the God I know would work. He would be waiting behind both doors. He will be ready to walk beside me on whatever road I choose.
And then if I decide to change roads, He'd change with me.
Chase and I talked a lot about that idea last night. He agreed it makes sense, so that sort of solidified it for me, since Chase is the wisest in our family.
Anyway-I just wanted to know that Lyme and Alejandro are not going to take me down. When I woke up this morning- there were twenty encouraging messages in my inbox  (THANK YOU)! One from a fellow Lymie included this scripture.
"I choose to believe the present sufferings are not worth comparing to the glory to be revealed in us." Romans 8
You guys, I think I really believe that. Something down deep tells me that is TRUE. That this suffering is leading somewhere. Maybe even today- maybe even right NOW. Maybe someone is reading this and remembering that she doesn't have to be perfect or even HEALTHY to live a beautiful life. That if she just continues to believe in herself, in whatever state she finds herself this morning – God will use her belief to reveal His Glory.
And for all my friends who don't appreciate the Goddy talk. Let's put it this way:
Keep showing up for yourself, in whatever little teeny ways you can  – and somehow-  it will be AMAZING.
I usually try very hard never to boss you around, but here comes some bossing:
Do NOT give up on yourself. If you don't- I won't. Deal?
I LOVE YOU. Thank you for coming here, to this place that brings me so much hope and joy.
Love G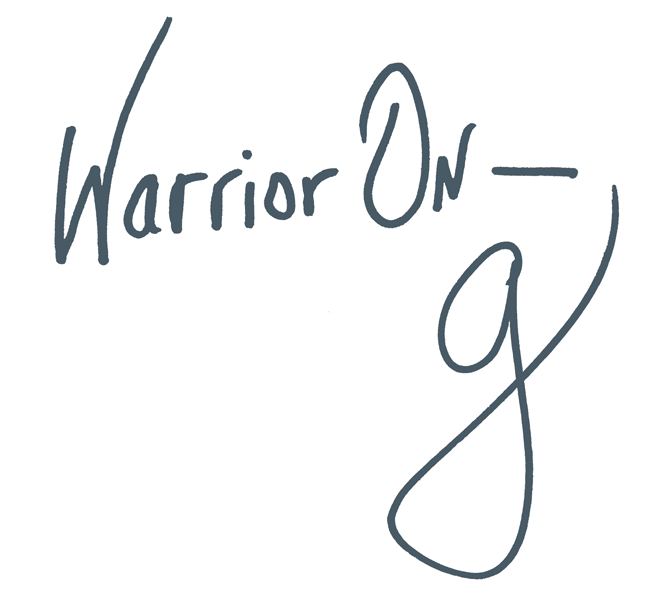 Author of the #1 New York Times Bestseller LOVE WARRIOR — ORDER HERE
Join the Momastery community on Facebook, Twitter, Instagram & Pinterest