Once when I was twelve, I was dancing to Papa Don't Preach in my bedroom, whipping my head back and forth (before that was cool) and singing with anguished facial expressions into my full length mirror.
Mid- song Bubba stormed into my room, ejected the CD, and smashed it to smithereens on my bedroom floor.
A little dramatic. But sure kept me from becoming a young, unwed, pregnant, belligerent, bleach blonde daughter.
Ahem.
Love you, Bubba.
So here's the 411.*
Once again – I'm in trouble, deep.
I forgot again. I've been waiting to write to you. Waiting until I was able to put a lovely spin on something really sucky. Waiting till I felt happy again. Till I had it all figured out. But that's not how we roll here, is it? That is actually quite the opposite of how we roll here.
My doctor just had one million (more) blood tests done because I've been sick, sick, sick. The results are that a) my neurological Lyme is worse than ever. Yaaay!! All the medical treatments for the past three years have not only been brutal but also completely ineffective! JOY! b) The Lyme isn't even CLOSE to my biggest problem.  My biggest problem is that I also have a PARASITE that was likely transmitted by the same damn tick that gave me the Lyme. This parasite has been newly identified and is compared to Malaria but wait- it gets better- my sweet parasite is one gazillion times worse than Malaria! My parasite lifts up his little parasitic arms and JEERS at Malaria! He eats Malaria for breakfast! Because while Malaria can be treated, my parasite is incurable. No one has EVER been cured of it. Ever, ever, ever!
Everyone please hold up your WTF? billboards now. Thank you very much.
Lyme is sometimes called the "But you look so good" disease. Because when we have good days- we are so delighted to be vertical that we run about and beam. The reason you don't see us looking bad is that on our bad days, we don't get out of bed. We cry. We scream because our legs hurt so badly. We dream of amputation. I did yesterday. We can't take care of our children. Our families are afraid and burdened.
And there are decisions to be made. I live in Virginia, and Lyme is epidemic in my county. People don't like to talk about it, but it's true. My neighbors and friends are dropping like bowling pins, ten at a time. The kids, too. Truly.
It's not good to run from things. Usually. Sometimes. Sometimes it's not good.  But it's hard for me to live here. It's sort of like someone with PTSD from a war trying to live in a laser tag arena. Or a person who narrowly escaped a huge earthquake settling down in San Francisco. It's a tad nerve wracking.  I don't want my kids to get what I have. because I know how it feels. And also, I don't feel good here. The weather changes every day and I'm freezing cold when it's 75 degrees. I can't even go to church anymore because it's too cold at church. I shake like I'm being electrocuted and then crash for the rest of the day.
This is why we've been traveling to Florida often. And I kind of want to just pick up and move there. Because I feel better there. It's so warm and so close to the ocean. It seems like it'd be easier to feel better near the ocean doesn't it? And because the silver lining of having various incurable diseases is that you are permitted to do dramatic things because you are living a dramatic life.  Right?
I lay in bed and think –  I will move my family. I will live on the beach. I will sit on my deck and write while I look at the ocean. I will have barely any clothes. Just tank tops and flow-y skirts. I will practice yoga and squeeze fresh juice every morning. I will figure out how to heal myself since I'm pretty sure I'm the only girl for the job. I've tried everybody else.
BUT.
Sister. She's having my (her) baby. In three weeks. How can I leave? I can't leave. I will die without her. I will die if I stay here, it feels some days. And our friends are here. And the kids' friends are here. And also, we don't know anyone in Florida. So scary.
What to do? Is it scarier there or here?
Should I wait till the Universe reveals more? If you don't know what to do, do nothing  -right? But then again, insanity is doing the same things over and over again and expecting different results.
Good Lord. I am a problem wrapped in a dilemma smothered with confusion and garnished with pain and paranoia.
I love you. The sun will come out tomorrow.
Moral of this Momastery story: Life is hard. Even when it looks like it's not.

Love, G
*Bubba also smashed my Mary J. Blige What's the 411? cd. Swearsies. Ask him.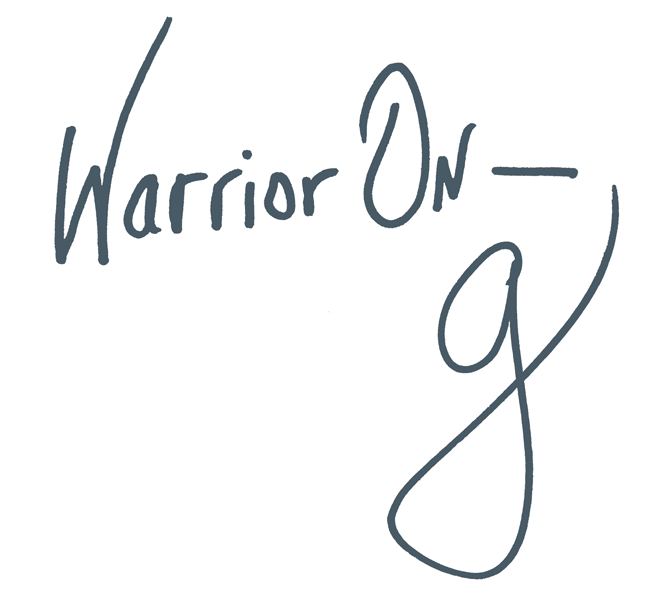 Author of the #1 New York Times Bestseller LOVE WARRIOR — ORDER HERE
Join the Momastery community on Facebook, Twitter, Instagram & Pinterest